Tales of The Parrots & The Berries (#8)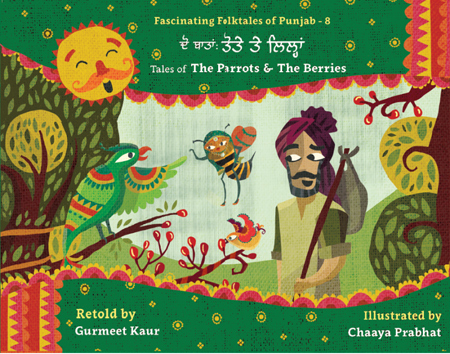 56 pages | 11" x 8.5" | Hardcover Punjabi, English & Transliteration ISBN: 978-0-9887101-7-7
#1 – The parrots live peacefully on a Margosa tree but feel threatened as some bees start to build their hive there. The Queen Bee convinces them that she means no harm, and the parrots allow the bees in their tree. In time, everyone learns that harmonious coexistence is a beautiful thing.
#2 – A sparrow continually gets in trouble, and a passing traveler repeatedly helps her out. The sparrow entices him with a promise that she doesn't seem to keep, testing his patience. The story takes us on a journey through rural Punjab and ends with a sweet surprise.
Tales of The Mouse & The Snake (#7)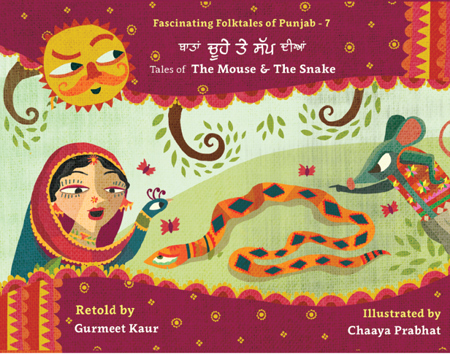 56 pages | 11" x 8.5" | Hardcover Punjabi, English & Transliteration ISBN: 978-0-9887101-6-0
#1 – A mouse digs a hole and finds a stump. He trades his treasure for a better one, exploiting the situation until he loses everything. Children and grownups alike will cherish this delightful tale that teaches us that we don't end up better off by taking advantage of others.
#2 – A snake abuses his powers and starts terrifying the village until Mother Nature orders him to behave himself. He complies, and now he is the one who gets abused. In the end, he learns to achieve balance and live with honor without instilling undue fear.
The Rooster's Wedding (#6)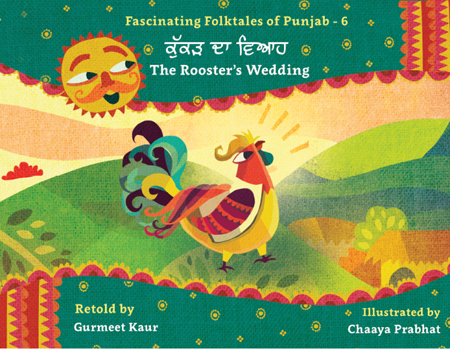 44 pages | 11" x 8.5" | Hardcover Punjabi, English & Transliteration ISBN: 978-0-9887101-5-3
The handsome rooster may be poor, but he has a dream and a strong desire to realize it. Despite the odds and the doubts of others, he leaves his home and risks his life to make his wish come true. Will he succeed and return home with the bride of his dreams? A story of determination and courage that shows a strong will can beat the odds.