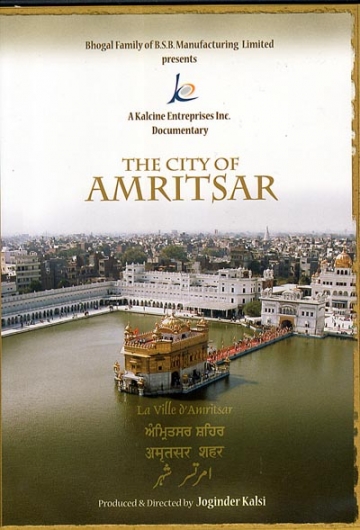 Joginder Singh Kalsi
Length: 46mins
English & Punjabi audio tracks
ISBN: 978-0-9685781-6-2
City of Amritsar documentary reveals unusual history, identity of significant centre Toronto filmmaker Joginder Kalsi has released a new documentary about the holiest city of the world's 30 million Sikhs. City of Amritsar is a 45-minute tour of the city of the Golden Temple in India's Punjab state. The documentary emphasizes that while Amritsar is the spiritual and cultural focus of the Sikh religion, the city also has a secular nature. Amritsar is dotted by sacred shrines: Gurudwaras, Hindu temples, Mosques and churches. Amritsar, which celebrated its 400th anniversary not long ago, has rivaled and surpassed Lahore as the pre-eminent city of Punjab.
"I have made a documentary that is balanced. Of course, Amritsar, with its stunning central religious Sikh architecture, is important. But I wanted to real the multifaceted splendor and history of the city" says Kalsi.
Segments of the documentary examine contemporary Amritsar?s thriving commerce, education and social services. The city's pivotal role in the growth and development of a national Indian identity is featured in the documentary. It exposes both the Amritsar Massacre of 1919, and the anxiety of the Sikh community resulting from the open conflict of Operation Blue Star in 1984.
"This is a valuable testament and record of a spiritually important city" says Richard M. Landau, project consultant and Executive Producer at CTS TV.