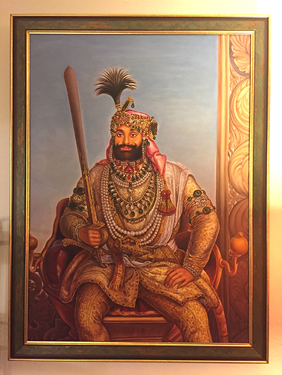 Click to Enlarge
Oil on Canvas – 43" by 32"
Hand painted Replica
The painting will be shipped without frame.
Maharaja Sher Singh is shown wearing almost all the jewels for which Ranjit Singh's toshakhana was famous. The fabled Koh-i-Nur is set in the armband between two diamonds.
Maharaja Sher Singh, Sikh sovereign of the Punjab from January 1841 until his death in September 1843, was the son of Maharaja Ranjit Singh, born on 4 December 1807 to Mehtab Kaur, the Maharaja's first wife.
Sher Singh grew up into a handsome, broad-chested young man. His soldierly mien made him popular with the army. He loved hunting and hawking, and devoted attention to cultivating European interests and hobbies in the company of foreigners serving at the Sikh court. In 1829, Maharaja Ranjit Singh conferred upon him civil and military honors and the privilege of sitting on a chair in the Darbar. Sher Singh took part in many of the campaigns undertaken by the Maharaja for the expansion of his kingdom. In May 1831, he defeated at Balakot, in Hazara district the turbulent Sayyid Ahmad Barelavi who had started a jihad against the Sikh rule. From 1831 to 1834 he acted as governor of the province of Kashmir. He was one of the army commanders who led in 1834 forces in Peshawar and who finally seized the city from the Afghans.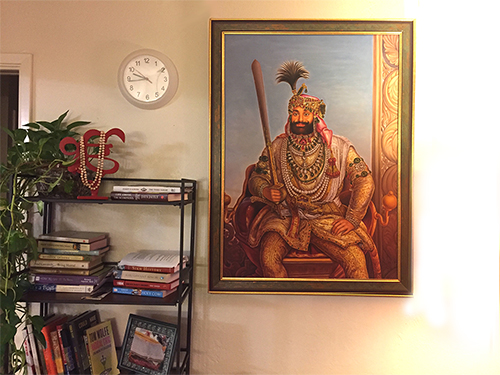 Click to Enlarge
This painting is a replica of the original painted by the Austrian artist August Theodor Schoefft.
About the Artist: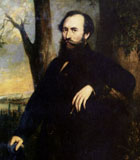 August Theodor Schoefft
Pic Courtesy: Sikhmuseum.com
August Theodor Schoefft:
August Theodor Schoefft was born in Budapest in 1809. After formal art training in Vienna Schoefft set out on a great adventure to travel exotic lands and paint foreign scenes.
Eventually Schoefft reached the capital of the Sikh Kingdom, Lahore in November 1841 during the reign of Maharaja Sher Singh. Once in Lahore, Schoefft was the guest of Dr. Martin Honigberger, the personal physician to the Sikh Royal Court and a fellow German speaker. Schoefft ended up spending over a year in the Sikh Kingdom painting various scenes and portraits of prominent members of the Sikh Court. Although many of these have now been lost, fortunately Schoefft made copies of a few for his own reference. Russian Prince Alexis Soltykoff visiting Lahore in March 1842 tells of finding Schoefft's paintings in the palace treasures:
Five or six portraits in oils without frames, the work of Schoeft, the German painter who has returned to British India. There was also a portrait of the King covered with jewels and holding in his hand a scimitar straight and very broad at the point and a portrait of the chief minister, Raja Dhian Singh, a good looking man, on horseback and wearing that suit of armour which I have already described. The King who admires the armour wished to be painted in it also.
Punjab a Hundred Years Ago as described by V. Jacquemont (1831) & A. Soltykoff (1842) Editor H.L.O. Garrett, Lahore, 1935
While at Lahore Schoefft also studied and copied existing portraits by various artists of some of the principal characters of the Royal Court who had died before his arrival including Maharaja Ranjit Singh, Maharaj Kharak Singh and Raja Nau Nihal Singh and other past members of Maharaja Ranjit Singhs Royal Court. Schoefft had plans to incorporate these character studies of past figures along with his own sketches of current principal figures at Maharaja Sher Singh's court into epic scenes at a later time on his return to Europe.
Visiting Amritsar and Lahore and preparing preliminary sketches of the locations as well as observations of the Sikh Royal Court and accounts he had heard of what it had been like during the time of Maharaja Ranjit Singh, Schoefft was able to get a good sense of Maharaja Ranjit Singh's Royal Court. Schoefft successfully combined reality with imagination to create scenes that he had never witnessed, but which were based on bits and pieces of real scenes that he had sketched along with his imagination of events and details that may have been. Thus Schoefft laid the foundation work for his two most famous epic historical paintings of the Court of Lahore and Ranjit Singh at Darbar Sahib.
After spending over a year in the Sikh Empire, Schoefft left in 1842 undertaking a journey back to Europe via Afghanistan, Persia, and Egypt, spending some time in St. Petersburg Russia before eventually reaching Vienna. Here in his studio Schoefft would now spend the next several years working on his grand epic masterpieces using his notes, preliminary sketches, copies of other artist's portraits and some imagination.
Once completed his monumental masterpieces of the Lahore Court and Ranjit Singh at Darbar Sahib as well as some other paintings from the Sikh Empire were exhibited by Schoefft to the public at the Vienna Salon of 1855. His masterpieces received great critical acclaim. At the time of their unveiling to the public, Schoefft's paintings now represented scenes of a Sikh Kingdom which no longer existed. Maharaja Sher Singh was now dead, the Sikh Empire had been annexed and it's last figurehead ruler the child king Maharaja Duleep Singh was in exiled captivity in Britain.
Schoefft eventually died in 1888. His painting of Maharaja Ranjit Singh at Darbar Sahib ended up in the collection of Maharaja Duleep Singh living in England along with some of his other paintings including the famous Court of Lahore. Upon Duleep Singh's death these important paintings became the property of his daughter Princess Bamba Jindan. Princess Bamba eventually left England and moved to Lahore marrying a British doctor and upon her death in 1957 she bequeathed her property including Schoefft's paintings to her secretary Pir Karim Baksh Supra. Supra in turn then sold Schoefft's paintings to the Government of Pakistan in 1959 and they are now housed as part of the Princess Bamba Collection at the Lahore Fort Museum in Pakistan.
Source: The Maharaja in the Guru's Darbar, Online Exhibit
Courtesy: SikhMuseum.com