The Life and work of Manjit Bawa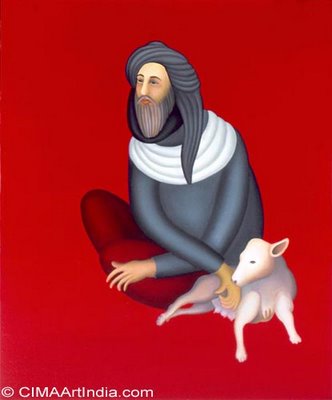 In an exclusive, no-holds-barred interview with Belu Maheshwari (The Tribune, Chandigarh) Manjit Bawa talks about his life and times. Excerpts:
Tell us about your childhood. Who initiated you into painting?
I was born in a goshala at Dhuri in Malwa region. My father was a timber merchant but he was fond of cows and tended to them in his spare time. I am the youngest of five sons. My elder brother Manmohan Singh Bawa, who could paint, saw my sketches and initiated me into painting.
Are you a trained artist?
From Dhuri we shifted to Delhi, where I had my education. I used to go for my art classes but the older students used me as a model in spite of my patka. Then I applied for College of Art. My art teacher Abani Sen showed my work to the Ministry of Culture and pressurised them into taking me. There used to be just 22 seats in the college in 1958 when I joined. I learnt a lot in those five years.
When did you hold your first show?
After Arts College, I travelled in a car to Europe. I still remember singing to my mother Mat ro ma lal tere bahutere when I was about to go. I lived in England for eight years, learning and teaching at the Institute of Adult Education. I held two of my solo shows in England. My time in India started after 1973,or even later. My vagabond days came to an end only around 1980 when I won the National Award.
How much of a Sikh are you?
I am very much a Sikh. Not the militant Sikh but a believer in Sufi-Bhakti cult of Sikhism. I read Guru Granth Sahib but I am not a practising Sikh. I have read great works of other religions like the Bhagavadagita, Shiv Purana, Ramayana etc. I hated Manu Smriti. I love Punjab. I feel a oneness with its soil. My language is Punjabi. The remark made to me in childhood stays in memory, "What can a Sardar paint."
What are your earliest memories?
The most striking memory is of Partition, collecting food for refugees, seeing multimillionaire reduced to selling fruits. It left a deep impact. I remember my father went to leave a Muslim mason to the station and he was attacked.
What rules, or what school of art have you followed?
Basically I have created my own rules. I was the first to use colours like violet, shocking pink, bright yellow and green on large spaces. I used flat colours. The only other artist using it was J. Swaminathan. On the canvas I put emblematic images. I was criticised a lot but stuck to my intuitive and innate sense of form.
What is your method of working ?
I do hundreds of drawings. I then trace these drawings on to the canvas. My work is planned. Painting is a discipline where you have to think and execute. After the drawing, I am nervous about using colour and may not colour the canvas for days. I study forms, imbibe knowledge from all over. Art is a serious activity though people don't think so. I work all seven days of the week. In my field there is a lot of fraud, it is a pseudo world but the real good artist cannot be kept down. He will be recognised.
You are supposed to be a temperamental person who can be quite rude...
This is not true. I appreciate good people. Politeness and gentleness are virtues which I like, but when someone tells a lie I cannot tolerate it. Surjit and Barnala called me to help in conceptualising the tercentenary function. A bureaucrat started talking about building a model village where my paintings could hang along with a charkha. I asked him: Where are these model villages in Punjab? I was blunt enough to say that use the money to make drains and toilets in the villages.
Even when I started, people took my honesty(in their stride). I do not have the time for drama. May be that is called being temperamental.
You seem to socialise a lot. Most society magazines write about you.
My friends are important for me. I like to sit with them. I have friends from all walks of life. Madan Mohan Singh, Bobby Bedi and Varsha Bedi, who made Bandit Queen, singer Rekha Surya etc. But at heart, I am a Sufi. I can get along with the simplest of villagers. I go to Punjab. I perform there at Lohri, sing the night away.
Singing seems to be another facet of your personality.
I sing for my pleasure. Music has always been a part of my life. My wife is a trained sitar player. I learnt to play tabla to accompany her. What I lack in technique, I make up with my zest. I can play the flute also. Another love is Sufi poetry which I sing for friends. My favourites are Baba Farid, Waris Shah, Shah Hussain, and Bulle Shah. I am a great admirer of Nusrat Fateh Ali Khan.
How would you rate the Indian art scene; are good artists finding an outlet?
The art scene is prospering, though there is a lot of fraud going on, too. Today, we have more than 150 art galleries in Delhi crying for artists' works. But most are empty. We do not have enough work. A good painter cannot be kept down. May be for a few years an ordinary painter becomes famous because of media hype but the sieve of time is very strong, everything not worth its weight will filter down.
We are not backward compared to other countries in art though they have technically better painters.
You criticised the film Fire but praised the work of M.F. Husain even when both offended a section of society.
I did not think the film was well made. Shabana gave a great performance. I feel once the censors have passed a film we do not have the right to change or criticise it. Similarly, Husain Saheb made a perfect work of art. He was inspired by Hindu sculptures. People like Bal Thackeray cannot judge art. Bajrang Dal should be tolerant of others opinions and behave in a more restrained manner.
What about your family life?
I got married when I was 28. I have two children. God has blessed me with a son who has taught me a lot in life — love, patience and the power of giving. He is deaf but he is a good painter and writes a lot. My daughter is young, thirteen years old.
What do you feel about the state of the country?
I feel sad. Ma is ill — my motherland is bleeding. Most politicians are besharam, we need to change the system because today good people will not win.
Do you think of leaving a mark for posterity?
Yes, at times. Two years back I started working for posterity. I felt my art should live. For one year I did not paint, only drew. I do feel my grand kids should have my paintings.
I am worried, Punjab does not have my work. I, at times, feel the world has recognised me but I still seem to be Punjab's kapoot. I love Punjab.
You are famous for being surrounded by women.
Some of my best friends are women. I relate to them well, not as a man to a woman but as two individuals. An artist cannot escape women--- there are women artists, galleries are owned by women and the buyers are women. Girls today are smart, they control things without raising a hue and cry. Men are namby-pamby. I admire today's woman, she manages her home and is a good professional also.
What has life taught you?
I have changed after my son's birth, evolved as a person. God has chosen me to do his seva. I feel no one is handicapped. People who have all the five senses functioning might not have an Atma, the most important trait in a person.