Collectors Club
We all know that developing a hobby is good, both for our health and well being. Read any book or article on stress and a common denominator is to find a relaxing hobby. Amongst the many hobbies that one can choose from, becoming a "collector" is an enduring passion. In fact, you couldn't find a better hobby to share with a child or another loved one. Along the way, valuable lessons in Sikh history can be imparted in the most engaging way. In these columns, we introduce to you the interesting Sikh memorabilia that makes for an interesting and enduring collection.
Stamps Celebrating Sikhs & Sikhism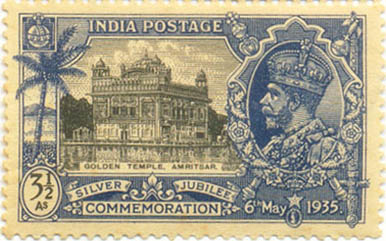 Do you have a partially filled stamp album stored away at the back of the closet just gathering dust? Has that album always remained a "someday" thing? Well, bring out that dusty album out of the closet because "someday" is here. We bring to you series of articles on innumerable Sikh stamps issued so far which will definitely regenerate your interest in them and tempt you to grab a personal copy of the same and add it in your collection. This way your interest will get a new direction and become more focused.
Collection of postage stamps and related items is one of the most popular hobbies. The estimated number of stamp collectors worldwide is around 200 million, of which about 20 million are in the United States alone. Stamp collecting is not the same as philately, which is the study of stamps. A philatelist may, but does not have to, collect stamps. Many casual stamp collectors accumulate stamps for sheer enjoyment and relaxation without worrying about the tiny details. The creation of a large or comprehensive collection, however, may require some philatelic knowledge. Postage stamps are often collected for their historical value and geographical aspects and they are also collected for the many different subjects that have been depicted on them, ranging from ships, horses, birds, Kings, Queens and Presidents. No matter what one's interest, there are almost always stamps that will complement that interest. Our interest here is the study of stamps on Sikhs – the people, places and events that have shaped our history and traditions.
There are two types of stamps released by the Postal Department worldwide. The first category is of Definitive stamps which are meant for the purpose of day-to-day postal mailing. The second represent the Commemorative stamps often issued on a significant date such as an anniversary, to honor or commemorate a place, event or person. They are printed in limited quantities and are always accompanied by a First Day Cover specially designed for each stamp. Sometimes these special stamps come in miniature or souvenir sheets also. It is the latter category which becomes a collector's item and forms part of the present series of articles. The Department of Posts and Telegraphs, India and various other countries have released numerous commemorative stamps on Sikhs from time to time on different occasions. These stamps embody the rich values and contribution of Sikhs in various areas like sports, politics, art, literature, religion, adventure, architecture, military accomplishment and social welfare.
We bring to you a series of articles on stamps and their First Day Covers released on Sikhs from 1935 till date. These articles are steered in a systematic and chronological way, taking the readers on an engaging journey on Sikh postage stamps.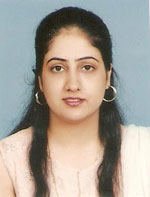 Meet the Author: Rupinder Kaur
A post graduate in History of Arts (Gold medalist) from Panjab University,Chandigarh. I currently work as a freelance editor with a Publishing house in New Delhi and write articles associated with Sikhism. I have visited various sites related to art, museums, galleries, historical places and Gurudwaras across India and look forward to do research in the field of Sikh art and architecture, on the areas that still needs to be explored.
To read the 5th article in the series"Adding Personal Touch to Stamps" click here.
To read the 4th article in the series"An Interview with Master Sikh Stamp Collector: Paramjeet Singh" click here.
To read the 3rd article in the series"A Sikh Stamp that was Cancelled" click here.
To read the 2nd article in the series"Stamps on Sikhs in Sports" click here.
To read the first article in the series"Stamps on Sikh Architecture" click here.