Sikhs Read: Sikh Heritage through Stamps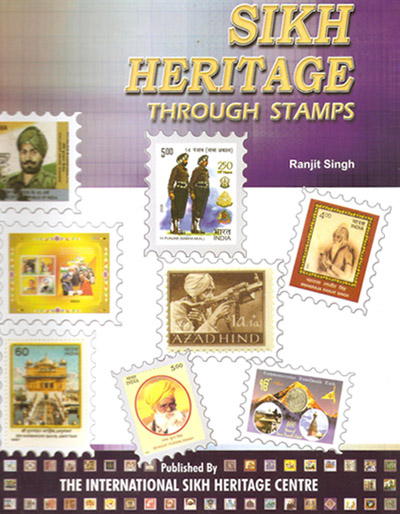 Sikh Heritage has been preserved and celebrated by various means. Old buildings, historical trees, weapons of important personalities from Sikh history, clothes and other articles of personal possessions of Sikh gurus, coins of the Sikh kingdom, manuscripts of the Sikh scriptures are some of the most widely acknowledged, preserved and utilized to teach Sikh heritage to our next generation.
At individual and institution levels, another recent phenomenon has been issuing of special mementos, books, posters, coins, souvenirs and T-shirts to celebrate Sikh heritage world-wide. Government affiliated academic centers of learning have paid tribute by organizing conferences and publishing the proceedings as a way to pay tribute to Sikh personalities from time to time. Sikh institutions have organized large scale Nagar Kirtans, Akhand Paths, Dhadi, Kirtan and Kavi Darbars, and other similar functions to bring awareness to general public and to re-enforce a feeling of pride among Sikhs.
Governments of several countries with large Sikh population have also contributed to spreading the message of Sikhism by taking part in functions and by issuing memorabilia. As a way of paying tribute, Government of India and some other countries have also issued stamps on anniversaries of Sikh Gurus, Bhagats, politicians, soldiers, warriors and social servants.
For the very first time, a pictorial database of Stamps related to Sikhs have been documented and presented in a book form by The International Sikh Heritage Centre, New Delhi. In this pioneer effort, by dedicated editorial board, an attempt has been made to capture Sikh heritage in the form of a Philatelic book.
This is a book about collection of one dedicated person, S. Ranjit Singh. Born in 1929 and educated in Rajpura, Ambala, Delhi and Lahore, he made it a life time hobby to collect Sikh theme stamps. This was made easy for S. Ranjit Singh, as he was employed by Post and Telegraph Department at Ambala and later at Telegraph Office in New Delhi from where he retired in 1987.
This book is an acknowledgement of perseverance and forth sightedness of S. Ranjit Singh's lifelong passion of collection. It is a fruit of his labor that Sikh stamps have been for the first time documented and presented in a format that tells the story of Sikh struggle and hardship as well as growing Sikh influence on worldwide stage.
Running into 130 pages, book is divided into 21 chapters with first 4 chapters devoted to messages from various personalities and the useful general information about Philately. Remaining chapters are divided into various subjects for a focus.
Chapter 5 on 'Sikh Gurus & Gurdwaras' has 9 stamps in all but they all show various Gurdwaras as representative of the Sikh Gurus. None has a pictorial resemblance of the Gurus themselves. It has a picture of the recent and controversial stamp issued in 2004 but soon after withdrawn that shows un-covered Guru Granth Sahib (community raised an issue with this picture and stamp was withdrawn but few thousands were sold during the confusion).
Chapter 6 on 'Bhagats', has 6 stamps with pictorial representation of Kabir, Namdev and Ravidas. Book also shows a stamp about Swami Ramanand, but that appears out of place as Ramanand's writings are not included in the Guru Granth Sahib.
Chapter 7 on 'Sikh personalities' has most stamps issued, at least 15. Some of personalities honored by stamps are Maharaja Ranjit Singh, Bhai Vir Singh, Jassa Singh Ahluwalia, Master Tara Singh, Harchand Singh Longowal, Zail Singh, Nanak Singh, Bhai Kanhaiya, Gurmukh Singh Musafir, Sobha Singh, Bhagat Puran Singh, Partap Singh Kairon, and Bhai Jeevan Singh.
Chapter 8 on 'Sikhs in the war of India's independence and the Sikh freedom fighters' has 6 stamps honoring the memory Jallianwala Bagh victims, Baba Kharak Singh, Sardar Udham Singh, Sardar Bhagat Singh (with a picture wearing a hat rather than a Dustaar), Sardar Ajit Singh (uncle of Bhagat Singh) and Fouja Singh (hanged in 1943).
Chapter 9 on 'Sikhs in defence services' has 9 stamps dedicated to either various regiments (Punjab, Sikh, Nabha Akal etc) or individuals for their gallantry (Nirmal Jit Singh Sekhon P.V.C and Karam Singh P.V.C.).
Chapter 10 on 'Sikhs in Sports' has 4 stamps included but none of these truly honor the role played by Sikhs in Sports. These stamps simply show Sikhs taking part in various sports such as Hockey, and Cricket or taking part in Olympics and Asian Games.
Chapter 11 on 'Stamps issued by other Countries' has samples from countries such as Singapore, Kenya, Canada, Germany, Pakistan, Netherland, South Korea, Bhutan, and Uzbekistan.
Chapter 12 on 'First Day Covers Issued by India Post' has 6 FDCs related to Gurus, 3 related to Bhagats, 11 related to Sikh personalities, and 3 others Sikh related issues.
Chapter 13 on 'Army Postal Service Covers' has 7 FDCs ranging from individuals to various Battalions and their actions throughout the history of post divided India.
Chapter 14 on 'First Day Covers issued by Other Countries' has 4 covers issued by Scotland, Iran, Pakistan, and Netherland.
Chapter 15 on 'Special Covers issued by various postal divisions of India & other countries' includes 21 covers from India, Pakistan, and Nepal.
Chapter 16 on 'Private covers & Private Stamps' has 15 FDCs and 6 stamps ranging in subjects from Sikh Gurus to Sikh Canadians.
Chapter 17 on 'First Flight Covers & Telephone Cards' has 1 FFC from Air India and 1 from Singapore issued at the start of flight from Singapore to Amritsar on October 1, 2004.
Chapter 18 on 'Stamp Post Cards' is simply a collection of Sikh related stamps printed in the form of a post card, mostly for stamp collector hobbyist.
Chapter 19 on 'Special Cancellations' has samples of 6 covers with 4 from Pakistan and 2 from India.
Chapter 20 and 21 are a glossary of Stamp Collecting words and definitions to help general public and collectors communicate in a meaningful manner. A list of stamps and covers issued by India Post is provided at the end that documents all issues.
Considering that it is a first attempt, Heritage Centre has done an excellent job to create this not only a work of art but also paid a tribute to Sikh heritage in its own way.
This book could not have been possible without dedication of S. Ranjit Singh and he should be commended for his true service to the community in a unique way.
As an added value to this book is the fact that each and every stamp issued has a date of issue as well a brief explanation of the history behind the dedication subject.
Book can be ordered from The Sikh Heritage Centre or from its distributor, Singh Brothers in Amritsar. It is a book that no Sikh home library should be without a copy. That would be a Sikh's way of paying tribute to ourselves, our community and heritage that all Sikhs share and strive to preserve.
Collector/Editor: Ranjit Singh.
Title: Sikh Heritage through Stamps.
Publisher: The International Sikh Heritage Centre, 74 Scindia House, Connaught Place, New Delhi 110 001, INDIA.
Format: Hardcover, Dust Jacket, Colored, Art Paper, 29cmx22cm, 130 Pages.