Searching for a Signal: A film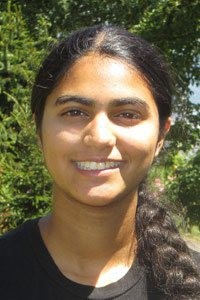 Amrita Kaur Bhasin
Amrita Kaur Bhasin is the young director of the winning film in the junior category at the 2015 Sikhnet Film Festival. Her film is based on the theme of a young boy who goes on a camping trip with his father who insists on using no electronics during the trip. The boy finds it difficult to keep away from his phone but eventually discovers the value of self control and moderation, as taught by the Sikh Gurus.
Amrita reflects – "I enjoyed making this film because it is a quiet and simple film that deals with a conflict very common to parents and children of our generation. It was interesting for me to realize how common ideas such as moderation, honesty and self controls are present everywhere. While producing this film, I had the opportunity to learn more about the Sikh Gurus. I learned about the values in the Sikh culture and how we as a society can learn to follow the Gurus' path. There are many books, movies and television shows that display the values of self-control, honesty and moderation. We may not realize it but we can all take the time to improve how we look at the world. It is up to us to follow the Gurus' teaching and cultivate them as we go about our everyday life."
You may also like...