The Symbol of Sacrifice: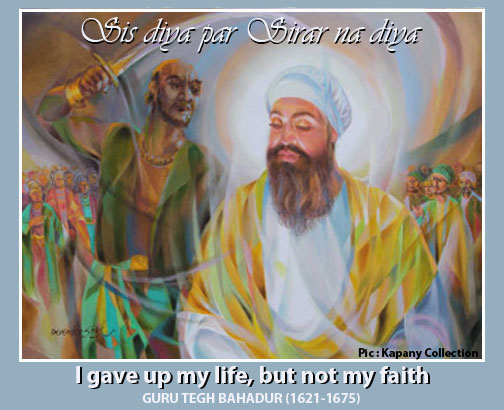 In the summer of 1675, the Guru, along with some of his companions were brought to Delhi and asked to convert to Islam or else face the penalty of death. Guru ji was also asked to perform a miracle. Guru Tegh Bahadur averred that he would rather sacrifice his life than give up his faith and his freedom or belief or perform a miracle. Thus, under Aurangzeb's orders, Guru ji and his companions were tortured. The Guru was chained and imprisoned in a cage and was tortured in the cruelest and the most inhuman ways for five long days. In order to terrorize him further into submission, one of his distinguished devotees Bhai Mati Das was sawn alive, another Bhai Dyal Das was boiled in the cauldron and the third Bhai Sati Das was roasted alive before the Guru.
Finally, the Guru himself was beheaded, under imperial warrant, in broad daylight, in the middle of a public square, the most prominent public place in India, called Chandni Chowk, of Delhi, on the charge that he was a stumbling block preventing the spread of Islam in the Indian subcontinent. The exact location of the beheading is marked by Gurdwara Sis Ganj in Delhi. His martyrdom was yet another challenge to the Sikh conscience. It was then realized that there could be no understanding between an insensate power imbrued with blood and a proud people wedded to a life of peace with honour. The sacrifice roused the Hindus from their passive silence and gave them the fortitude to understand the power that comes from self-respect and sacrifice. Guru Tegh Bahadur thus earned the affectionate title of "Hind-di-Chadar" or the Shield of India.
For many it is hard to imagine that a person with martial skills could also become a symbol of supreme sacrifice in defending someone else's faith. Yet, this is what Guru Tegh Bahadur displayed in life and death. About his death Guru Gobind Singh wrote:
Tilak janjoo rakha prabh taaka
Kino bado kaloo main saka

To protect your right to wear the caste mark ('Tilak') and the sacred thread,He performed the supreme sacrifice in the dark ages of Kalyug