Bringing Together Sikh Educators: The M.S. Kohli Memorial Conference
By Pamela Wilson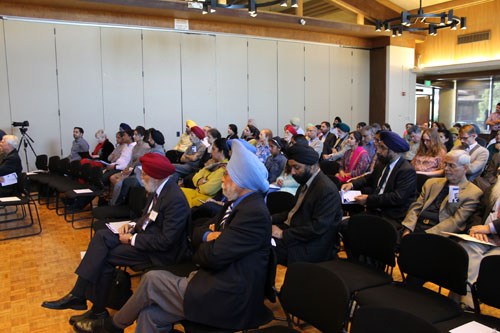 The Sikh Foundation brought together university professors, leaders of programs for Sikh youth, individuals associated with charter schools, representatives from museums, and Punjabi language teachers on March 28, 2015, at the M.S. Kohli Memorial Conference: Sikh Education in the 21st Century at Stanford University. Panelists shared information about their programs, discussed their successes and challenges, and forged new connections.
This event marked a watershed moment in the development of Sikh studies as an academic subject and in the availability of quality educational and cultural programs available for Sikh youth as well as educational outreach to non-Sikh communities. After decades of building up programs and community support, a new spirit of achievement, optimism, and teamwork has coalesced. The support of the Sikh Foundation has been an important driver of this growth and development.
The conference proceedings were opened with a shabad by Guru Arjan Dev Ji about spiritual development, performed by Shivpreet Singh, followed by a slideshow that paid tribute to Molinder Singh Kohli (1917-2014), in whose memory the conference was named. Mr. Kohli was a well-respected and beloved member of the Bay Area Sikh community who served as a volunteer with the Sikh Foundation for 30 years. He was also an active volunteer at San Jose Gurdwara Sahib, founding the Khalsa School there. Mr. Kohli passed away in February 2014 and is missed by all who knew him, including Sikh Foundation Chairman Narinder Singh Kapany, who remembered Mr. Kohli's dedication to Sikhism and phenomenal sense of humor.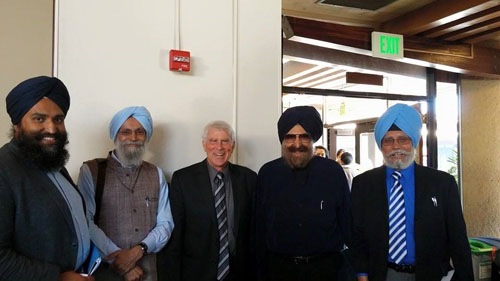 Dr. Kapany posited that the M.S. Kohli Memorial Conference may be the first event of its kind, bringing together so many different experts from the Sikh education community under one roof. It is his intention to create additional opportunities for the more than 1,000 Sikh educators in the English-speaking world to come together in different locations to share their experiences and exchange views.
He also shared his plan to create a series of videos on Sikhism that could be developed for Sikh and non-Sikh students and for members of the general public. Topics covered would include religion, history, and art. He urged attendees to imagine the effect this would have on the masses. Dr. Kapany conceded that creating these videos would be a huge task that would require the participation of brilliant people who understand Sikhism and could explain it beautifully, but he contended that this is absolutely necessary.
The chairman also announced plans for the next two community meetings of the Sikh Foundation, one focused on Sikhs in various educational fields, including and beyond Sikh studies, including science, entrepreneurship, and the humanities, and another focused on Sikh medical specialists who volunteer their services to the Sikh community.
The first panel, Sikh Studies at Universities, was chaired by Mark Juergensmeyer, director of the Orfalea Center for Global and International Studies, professor of sociology, and affiliate professor of religious studies at the University of California, Santa Barbara. In his opening remarks, Professor Juergensmeyer recalled the first major scholarly conference on Sikh religion and history in North America, which took place with the support of the Sikh Foundation in 1976 at the Graduate Theological Union in Berkeley. At that time, he recalled, the Sikh tradition was misunderstood and on the verge of being forgotten in the United States. Today, however, Sikh Studies is flourishing, thanks in part to the work of his colleagues on the panel:
Kundan Kaur Kapany Professor in Sikh and Global Studies Gurinder Singh Mann, who has been teaching about Sikhs in the global context at University of California, Santa Barbara, since 1999;
Dr. Jasbir Singh Saini Endowed Chair in Sikh and Punjabi Studies Pashaura Singh, a specialist in scriptural studies and early Sikh history at University of California, Riverside;
Professor Rahuldeep Singh Gill, who teaches religion and directs the Center for Equality and Justice at California Lutheran University in Thousand Oaks, California.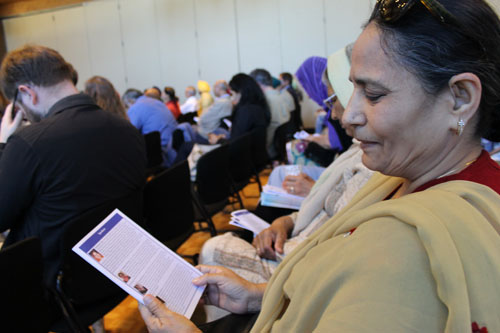 Gurinder Singh Mann remembered M.S. Kohli as a very special person, known for his kindness, whose story was the story of nearly an entire century, and recognized Dr. Kapany and Professor Juergensmeyer as "two visionaries" who dreamed up the position he has held for the past 15 years, the Kundan Kaur Kapany Professorship. Professor Mann shared encouraging statistics about the program at University of California, Santa Barbara: in the last year, 640 students took his classes in Sikhism, Punjabi, and global diasporas; since 2004, eight students have completed PhDs in religion, archaeology, music, and education, including fellow panelist Rahuldeep Singh Gill; 182 students participated in the Summer Program in Punjab Studies between 1997 and 2009; and eight conferences on Sikh and Punjabi topics were held at UCSB. Professor Mann closed his report by sharing, with a heavy heart, news of his impending retirement.
Pashaura Singh recalled taking a course in human nature in the Department of Religious Studies at University of Calgary in Canada in the 1980s. He asked to write term paper on his own religion, and his professor was stunned. Even scholars of religion at that time were unaware Sikhs and their traditions, and when Sikhism was mentioned, it was more often than not misrepresented as a syncretic religion that blended Hindu and Muslim traditions.
Professor Singh suggested that two prejudices worked against Sikh studies in the context of Indian studies: first, Sikhism only 500 years old, a blink of the eye in the context of an Indian civilization that goes back many thousands of years; and, second, the perception of Sikhism as a strictly regional faith, confined to Punjab. These two biases hindered progress in field of Sikh studies; however, today, the field is institutionalized with eight chairs of Sikh studies in North America.
In 2014, Oxford University Press published The Oxford Handbook of Sikh Studies, edited by Pashaura Singh and Louis E. Fenech. Three generations of academics from all over the world contributed chapters for this first major comprehensive survey of the field. This important publication has helped usher in a more inclusive, reflexive, interactive, and interdisciplinary vision of Sikh studies that takes into account the diversity of Sikh life in the global context.
Rahuldeep Singh Gill discussed a general education course he taught, Sikh Traditions: A Case Study in Global Religion, at California Lutheran University, a nonsectarian private liberal arts college founded by the Evangelical Lutheran Church in America located in Thousand Oaks, outside Los Angeles. In this course, Professor Gill used Sikhism as a case study for a class comprised entirely of non-Sikh students. He used a service learning model to integrate seva in the community with classroom learning and critical reflection.
Gill gave his students a choice of venues to engage in volunteer community service: they could either feed the homeless in downtown Los Angeles with the Khalsa Peace Corps or help with food preparation for the annual Vaisakhi celebration at the Los Angeles Convention Center. Students were moved by the doing service, and this experiential learning made topics discussed in the classroom come alive. For a few students, this experience of performing community service led to truly transformative outcomes, including at least one student who found a career path. Inspired by the success of this course, Gill plans to integrate additional opportunities for service into future classes.
Regrettably, technical difficulties prevented us from viewing a presentation by Sarbjit Singh Aurora Chair in Sikh and Punjabi Studies Nirvikar Singh, an economist at University of California, Santa Cruz, who was in India the day of the conference.
Professor Sangeeta Luthra, who teaches anthropology at Santa Clara University and has studied Sikh institution building since 9/11, chaired the second panel, Museums and Charter Schools, which featured the following speakers: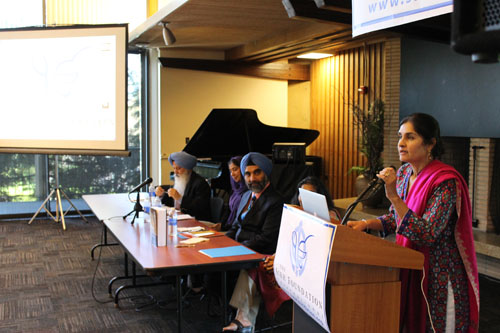 Kalpana Desai, president of the Board of Directors at SACHI, the Society for Art and Cultural Heritage of India, who has been active in public education, school, and community outreach programs at the Asian Art Museum of San Francisco;
Bhupinder Kaur Malik, who represented her father, Gurdip Singh Malik, who runs schools in India and Canada and will soon open the Gian Charter Academy in Los Angeles;
Dr. N.S. (Narinder Singh) Dhaliwal, who spearheaded the creation of the Sacramento Valley Charter School, located on the grounds of Sikh Temple, West Sacramento; and
Dr. J.S. (Jasbir Singh) Kang, founding member of the Punjabi American Heritage Society and its Museum Committee, which created Becoming American, a permanent exhibition at the Community Memorial Museum of Sutter County.
Kalpana Desai presented an overview of Sikh art resources for students and visitors at the Asian Art Museum of San Francisco. The Asian is the only museum in the United States with a permanent gallery dedicated to Sikh art, established with gifts of art and resources by Sikh Foundation Chairman Narinder S. Kapany.
The Satinder Kaur Kapany Gallery of Sikh Art contributes to the learning experience of thousands of visitors each year. Works in the gallery rotate every few months. It is especially important to rotate the paintings, which are sensitive to light. The associate curator in charge of this gallery builds these rotations around themes, some of which tie in with special exhibitions at the museum, such as 2011-12's Maharaja: The Splendor of India's Royal Courts. Other themes are built around connections between artwork in the Sikh art gallery and in the larger museum collection.
Desai pointed out that museums, like universities, are temples of the mind, and that learning about art also entails learning about history and different cultures. The Asian Art Museum serves 32,000 students and teachers annually through programs geared at pre-K through college levels. The middle school curriculum in California includes study of world cultures, so many museum visitors fall into this age range. The museum website is another educational resource. Photos and descriptions of other 100 pieces of Sikh art are available for exploration and study.
Bhupinder Kaur Malik represented her father, Gurdip Singh Malik, who has built educational institutions in the India, Canada, and the United States.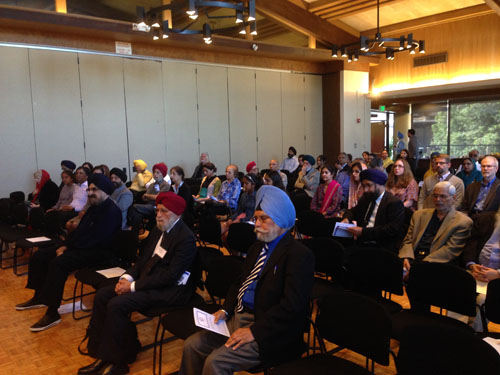 In India, the Satnam Sarab Kalyan Trust in Chandigarh funds teacher salaries at 274 schools all over Punjab. Over 100,000 students are learning Gurbani and Punjabi in addition to general education. Scholarships have been extended to 132 students this year. The scholarship funds are closely managed and watched by a dedicated staff member. They expect to be able to give out 200 scholarships next year.
In Canada, Satnam Education Society of British Columbia runs six Khalsa School campuses. These private schools follow the established Canadian curriculum. Students also learn Punjabi, Gurbani, kirtan, and Sikh culture and history. When the schools first began, supporters knocked on doors and asked people to send their kids to the Khalsa Schools. Today 2,700 students are enrolled.
The Gian Charter Academy will be housed at the Khalsa Care Foundation Gurdwara in Pacoima, near Los Angeles. Organizers are currently petitioning the Los Angeles United School District to approve this charter school. Charter schools are funded by the state like public schools, and as long as teachers follow the state curriculum, administrators are also welcome to incorporate their own curriculum. The Gian Charter Academy will start out serving students in grades K-3 and eventually go all the way up to eighth grade.
Dr. Narinder Singh Dhaliwal talked about his experience establishing the Sacramento Valley Charter School. This charter school, which opened its doors in 2011, is located on the campus of Sikh Temple, West Sacramento.
Funds to build the school were raised from the gurdwara's congregation, and board members solicited contributions from their personal friends. The environment at the school counters two tendencies that parents in the community noted were affecting their children in public school: bullying and lack of discipline.
Tuition is free, and students from all backgrounds are welcome and present at the school. Students are taught the standard California curriculum with one period each day dedicated to study of the Punjabi language. Spiritual education is also offered.
J. S. Kang, MD, FHM, is medical director of the hospitalist program at Rideout Health in the Yuba-Sutter Area. Dr. Kang is also a founding member of the Punjabi American Heritage Society, whose Museum Committee established the permanent exhibition Becoming American at the Community Memorial Museum of Sutter County in Yuba City.
The exhibition opened its doors in March 2012. It focuses on the long history of immigration to California by Sikhs. Photos and timelines document changing immigration laws and other milestones as well as photos and illustrations that bring the material alive. Dr. Kang explained that, in developing the educational resources in the exhibitions, committee members aimed to keep everything in the museum geared to the eighth grade level in order to keep it accessible for all. Stressing the importance of sharing stories about Sikhs with all Americans, Dr. Kang encouraged others to set up museums in their own communities and offered his assistance to interested parties.
Sonia Dhami shared information on new developments at the Sikh Foundation, among them a proposed new program in monument conservation at UC Merced and a forthcoming art book co-published by the Foundation and the Smithsonian Institution. An expanded exhibition of Sikh art and a banquet at the Asian Art Museum of San Francisco are planned for the Foundation's 50th anniversary. A permanent collection of Sikh Art at the National Museum in Ottawa, Canada, is in development, as is a summit on Sikh education will take place in 2016. Dr. Kapany and colleagues are also hopeful about plans for the Graduate Theological Union in Berkeley, a graduate school offering academic programs in a wide range of fields in theology and religious studies, to add an endowed faculty position and program focused on the Sikh tradition in coming years.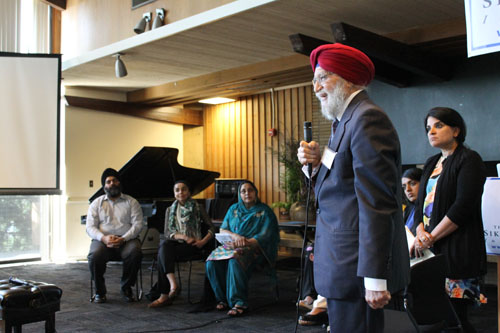 Writer Meeta Kaur, who edited the collection Her Name Is Kaur, Sikh American Women Write About Love, Courage, and Faith, moderated the final panel, Diversity Education which welcomed:
Pushpinder Kaur, founding principal of the Guru Nanak Khalsa School San Jose, author of the children's book The Boy with Long Hair, and a member of the Board of Directors of the Kaur Foundation;
Palvinder Kaur, Northern California community organizer for the Jakara Movement, which is creating a new generation of leadership through individual development and community building, based on the teachings of Gurmat;
Ravinder Kaur, retired Stanford University Punjabi language instructor;
Arshinder Pal Kaur, Punjabi language instructor at the University of California, Santa Cruz, Silicon Valley Extension and the Khalsa School, San Jose;
Ginnipal Singh, a member of the Board of Directors of Saanjh, a community-based organization that is inspiring the next generation of Sikh youth to be a force for positive social change through camps, retreats, and other educational opportunities; and
Geetika Kaur, director of education and community engagement at the Kaur Foundation, which works to end bullying through custom-made, survey-based educational resources.
Meeta Kaur began the session by sharing her experience as a mother trying to balance her hopes and dreams for her children with her awareness of the need for her to step back and let her kids find their own path. All of the panelists, who are educating Sikh youth, share this tension to some degree. Depending on the subject and the question at hand, sometimes there are right answers and wrong answers. On other occasions, there can be time for creativity and experimentation.
Pushpinder Kaur shared highlights of her 26-year history with the Guru Nanak Khalsa School, which is helping Sikh children develop into confident, compassionate, involved citizens. Pushpinder stressed the importance of collaboration, communication, and critical thinking in education. Teaching Punjabi goes far beyond language learning.
Palvinder Kaur introduced the Jakara Movement, which started as a conference in 2000 and later added camps for kids. Jakara's work focuses on individual development and community development, and they are building their movement through local chapters called misls. In response to Meeta's conundrum about right and wrong answers, Palvinder pointed out that when a child gives the "wrong" answer to a question, it is important to realize that their answer is rooted in their actual lived experience. It is important to tune into that child's experience in order to build a positive educational experience.
Ravinder Kaur reflected on her work at Stanford as an opportunity to help students understand who they are and what they care about through music, culture, religion, language, and myths. She explained that she aimed to make her classes fun and enjoyable for students. Ravinder pointed out that Punjabi as a language is always changing and developing. The addition of new words, sometimes from English, is healthy and part of what it means to speak a living language.
Arshinder Pal Kaur began teaching Punjabi in India, followed by a move to Singapore. Eventually she began teaching at the Guru Nanak Khalsa School San Jose. More recently, she began teaching introductory Pubjabi at University of California, Santa Cruz. She talked about the differences between teaching children at the Khalsa School and young adults at the extension school. The other Punjabi language instructors concurred with Arshinder's observation that, because these classes make up a relatively small proportion of students' coursework, it is important for teachers to do as much as they can to engage in their students in the short time they have at their disposal.
Ginnipal Singh talked about Saanjh's orientation toward education through activity and grassrooots efforts. The organization started seven years ago and offers camps and retreats that allow young people to learn more about Sikhi and to explore subjects such as an individual's personal relationship with the Divine, identity and culture issues, history, literature, and present-day challenges. The organization itself is a positive outcome that grew out of the challenges SIkh youth were facing when Saanjh formed seven years ago.
Geetika Kaur recently joined the staff of the Kaur Foundation, which promotes cultural literacy, awareness of Sikh Americans, and acceptance of diversity through school programs, which create safe spaces for young people to engage with difference. The organization is working to eliminate bullying, social isolation, and other forms of exclusion. Geetika talked about the importance of creating classroom resources based on a standardized approach where all students get the same information. To this end, the Kaur Foundation has created a DVD called Cultural Safari that can be used in K-12 classrooms. Geetika pointed out that we have moved beyond the era of individual Sikh parents coming to their children's classrooms and talking about their identity and culture. Children need to learn about Sikhs whether there is a Sikh in an individual class or not.
Geetika's comments opened up a spirited Q&A in which conference attendees introduced themselves, their work, and their concerns. One exciting outcome was the realization that programs in Punjabi language and Sikh culture have reached a level of maturity today where we are now ready to begin evaluating these efforts in order to determine which approaches are working and can be replicated. Onkar Singh Bindra, an activist instrumental in getting accurate information about Sikhs into the California school curriculum, proposed that the Sikhs Studies in Universities panelists make a list of resources every school should have as well as a list of supplemental materials for teachers.
The Q&A and ensuing networking and small group discussions at the close of the conference extended the opportunity for dialogue and collaboration that we saw earlier in the day on the panels to all attendees. It was an inspiring day is sure to have a ripple effect on future plans and projects.