Childhood to Senior – Health meet covers phases of life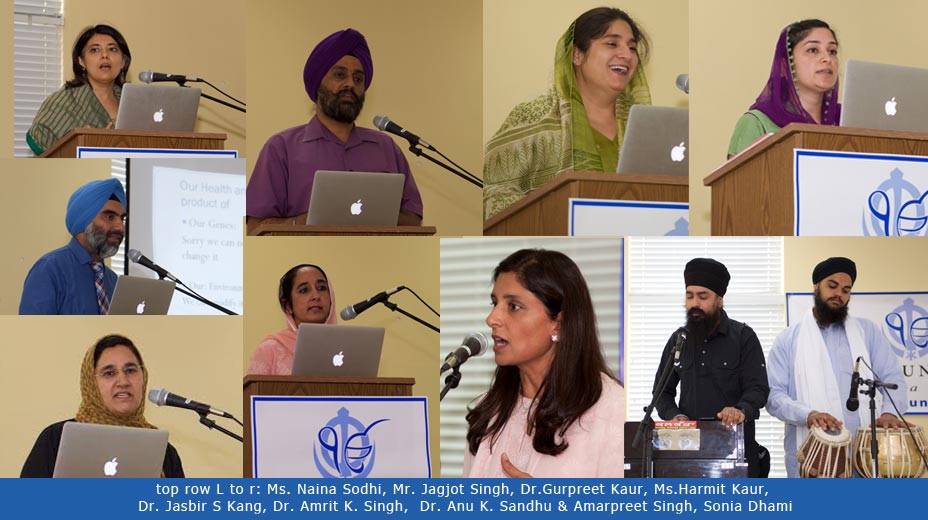 We Sikhs are known for our joie de vivre- our love of life. We work hard and play hard. And in all this sometimes our health is the casualty. But a healthy outside always starts with a happy inside – Good health, priceless and invaluable, is also the key to happiness.
The Sikh Foundation joined hands with the Sikh Family Center, supported by the Guru Nanak Khalsa School, to know how our community can achieve both good health and happiness.
The Sikh Foundation & the Sikh Family Center are both deeply committed to the progress of our community. On Sept.12, 2015 we invited a panel of distinguished doctors and health professionals to speak with us on some important areas of our health. Dr. Amrit Kaur Singh, Ms. Naina Sodhi ,Dr.Jasbir Singh Kang, Dr. Anu Kaur Sandhu & Dr. Gurpreet Kaur Padam, all gave superb presentations and shared their insights with an engaged audience, which had ample questions for our panel.
The meeting was opened by melodious kirtan by Mr. Amarpreet Singh.
These presentations were very graciously chaired by Mr. Jagjot Singh an angel investor and a successful entrepreneur. Apart from his many professional accomplishments, he is passionate about helping our community in every possible way.
Dr. Amrit K. Singh DDS, expertise as a dentist drew attention to the need for a rigorous and consistent dental care schedule starting from our childhood to our golden years.
Naina Sodhi LMFT, a licensed Marriage & Family Therapist spoke to us on the unique environment of the Bay Area and how we can navigate the sensitive and emotional phase of adolescence and the teenage years.
Dr. Jasbir S. Kang M.D a distinguished physician and community leader engaged the audience with his rustic Punjabi and succinct warnings on how our food & lifestyle choices make Punjabis particularly prone to heart disease.
Dr Anu K. Sandhu M.D a certified psychiatrist from the Royal College of Canada shared her experiences on the causes and solutions of depression in the elderly.
Dr Gurpreet K. Padam M.D, drew the audience to take stock of how prepared they are to face death – which is the ultimate reality of life. A difficult subject to talk about but handled very sensitively by her.
The "note of thanks" was proposed by Ms. Harmit Kaur of the Sikh Family Center.
These meetings with our community are an opportunity to share and learn about each other. We choose different themes for each of these meetings e.g health, books, arts & education and invite our doctors, authors, artists and scholars. We look forward to seeing you at these many more of these meetings in the coming days
We appreciate the support of our volunteers – Amarpreet Singh, Dickey Singh, Jasdeep Singh Arneja, Gagandeep Dua, Bikram Singh, Daleep Singh Dhami, Aekash Singh, Zhu Lu & Satbir Singh.
The individual presentations can be viewed below. Please click on the titles to download the presentations PPTX format
Click here to view photos from the event on our Facebook Page!