Health & Wellness for All – A Free Family Event
12th Sept 2015 10.30am-1pm
San Jose Gurudwara Khalsa School Library
3636 Murillo Avenue- San Jose CA 95148
Have you ever wondered – is our Punjabi diet good or bad? Why do our elderly parents and grandparents not seem as cheerful and happy as they once were? How should we plan for our old age? How can you communicate better with your teenagers? Why are your kids milk teeth not falling when they should ?
Questions like these come to mind but we push them aside and carry on with our daily lives. Now you don't have to.
The Sikh Foundation and the Sikh Family Center bring to you an expert panel of doctors and health professionals who will answer these questions and also share a wealth of valuable information on how we can live "Healthy & Happy " lives. We will also connect you to useful community resources which you might not know of.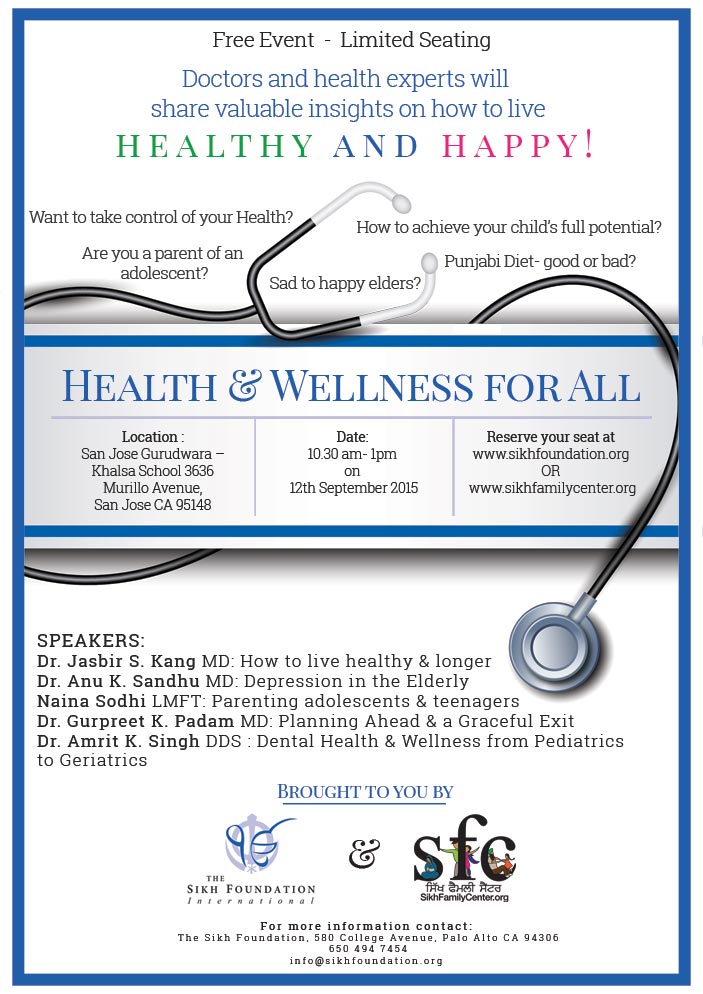 Speakers:
Dr. Amrit K. Singh DDS Dental Health & Wellness from Pediatrics to Geriatrics
Naina Sodhi MFT – Parenting adolescents & teenagers
Dr. Jasbir Singh Kang MD – How to live healthy & longer
Dr. Anu K. Sandhu MD – Depression in the Elderly
Dr. Gurpreet K. Padam MD – Planning Ahead & a Graceful Exit
We look forward to seeing you with your family and friends. Please mark the date
12th Sept 2015 at 10.30am-1pm at San Jose Gurudwara Khalsa School Library
This is Free Family event but seating is limited. Kindly RSVP & reserve your seats at
http://www.eventbrite.com/e/health-wellness-for-all-tickets-18009880036
or email us at info@sikhfoundation.org or call 650 494 7454
About the Speakers: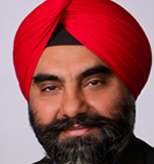 Jasbir Singh Kang, MD, FHM
Jasbir Singh Kang, MD, FHM, is the Medical Director of hospitalist program at Rideout Health in Yuba Sutter Area. He is a founding member of the Punjabi American Heritage Society, Punjabi American Festival and "Becoming American" a permanent museum exhibit at the Community Memorial Museum of Sutter County. He continues to play an active role in the production of many documentary films. He is also a host for several television shows pertaining to community issues and health related topics. He was honored by KVIE, a PBS TV Channel, Sacramento for his community outreach work in 2006.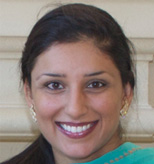 Dr. Anu Kaur Sandhu MD
Dr. Anu Kaur Sandhu MD has been a physician for over 20 years, and is a Royal College of Canada certified psychiatrist. She was most recently an Assistant Professor at Stanford University in the Department of Psychiatry. She grew up in Canada and received her M.D. from the University of Ottawa after completing a 6-year medicine program. She completed her internship, residency, chief residency, and fellowship at the University of Toronto. Anu is the two-time recipient of the Division of Geriatric Psychiatry Award of Excellence, the Canadian Academy of Geriatric Psychiatry National Fellowship Award and the Award for Best Research by a fellow. She has published several medical research studies in post-stroke depression and treatment of the elderly, as well as authoring chapters on mood disorders in old age. Anu lives in Palo Alto with her husband Harpal and their three daughters, Simran, Kareena, and Meher.
Summary of her talk:
Depression in the Elderly
Clinical depression in the elderly is common. Late-life depression affects about 6 million Americans over the age of 65. Aging can mean a series of progressive losses including retirement, loss of purpose, reduced independence, increased isolation, loss of loved ones, and risk of medical illness. However, depression is not an inevitable part of aging and it is not normal. A depressive illness is more than just feeling sad. Depression affects the whole person including their feelings, thinking, behavior and physical health, and interferes with normal functioning. Late-life depression is under-recognized and under-treated. Only ten percent of clinically depressed older adults receive treatment for depression. Ninety percent of affected people will not seek out the help they need or their depression will be missed or ignored. The good news is that most people with depression respond well to treatment and achieve a complete recovery.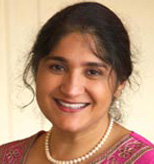 Gurpreet Kaur Padam, MD
Gurpreet Kaur Padam, MD, practices adult medicine and hospice with the Permanente Medical Group. She is fellowship-trained and board-certified in hospice and palliative medicine, board-certified in family medicine, and completed a mini- fellowship in ethno-geriatrics. She is a founding board member of the Sikh Family Center, which promotes healthy families in the Sikh American community by closing current gaps in access to resources and increasing community awareness and activism.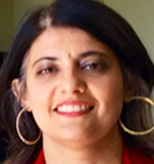 Naina Sodhi, MFT
Naina Sodhi, MFT, is trained in EMDR, Play Therapy, Trauma Resourcing (TRM), Cognitive Behavioral Therapy(CBT), Family systems theories, Sand tray therapy and mindfulness practices. A mulitilingual professional she offers services in Punjabi, Hindi, Urdu, Marathi or workable Gujrati with working knowledge of several other South Asian languages. She has worked in local refugee non-profits, women and family shelter organizations, schools all over the Sacramento area, school district and agencies serving women and children who have experienced trauma. She has been practicing since 2010. When I'm not working, or volunteering in my children's schools, I try to play with my children as much as possible. In snippets of time left over, I read, meditate, travel, cook, garden…hopefully not all at the same time.
"I am humbled and honored to work with families and individuals who trust me with their stories and allow me to be a part of their healing and life-journey." Naina Sodhi
Summary of her talk:
Parenting Adolescents & Teenagers:
Challenges faced by minority adolescents in the bay area community
Things to address without delay
Fostering Open communication
Everyday guidelines for parenting adolescents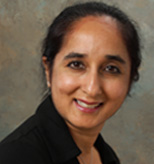 Dr. Amrit K. Singh DDS
Dr. Amrit K. Singh DDS
Dental Health & Wellness from Pediatrics
to Geriatrics
Dr. Amrit Kaur Singh originally from Nova Scotia, Canada, received her Masters and Doctorate of Dental Surgery from Dalhousie University in 1996. She has been practicing in the Bay Area for the past 18 years initially working with San Mateo Medical Center's underserved pediatric population and then opening her own private practice in Palo Alto.
She has been honored for her hard work, dedication and commitment to the community. She has taught dental students at UCSF and has taken part in the training of Dental Hygiene Students from Foothill College.
Dr. Singh has taken extensive courses in all disciplines of dental care, including laser dentistry, occlusion
and orthodontic alignment and cosmetic dentistry at the Las Vegas Institute for Advanced Dental Studies. She is passionate about creating functional and beautiful smiles and how this, in particular, pertains to overall health and wellness of the individual. She is a member of the American Academy of Laser Dentistry, American Dental Association, California Dental Association and Mid-Peninsula Dental Society.
Dr. Singh, her husband and three children have been involved locally and feel very much a part of the Midtown, Palo Alto community as well as the Bay area Sikh community. She enjoys hiking and spending time with her family.