Sikh Authors Speak! by Ariana Kaurin Kapany Schwarz
On September 6th 2014, four incredible talented Sikh authors from all around the Bay Area will come together to share with us their personal journeys. We are thrilled to be enchanted by their stories of intention, inspiration, and hope.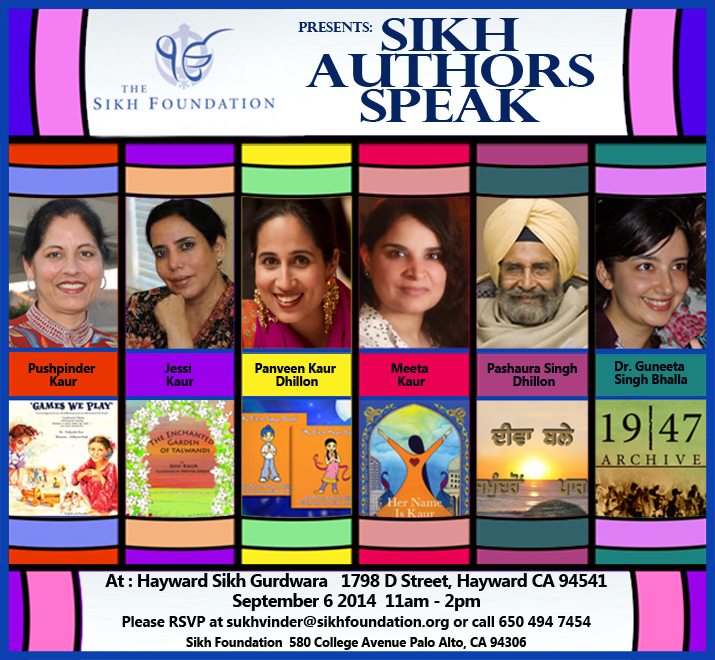 Pushpinder Kaur is a much-loved author of numerous books and publications. She wrote The Boy With Long Hair, and most recently, a wonderful book called Games We Play. Pushpinder explains "Dr. Kapany and The Sikh Foundation had commissioned Sukhpreet Singh to create paintings of the games of Punjab. I am so glad he called me to discuss a possible writing project using those paintings. Most of us Baby-Boomers sitting here can relate to one game or the other. Who hasn't played geetay or shataapoo? How about gulli danda? Moreover, the bilingual text of the book will appeal to the Punjabi and the English reader alike. It will be a great conversation piece and remind us of the good old days in the dusty streets of a Punjabi pind." She is looking forward to working on more projects in the near future.
Parveen Kaur Dhillon is the author of the My First Sikh Books. This wonderful packaged set of board books and coloring books for kids is meant to instill pride and self-confidence in young Sikh children, enabling to be more successful later in life. Her books are very well known and popular with growing Sikh children.
Jessi Kaur is the author of three highly acclaimed children's books – Dear Takuya, The Royal Falcon, and, most recently published, The Enchanted Garden of Talwandi. Jessi is passionate and committed to sharing a message about the unity of mankind that is inherent in the diversity of different races and creeds. Through her writings, she aims to foster respect, dignity and acceptance amongst children and youth. She believes that we must start teaching the young about oneness and compassion, as they are the future, and if we can do this successfully, we will live in a better world.
Meeta Kaur is a phenomenal writer who has re-claimed the traditional "love story" by creating The Sikh Love Stories Project. Through the lens of the Sikh faith and in an exploration of what it means "to love and be loved," Sikh American woman share their personal and intimate lives in contemporary American culture. Meeta believes that Sikh women's stories inform our Sikh men's stories, children's stories, and the collective narrative we are living as Sikh Americans.
We are also very excited to announce that two special invitees will be joining us as well!
Pashaura Singh Dhillon is a Punjabi poet and singer whose aim is to share the beauty of Punjabi poetry with the world. He sings about several important issues, such as gender equality, environmental issues, and loss of tradition.
Dr. Guneeta Singh Bhalia is an incredible woman who has created an archive of stories from the 1947 Partition. She explains that the "partition was a massive global event that has enjoyed little attention and documentation when compared to other events of similar scale such as the Jewish Holocaust and the World Wars. Yet, despite the lack of official memorialization, it continues to be an integral part of our cultural fabric, weaving its way through our sayings, folk tales, song, poetry, art, literature, public policy and so much more. Here at The 1947 Partition Archive we are working hard to institutionalize the memory of the Partition by creating a resource of recorded human accounts so that the memory doesn't fade away into mythology, and so that a more accurate version of our history is preserved. The resource will also be available for critical reflections from artists, authors, researchers, policy makers, educators and other groups." She looks forward to helping others discover some of the incredible human voices that have been recorded.
We look forward to seeing you there!
Please RSVP by clicking the link below.
http://www.evite.com/event/sikh-authors-speak

Ariana Kaurin Kapany Schwarz, granddaughter of Dr. Kapany, graduated from University of California at Santa Cruz with a B.A. in Philosophy, and a B.A. in Psychology. She aims to create social change in the world by applying her background and experience in these areas. Her biggest goal is to start a nonprofit that brings yoga and spiritual healing into hospitals and institutions.