Sikh Education in the 21st Century
We are delighted to share with you a short video showcasing all the speakers at the conference We are encouraged by the support and encouragement we have received from all the community members, scholars & educators, who came together at this conference to promote, preserve and progress Sikh education. The success of this event is a collective effort and we are proud to be a part of this group. The day long presentations and discussions by over 17 speakers,brought out the many opportunities and challenges that are facing Sikh Education.
We are also sharing with you here, all the presentations that we have received from the speakers.
Please note: These presentation are for your viewing only. They are under a copy right protection, and can not be used on other sites or other presentions with out the approval of the presenter. Thank you
---
We are delighted to report that over 120 scholars, educators and community members came together at this conference to promote, preserve and progress Sikh education. The success of this event is a collective effort and we are proud to be a part of this group. The day long presentations and discussions brought out the many opportunities and challenges that are facing Sikh Education. We will be publishing a detailed report on the conference shortly.
Many of the presenters had prepared presentations, which are made available via links below their respective bios, lower on this page.
Please note: These presentation are for your viewing only. They are under a copy right protection, and can not be used on other sites or other presentions with out the approval of the presenter. Thank you
We are also sharing with you some of the impressions of the speakers about the conference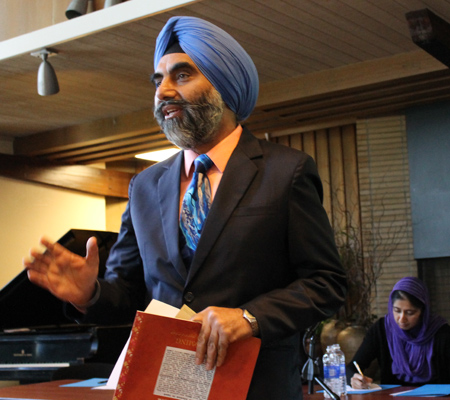 Dr. Jasbir Singh Kang – "Becoming American" Exhibit at Yuba City
"Take home messages from conference were:
1. Now we are a global community and we need modern tools and methods to enhance and spread awareness and education.
2. Establishment of more academic programs and chairs at various Universities. Despite some controversy in the past these chairs have played constructive role in the field of academics.
3. Different Sikh organizations to coordinate closely to improve teaching tools and curriculum at various Sunday Schools.
4. Establishing more Charter Schools.
5. Coordinated efforts to include chapters about Sikh Americans in Public schools history and social sciences textbooks.
6. Using different tools like documentaries, movies Museum exhibits to improve awareness amongst public at large."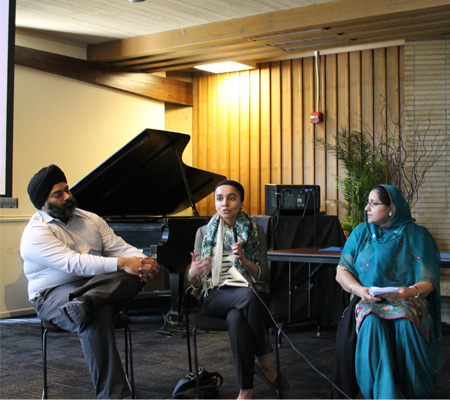 Geetika Kaur – Kaur Foundation
This past weekend Kaur Foundation was at the Sikh Education in the 21st Century conference hosted by Sikh Foundation at Stanford University. We had an opportunity to hear from a range of voices (community members, educators, and community-based organizations) who are working in the area of Sikh education.
Over the course of the day we collectively discussed Sikh education in academic spaces, outreach/education efforts by museums, efforts from within the community to engage young Sikhs to learn about Sikhism, and KF was at the conference to share our work to incorporate education about Sikhism into mainstream school curriculum.
I took pages of notes at the conference, and as I head back to D.C. I am re-reading and reflecting on the conversations of that day. I keep coming back to a question from an audience member around how we as organizations/institutions/community members are creating space for young Sikhs to engage with Sikhi through art and creative expression.
A great question (thank you to the audience member whose name is escaping me at the moment!) that for me really tied together some of the discussion threads from all three sessions. In the first panel of the day, Dr. Rahuldeep Singh Gill talked about using the experiential learning approach to engage non-Sikh students in his University level classes. Then in the second panel we discussed how art/history is used as an outreach tool to educate non-Sikhs about Sikhi at the Punjabi American Heritage Society in Yuba City and the Asian Art Museum in SF. Finally in the third panel we reflected on community efforts to engage young Sikhs through Khalsa School, language classes, and camps.
Linking all this together, I am thinking through the idea of how art (as a form of experiential learning) can be used to encourage a new generation of Sikhs to further explore Sikhi. From an organizational perspective, at KF we have done a lot of work in the past to organize platforms for creative efforts to be showcased through events like film festivals, art exhibits, and book readings. But this question was a good reminder about the importance/value of creating even more space in the community for us to connect with Sikhi through personal creativity/art making. Regardless of if the creative expression is intended for an audience/performance or if the intention is that it will never see the light of day, there is beauty/value in the personal reflection that comes with the art making process.
Of course creativity and art permeates the Sikh tradition – after all the Guru Granth Sahib Ji is poetry written to music – but perhaps we need to expand our collective understanding around what constitutes the creative process to also include some non-traditional forms/expressions of creativity. And maybe, it is the balance between the intellectual understanding of Sikhi and the exploration of Sikhi through various forms of personal creativity that will inspire a new generation of Sikhs to want to live Sikhi with every interaction. Live Sikhi in a way that one's life becomes like art in the making.
Thank you to the Sikh Foundation for organizing (and inviting KF to participate in) such an engaging exchange of ideas and experiences.
March 26 2015
M.S Kohli Memorial Conference: Sikh Education in the 21st Century".
28th March 2015 9.30am-4pm
Stanford University
Officially Sold out!
We are excited to welcome you to the conference "Sikh Education in the 21st Century" on the 28th of March at Stanford University. We are also delighted at the overwhelming positive response to this important conference. We have opened a short wait list, so if you would like to attend you can still register.
This will be a great opportunity to hear from some of the hard working and innovative scholars and community members who have worked on promoting Sikhism both within the community and to the broader public.
---
An amazing array of speakers will be coming out to Stanford University on 28th March 2015 to share with you their experiences, challenges and visions at the first "M.S Kohli Memorial Conference: Sikh Education in the 21st Century".
This conference will discuss the developments, opportunities & challenges facing the education of Sikhs at all levels of school, university & community. It will be a first of its kind event focusing on the exceedingly important subject of educating Sikhs about their heritage, language & religion.
This conference is generously supported by the "Sahni Family" in memory of Mr. M.S Kohli who passed away in Feb. 2014. Mr. Kohli served the Sikh Foundation for over 20 years and also served on our Board as Trustee Emeritus.
I. Sikh Studies at Universities Presentations: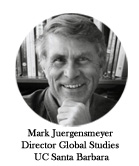 Chair: Prof. Mark Juergensmeyer
Mark Juergensmeyer is director of the Orfalea Center for Global and International Studies, professor of sociology, and affiliate professor of religious studies at the University of California, Santa Barbara. He is an expert on religious violence, conflict resolution and South Asian religion and politics, and has published more than two hundred articles and twenty books, including the recently-released Global Rebellion: Religious Challenges to the Secular State (University of California Press 2008). His Stafford Little Lectures at Princeton University, God and War, will be published by Princeton University Press. He is the 2003 recipient of the prestigious Grawemeyer Award for contributions to the study of religion, and is the 2004 recipient of the Silver Award of the Queen Sofia Center for the Study of Violence in Spain. He has received Honorary Doctorates from Lehigh University in 2004 and from Roskilde University in Copenhagen in 2009, a Distinguished Teaching Award from the University of California, Santa Barbara in 2006, and the Unitas Distinguished Alumnus Award from Union Theological Seminary, New York, in 2007. He was elected president of the American Academy of Religion, and chairs the working group on Religion and International Affairs for the national Social Science Research Council. Since the events of September 11 he has been a frequent commentator in the news media, including CNN, NBC, CBS, BBC, NPR, Fox News, ABC's Politically Incorrect, and CNBC's Dennis Miller Show.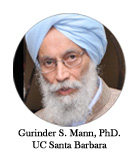 Gurinder Singh Mann was the first holder of Kundan Kaur Kapany Chair in Sikh Studies (1999-2015) and the founder director of Center for Sikh and Punjab Studies at the University of California, Santa Barbara (2004-2015). His research interests focus on Sikhism, Punjabi language, and religion and society in the Punjab. His publications include The Goindval Pothis (Harvard Oriental Series 51, 1997); The Making of Sikh Scripture (Oxford University Press, 2001); and Sikhism (Religions of the World Series, Prentice Hall, 2004). He has coauthored Buddhists, Hindus, and Sikhs of America (Oxford University Press, 2001), and Introduction to Punjabi (Punjabi University, 2011). His current projects include a series of critical editions and translations of early Sikh texts, coediting of Brill's Encyclopedia of Sikhism, and making the teaching of Punjabi available on the inter-net.
– Click here to view Gurinder Singh Mann's presentation
On smaller media devices you will need to Click Here to download the PDF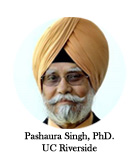 Pashaura Singh (Ph. D., University of Toronto, Canada) is Professor and Dr. Jasbir Singh Saini Endowed Chair in Sikh and Punjabi Studies at the University of California, Riverside. His teaching and research focus on scriptural studies and early Sikh history. He has a sound knowledge of traditional Sikh learning, manuscripts in archaic forms of Gurmukhi script and Indian religious traditions, with a mastery of contemporary issues in textual studies, canonicity, hermeneutics, literary theory, and history of religions. His publications include The Guru Granth Sahib: Canon, Meaning, and Authority (Oxford University Press/OUP 2000), The Bhagats of the Guru Granth Sahib: Sikh Self-Definition and the Bhagat Bani" (OUP 2003), and Life and Work of Guru Arjan: History, Memory, and Biography in the Sikh Tradition (OUP 2006). He has also edited six volumes, including Sikhism in Global Context (OUP 2011) and The Oxford Handbook of Sikh Studies (OUP, UK, 2014). Currently, he is working on the research project on Sacred Melodies: History, Theory and the Performance of Sikh Kirtan.
– Click here to view Pashaura Singh's presentation
On smaller media devices you will need to Click Here to download the PDF
– Click here to view Pashaura Singh's presentation part 2
On smaller media devices you will need to Click Here to download the PDF
Nirvikar Singh holds the Sarbjit Singh Aurora Chair in Sikh and Punjabi Studies at UC Santa Cruz. He teaches a class he designed, Introduction to the Sikhs, in the new Critical Race and Ethnic Studies Department. He has helped bring Punjabi language teaching to UCSC, and has been active in organizing and participating in academic conferences and community events that relate to the Sikh tradition, its history, and the contemporary challenges it faces in the global diaspora. A particular interest of his, reflected in a published piece on the intellectual and social origins of the Sikh tradition, concerns the modes of production of knowledge with respect to the tradition, and how it interacts with broader academic currents and political forces. He has also written on Sikh entrepreneurs, the Punjab economy, political conflict in Punjab, and early 20th century Sikh reform movements.
– View the video presentation by Nirvikar Singh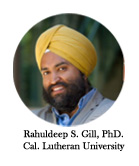 Rahuldeep Singh Gill PhD, Interfaith expert, guides leaders in business and higher education to more inclusive environments for work, collaboration and cross-cultural understanding. His expertise is in contemporary global religions; in particular, his academic work explores the interactions between Sikhs, Hindus, and Muslims in modern South Asia. Dr. Gill has spoken before diverse adult and student audiences of all sizes at events sponsored by the US Department of State's Study of United States Institutes, the UN-affiliated United Sikhs organization, California State University, Extraordinary Lutheran Ministries, and the Interfaith Youth Core. A native of the Boston area, he earned his bachelors, with Honors, from the University of Rochester in New York and doctorate from the University of California in Santa Barbara. The Los Angeles Times, Oxford University Press, Patheos.com, and the Washington Post's On Faith blog have published his writings. Dr. Gill directs the Center for Equality and Justice at California Lutheran University, where he is also an Assistant Professor of Religion.
II. Museums & Charter Schools: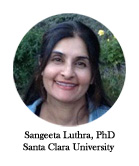 Chair: Dr. Sangeeta Luthra
Sangeeta Luthra PhD. is an anthropologist and educator. She has taught classes in cultural anthropology, gender studies, and cultural studies. She has conducted research on women's empowerment and development with a special focus on non-governmental organizations in urban northern India. Her research interests are women's development and empowerment, feminist theory, cultural politics of development, and most recently Sikh American institution building in the post 9/11 period. Her writing on diasporic Sikhs has been featured in SikhChic.com, Punjabi Beat Magazine, and Sikhpoint.com. She is contributing writer and member of the editorial board of The Sikh Love Stories Project. In addition to teaching and research Sangeeta is an active volunteer in her community and in South Asian cultural associations. Currently Sangeeta is teaching at Santa Clara University as an Adjunct faculty in the Anthropology Department. She lives in Los Altos, CA with her husband and two daughters.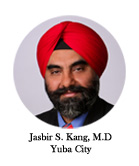 Jasbir Singh Kang, MD, FHM is a physician by profession, currently working as a Medical Director of hospitalist program at Rideout Health in Yuba Sutter Area. He has been a passionate advocate for promoting cross-cultural understanding amongst all Americans. He is a founding member of the Punjabi American Heritage Society, Punjabi American Festival and "Becoming American" a permanent museum exhibit at the Community Memorial Museum of Sutter County. He has continued to play an active role in the production of many educational documentaries as well. He has also been a host for several television shows pertaining to community issues and health related topics. He was honored by KVIE, a PBS TV Channel, and Sacramento for his community outreach work in 2006.
– Click here to view Dr. Jasbir Singh Kang's presentation
On smaller media devices you will need to Click Here to download the PDF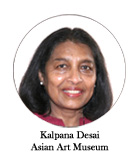 Kalpana Desai serves as the President of SACHI, the Society for Art and Cultural Heritage of India. A Founding Member of SACHI, Kalpana has spearheaded a wide range of distinctive SACHI programs geared to enhancing the South Asian cultural presence through programs of excellence with distinguished scholars, performers and artists in alliance with major institutions like the Asian Art Museum – San Francisco, Stanford University, UC Berkeley, Mills College, and others. She joined the Asian Art Museum Docent Program in 1991 and served on its Board of Directors for 6 years. She has been actively involved in the Museum's Public Education Programs, School Programs, and Community Outreach for over 20 years. An Economics graduate from Miranda House, Delhi, and the Bombay School of Economics, Kalpana pursued her early career in financial and economic research at the Tata Consultancy Services, Mumbai, the Chicago Board of Trade, and at SRI International in Menlo Park.
– Click here to view Kalpana Desai's presentation
On smaller media devices you will need to Click Here to download the PDF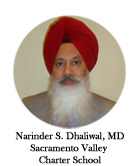 Narinder S. Dhaliwal, MD has been a practicing physician in Sacramento CA since 1988. He was inspired by his teachers and parents to excel in math & science and helped him to become a doctor. Coming to America brought exposure to western ways of learning and teaching. He has been attending Sikh Temple, West Sacramento, CA since in 1988 and members of the management committee for 25 years. His children needed to learn Punjabi so both children and the parents started getting involved in community service at the Sunday school at the Sikh Temple. Dr. Dhaliwal started leading as principal, improving the school and pushed its growth. Having known the Punjabi community growth and needs, in 6/2010 Dr Dhaliwal expressed the idea of having a charter school at Board meeting, Sikh Temple. He was asked to lead the group, He put forward a team, which worked day and night to bring the idea of school to reality and open the doors of Sacramento Valley Charter School in 8/2011. Rest is a history. He became the founder member and chairman of SVCS board from 2011-14 and serving Sikh Temple in various positions over last 25 years , worked on many different projects in the community and currently Vice Chairman of Sikh Temple board for several years.
– Click here to view Narinder S. Dhaliwal's presentation
On smaller media devices you will need to Click Here to download the PDF
Bhupinder Kaur Malik and her family have been engaged in community service for many years with projects here in the USA, India and Canada. Gurmat Education program established in India continues to impart education on sikhi to over 150,000 students in Punjab. Their family also runs the multicampus Khalsa School in Vancouver- Canada. They are now in the process of opening a Charter school in the Los Angeles area with the aim of strengthening the educational foundations of children irrespective of race, religion or economic backgrounds. The school will also be teaching Punjabi as a second language enhancing the cultural roots of Sikh children here.
– Click here to view Bhupinder Kaur Malik's presentation
On smaller media devices you will need to Click Here to download the PDF
III. Diversity Education Panel Discussion: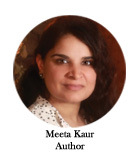 Moderator: Meeta Kaur
Meeta Kaur is a creative writer and the managing editor of the story collection, Her Name Is Kaur, Sikh American Women Write About Love, Courage, and Faith published by She Writes Press. Kaur looks forward to several community discussions on Her Name Is Kaur across the United States and beyond. She also looks forward to becoming a student of craft again to write her next full-length book, and expand upon her roles as a speaker and teacher. Kaur loves spending time with her family, staying completely and utterly challenged as a mother, meditating, cooking, swimming, hiking, traveling, and aims to settle into a sense of "home" within herself.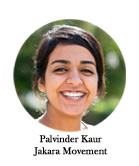 Palvinder Kaur is a graduate of UCLA and is currently the Northern California Community Organizer for the Jakara Movement. Through her volunteer and work experience over the past 7 years she has gained experience in the field of project management, curriculum development, community engagement, education, and public health. In 2012, she was named a recipient of UCLA's prestigious Chancellor's Service Award for her involvement with the SSA and the Jakara Movement. Palvinder has previously worked as a Research Assistant in Public Health, established a peer mediation program for middle schools students in LAUSD, received small grants to implement health programs, and established Kaur Voices, Bhujangan Leadership Retreat, and Nishaan. She is passionate about working towards the social needs of the community and enjoys taking pictures.
– Click here to view Palvinder Kaur's presentation
On smaller media devices you will need to Click Here to download the PDF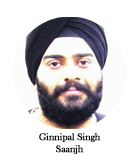 Ginnipal Singh is a senior leader in Cisco's Supply Chain organization and is based in San Jose, CA. He has been with Cisco for nearly 14 years and has served in a various management capacities enabling the next generation of Cisco's networking solutions. Ginni holds a MBA in Business Strategy from Boston University and a Masters in Electrical Engineering from Pennsylvania State University. Ginnipal is a strong proponent of Gurmat education and loves working with children. He is a founding member of Camp Sehaij in Boston and Camp Saanjh in the Bay Area and also serves on the Saanjh Board of Directors. He works tirelessly to ensure our children are grounded in Sikhi principles while having the passion and knowledge to excel professionally.
– Click here to view Ginnipal Singh's presentation
On smaller media devices you will need to Click Here to download the PDF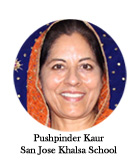 Pushpinder Kaur, born and brought up in a village in Punjab, is a credentialed teacher, author and founding Principal of the Khalsa School San Jose. She has helped start several Khalsa Sunday Schools in U.S.A. She has pioneered designing curricular materials to teach Punjabi language and Gurmukhi script since 1988. She holds a Master's Degree in teaching of English as a Second Language. She has authored over 20 books, based on proven strategies to teach a second language. Her books have been used to teach Punjabi as a Second Language in Canadian public schools as well as a beginner's level course offered at the university level in the U.S.A. Among her passions is supporting diversity in the US Public schools and she has championed this cause through books like "The Boy with Long Hair" and public presentations. She is also on the board of directors of Kaur Foundation.
– Click here to view Pushpinder Kaur's presentation
On smaller media devices you will need to Click Here to download the PDF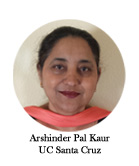 Arshinder Pal Kaur, M.A. M.Phil, is an instructor of Punjabi language and literature. She has been teaching Punjabi to students of all ages and backgrounds for the past 27 years at various institutions. She has been teaching Punjabi language at Santa Cruz University, Silicon Valley Extension since 2012. Additionally, she has been volunteering at the Guru Nanak Khalsa School San Jose for the past fifteen years. Her teaching materials are used extensively in a community Punjabi language program.
– Click here to view Arshinder Pal Kaur's presentation
On smaller media devices you will need to Click Here to download the PDF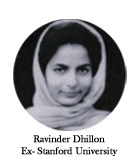 Ravinder Kaur, taught Punjabi at Stanford University for many years. She retired from Stanford and continues to organize community events especially the much loved "Lohri" festivities at Stanford university. She actively participates in theatre productions and her recent play "Deeyan Marjaneea" has been staged all over California and Canada. She serves as a Punjabi language translator with federal and state authorities. She earned her double Masters in History and Education from Punjab University in Chandigarh.
– Click here to view Ravinder Kaur's presentation
On smaller media devices you will need to Click Here to download the PDF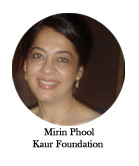 Mirin Phool is the co-founder and President of the Kaur Foundation, a national non-profit that promotes diversity education, serving as a platform to explore and develop initiatives advancing cultural literacy. Mirin has served on numerous Boards of non-profit organizations, and has been appointed to various county committees and commissions in Montgomery County, Maryland, where she resides. She has developed community programs tailored to meet specific needs and requirements to benefit the diverse constituents served by these organizations. She also serves on the Board for the Equal Rights Center that helps advance equal opportunity in housing, employment, and access to public accommodations and government services through education, advocacy, and enforcement. She serves as Trustee of her Gurdwara in Maryland.
– Click here to view Mirin Phool's presentation
On smaller media devices you will need to Click Here to download the PDF
Geetika Kaur
represented the Kaur Foundation instead of Mirin Phool, who was unable to attend.