Sikh Foundation Research & Media Internship Launched: Welcome ! Inderjit Singh Takhar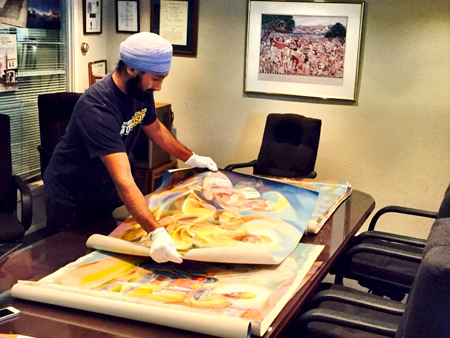 Inderjit Singh Takhar working with a picture for the site.
The Sikh Foundation is delighted to welcome Mr. Inderjit Singh Takhar as our Research & Media intern. This program aims to encourage and progress inquiry into Sikh heritage through the study of art, history, and social issues.
Inderjit will have access to a wide variety of selected artworks from the Kapany Collection, and to numerous resources, which will aid in conducting the highest quality academic work. He will also have the privilege to meet individuals who are at the forefront of research revolving around Sikh Heritage.
During his internship, Inderjit will assist in archiving the collection and sharing the artwork with the community via research papers, social media posts and in person presentations. He will also work on the Sikh Foundation's new online journal with dedicated peer-reviewed articles and papers of the highest quality, in the field of Sikh Studies and Punjabi Language Studies.
Inderjit Singh Takhar was born and raised in the Bay Area. He is a recent graduate of University of California, San Diego with a degree in International Relations/Political Science. Over the years, he has worked with many nonprofit organizations around the bay area and served as a principle member of an influential organization, Coalition of South Asian People (CSAP), at University of California, San Diego. During his time at UCSD he had the privilege of studying abroad at the London School of Economic and Political Science, where he built strong networks with people from around the world.
In addition, Inderjit was also a collegiate athlete where he learned the valuable skill of time management and perseverance. He states "being an athlete for a majority of his life has helped me realize that hard work is the key to success and as a result, I am a dedicated and persistent individual".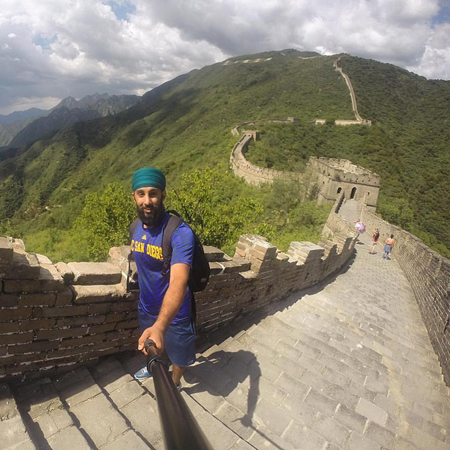 Inderjit Singh Takhar at the Great Wall of China.
Inderjit is a passionate young man with particular interests in South Asian culture, society, politics and history. His goal is to do his Ph.D on a topic revolving around South Asian Studies or Sikh heritage and kingdoms. Inderjit's passion and interest for these topics, stems from his colorful upbringing in a Punjabi-Sikh household and the few South Asian focused lectures and discussions he attended during his undergraduate years. He quickly realized that there is lack of research on nearly all aspects of South Asian studies and quality research on Sikh heritage, art, and empire was nearly impossible to find. It was this desire for more knowledge that is fueling Inderjit's dream of obtaining a Ph.D.
Be sure to keep an eye out for his posts which will encompass a wide variety of topics relating to Sikh heritage, art, history and much more.
To contact Inderjit please email him at Inderjit@sikhfoundation.org