The First Sikh Foundation Quarterly Meeting
CELEBRATION OF THE EXEMPLARY LIFE OF MR. MOLINDER SINGH KOHLI
(1917-2014) TRUSTEE EMERITUS
The Sikh Foundation, on 12th April 2014, organized a gathering to celebrate the exemplary life of its Trustee Emeritus – Mr. Molinder Singh Kohli who passed away on 11th Feburary 2014.
The friends and family of Mr. M.S Kohli came together at the Sikh Gurudwara in San Jose, to share their memories of Mr. M.S Kohli. The meeting was opened by a melodius shabad rendition by Mrs Inderjit Kaur of "Tereya Bhagtan Ko Balihara" from "Thaerae Kudrat Tu Hai Janne" Basanth Mehalaa 5 hinddol (SGGS pg 1185-1186).
Memories of the long association of Mr. Kohli with the Sikh Foundation were refreshed by a video presentation by Sonia Dhami. The speakers included Dr. N.S Kapany, Mr & Mrs Jagmohan Sahni, Dr. Gurinder Pal Singh, Mrs. Pushpinder Kaur and Chintan Singh. Deepa Sethi along with some of Mr. Kohli's young great grandchildren paid their tributes as well.
Excerpts from the speakers: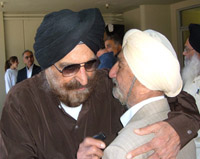 "We are proud that we could have our first Quarterly Meeting to learn from the Sikh community at large and tell them about our programs and activities, as a gathering with the friends and family of Mr. M.S Kohli to remember all the wonderful things that he did for the Sikh community. At this time, we are delighted to announce the "Annual Lecture Series" dedicated to Sikh Education and are particularly thankful to Mr. Jagmohan Sahni and his family for supporting it."
Dr. N.S Kapany (Chairman of the Sikh Foundation)
---

Video created by Sonia Dhami
---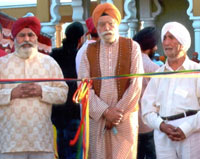 "When I think about S. Molinder Singh Kohli or "Papa Ji" as we affectionately called him, following phrases come to my mind. A Great Human Being, A Devout Sikh, A Visionary, A Person with Compassion for Fellow Human Beings, A Great Father and a cool Grand Father, A Well Groomed Gentleman, A Person Fun to be With. I feel blessed that I had a chance to work closely with him for over 20 years"
Dr. Gurinder Pal Singh (An Ex-trustee of the Sikh Foundation
---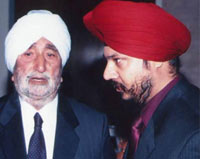 "Kohli Sahib Bhapaji was simply a man full of unconditional love. It was always fun to watch him and Dr. Kapany. Both of them were great friends with a lot of mutual respect for each other. Their jokes, the loud laughter, the discussions regarding our community here and in India always made me feel at home. Bhapaji was most passionate in projects and activities that help children learn about Sikhi whether it was books or anything else."
Chintan Singh (an ex-staff member of the Sikh Foundation)
---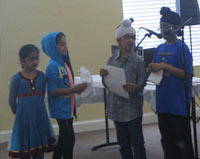 "What I liked about Papaji he was really grateful, kind and playful. When we went to our Nani's house, Papaji would always kiss our heads and hug me and Arjan. When I had slumber parties at my Nani's house, he used to read books to me. He used to read the books so nicely." –Meher Kaur Sethi, Papaji's 6 year old great granddaughter
"Papaji loved to be outside with me. Outside, he would sit on a chair and Meher and I used to play games around him. Whenever I practiced kirtan, he would always come and sit next to me and listen. I think he enjoyed that. I will always remember you Papaji." – Arjan Singh Sethi, Papaji's 9 year old great-grandson
"I realize now how special it was growing up in a house with 3 grandparents surrounding me and my sisters with endless love, encouragement, and love for Sikhi.There are too many things to list that I learned from my dearest Papaji. His jolly nature, his wisdom, his endearing love and passion for teaching children touched so many souls. When my sisters and I were little, every morning before going to school, Papaji would kiss our foreheads and tell us 'You girls are the luckiest and most blessed girls in this world'. I truly believe that Papaji. Your blessings are still with me today. During his last years, he developed Alzheimers, and did not remember most of his family members, however, he never failed to remember Arjan & Meher when they walked through the door. He would welcome them with open arms and address them by their names. I find happiness in this special bond they shared. I feel honored and proud to have been your granddaughter, Papaji." – Deepa Kaur Sethi, Papaji's granddaughter
---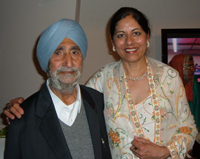 Did you know that he started doing sewa after he turned 60 years old? He started the Khalsa School of San Jose at 71 years of age? He was blessed with a vision, the wisdom, the passion and a long healthy life to serve the Bay Area Sikhs.
He worked at the grassroots levels with young children whether at home, neighborhood or the larger community in the form of Khalsa School. He also contributed his time at Dr. Kapany's Sikh Foundation of Palo Alto.
In 1998- The Sikh Foundation organized a writing competition -Writer of the Sikh Future. Kohli Papa Ji encouraged me to write a story. I submitted "In America, the Roads are Made of Rubber", and it won first place. That was probably the transforming moment in my writerly life. He encouraged me to write some more. I wrote another story- Babay Dittay da Shalgam. I dedicated the story to my father who used to mesmerize us by telling these spy stories in Urdu. Along with my father, I also dedicated the book to Kohli Papa Ji. He was overwhelmed by this show of love and respect and his tears were a testimony of his gentle heart feeling it.
I wish to thank Dr. Kapany for organizing this celebration and sharing the wonderful life of a great man, Kohli Papa Ji. You too are a legendary and awe-inspiring man Sir! You too have the vision, the wisdom, and the passion to make this world a better place for the Sikhs. May you have a long and healthy life to achieve all that you have started. – Pushpinder Kaur (Author )

---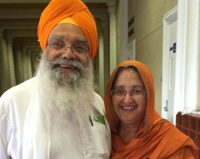 Papaji was an Amritdhari Gursikh: He practiced Gurbani in his everday life. After his Nitnem, he liked doing Sukhmani Sahib Path. He learned from Sukhmani Sahib (20th Ashtpadi) Guru Arjan Dev Ji teaches us, that in order for us to find peace and happiness is to pratice Gurbani and inspire others.
After he moved to US, he inspired has grandchilren to learn Gurmukhi and memorize Japji Sahib by rewarding them with a dollar for every Pauri. He continued that practice with other children in the neighborhood, which led to the path of creating San Jose Khalsa School.
Gurbani brought peace to his life and in his death. He took his last breath, with Mool Mantar on his lips. Guru Amar Da Ji says in SGGS page 555, " One who has such kind of death, lives forever".
In SGGS page1376, Bhagat Kabir Ji teaches us: The life objective for a Gursikh is to plant such a seed, which shall bear fruit throughout the twelve months, with cooling sahde and on which birds joyfully play. In this way, Papaji continues to live forever with the seed, he has sown. – Jagmohan Sahni
After his retirement as Assistant Postmaster General in India, Papji moved to US, and held two jobs. Both were volunteer jobs, one at the Sikh Foundation and the other at Khalsa School. He took on these responsibilities with full sincerety. Every Sunday, he would take out the list, to remind all the teachers to make sure they were on time. Hiss dedication was unparalled.
Papaji really loved everyone he knew, and everyone that knew him, loved him. He was eveyone's Papaji. He considered everyone to be his child. In the past few years, when his memory was fading, he could not remember anyone's name or relation to him.But when I would ask him,"Papaji, do you know who this is?" He would cleverly say, "Of course, this is my child". Even when he didn't remember much, he never forgot that everyone was like a precious child to him. Papaji is living forever through these "Precious Children". – Kawaljit K Sahni
---
More excerpts to come
Click here to view In Memory of: Mr Molinder Singh Kohli
You may also like...