The Legacy of the Sikh Foundation – 1967 to Today – Part 1
Reaching 50 years is a proud milestone for the Sikh Foundation and this article is an effort to document this history, from its establishment in 1967 to today. I have relied mostly on archival materials and interviews with Dr. N.S. Kapany. This article follows a chronological structure and will be published in three parts- the first focuses on the decade following its founding, the second part covers the next two decades while the third and final section will focus on the period starting 1997 to today.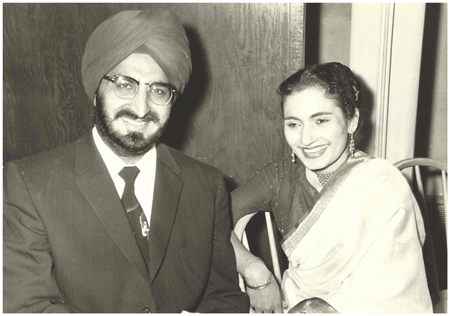 Dr. Narinder S. Kapany and his wife Satinder K. Kapany
(Photo courtesy: Kapany family)
1967 America: Vietnam war continues and peace rallies intensify – Muhammad Ali stripped of his boxing championship for refusing the draft -Worlds First Heart Transplant – The first ATM – Strikes by US teaching staff for pay increases – The first Super Bowl played between Green Bay Packers and the Kansas City Chiefs – Six Day War Arab Forces attack Israel – American cities including Detroit exploded in rioting and looting – Summer of Love with young people smoking pot and grooving to the music of the Grateful Dead – color TV's become cheaper and popular…
-thepeoplehistory.com
1967 was also the year when a young Sikh physicist, Narinder Singh Kapany, took his Silicon Valley optics company public and achieved the American Dream.
But his dream was not just for his himself or limited to his family. It also included his community. With immense pride, commitment and faith in his Sikh heritage, he founded and registered the Sikh Foundation on Dec 29th 1967 with the mission to preserve and promote Sikh heritage.
Prior to setting up the Sikh Foundation, both Narinder and his beautiful wife Satinder were active members of the small Sikh community in Chicago. Narinder was also the President of the journal "Sikh Study Circle of USA".
In 1960 they moved to the San Francisco Bay Area and with the cooperation of Dr. Janmeja Singh, continued to support Sikh community activities including the publication of the book "Guru Gobind Singh – Reflections and Offerings" by Prof. Puran Singh in 1967.
The landscape of the Silicon Valley at this time was very different from what we see today. The nearest Gurudwara at the time was in Stockton, over 100 miles away. A far cry from today when the Bay Area alone has six large gurudwaras and counting.
The First Ten Years: 1967-1977
The Sikh Foundation launched its first publication "The Sikh Sansar" a quarterly journal in 1972.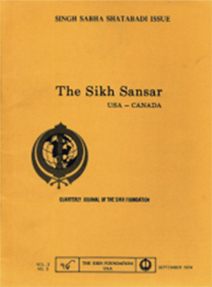 The 'Sikh Sansar' journal of the Sikh Foundation
Maharaja of Patiala Sir Yadavindra Singh & S. Hardit Singh Malik were its first patrons . The editorial board comprised of Dr. N.S. Kapany, Dr. R.K. Janmeja Singh, Prof. Hari S. Everest, Dr. Gurnam S.S. Brard, Prof. Harbans Lal and Mrs. Satinder K. Kapany.
Imminent scholars and writers Prof. W.H. McLeod, Prof. N.G. Barrier, Dr. M.S. Randhawa, Prof. Ganda Singh, Dr. Kartar S. Lalvani, Prof. Harbans Singh, Prof. Harbhajan Singh & S. Khuswant Singh were on the "Editorial Advisory Board" .
The journal focused on many subjects of interest to Sikhs including Sikh Women, Sikh Educational Institutions, the Ghadar Movement, the American Bicentennial, Bhai Vir Singh etc.. One special edition, which specially stands out, was on "Sikh Art" published in 1975.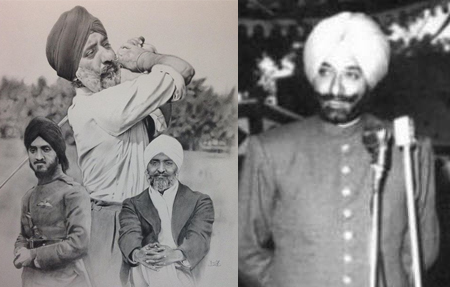 Sardar Hardit S. Malik (left) Maharaja Yadavindra Singh (right)
Prof. R.P. Srivastava, Head of Dept. of Fine Arts, GCW Patiala-Punjab writes in his guest editorial column "For the first time in the history of journalism a systematic attempt is being made to record the significant contributions made by Sikh Artists, Sculptors, Architects and Artisans in the Punjab and elsewhere."
He further writes, " No concerted effort was ever made by any Author or Historian and so far no one has tried to write anything on this aspect of achievement of the Sikhs which has glorified the pages of Sikh history and beautified the Punjab with architectural monuments."
Looking back from now to this momentous beginning in 1976, it is nothing less than a mind shift that has been accomplished. Today Sikh Art has already been celebrated by over half a dozen museums worldwide including the Victoria & Albert Museum-London, The Smithsonian-Washington D.C, The ROM-Toronto, The Asian Art Museum-San Francisco amongst many others.
There are over a dozen high quality books on Sikh art written by art historians and scholars on areas ranging from textiles to paintings, from ancient manuscripts to contemporary art.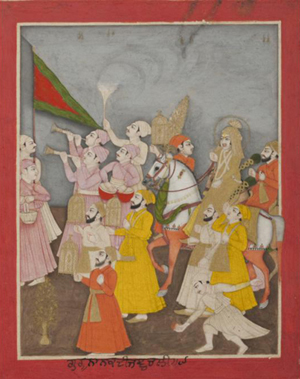 Guru Nanak's wedding procession, from a manuscript of the
Janam Sakhi
(Life Stories) @ Asian Art Museum Gift of the Kapany Collection
Growing up, Narinder had often heard his grandmother recite stories of Guru Nanak's life from their family's manuscript of the Janamsakhis. This 19th century volume, richly illustrated with 40 colored plates ( gift to the Asian Art Museum San Francisco) was his first hand introduction to the beauty and richness of Sikh art.
Having this beautiful manuscript in the family encouraged this young couple to become ardent admirers, collectors and preservers of Sikh Art. In fact, the Kapany's were artists' themselves- Satinder an accomplished dancer and painter & Narinder a sculptor.
Fusing technology and art, Narinder created sculptures using optical fibers, Lucite and other materials, which were, actually discards from his lab. He coined the term "Dynoptic" –combining various optic technologies in a dynamic mode. Numerous museums across America, including the Exploratorium in San Francisco, exhibited the entire series of 22 sculptures.
The literary activities undertaken by the Sikh Foundation also included creating opportunities for the local Sikh community to hear from Sikh stalwarts like Prof. Gopal Singh & Prof. Ganda Singh who were invited to give lectures.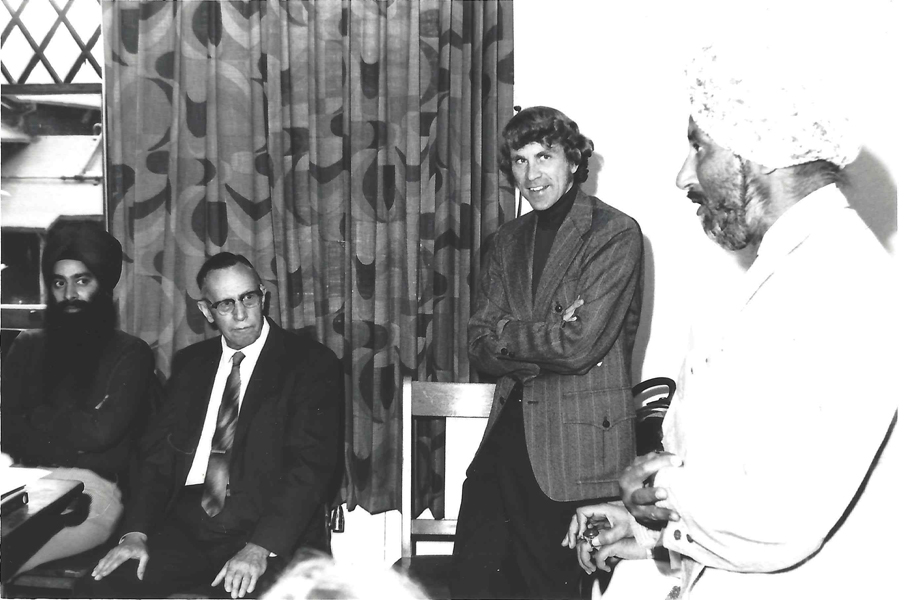 Hari Singh Everest, Mark Juergensmeyer, Clinton Loehlin (right to left)
At this time, a young American scholar, Mark Juergensmeyer met Dr. Kapany. Mark had studied in the Punjab, and believed that Sikhism had a lot to offer the world and should be taught at American universities.
The word "Sikh" in itself means a student. And what better way to live this ideology than to introduce Sikhism to students here in America. The Sikh Foundation organized a conference at Berkeley in 1976, inviting over a dozen scholars to discuss ways and initiatives of how this could be made a reality at American institutes of higher learning.
With this, the Sikh Foundation, had in its first decade, taken the pioneering lead to include Sikhs and their heritage within two of Americas most important institutions- museums and universities.
This article is the first part of a three part series. ~ Part 1 ~ Part 2 ~ Part 3
Now you can read all three parts together on our About Us page