A Believer's Response To The Connecticut Shooting
We all Suffer
By Simran Jeet Singh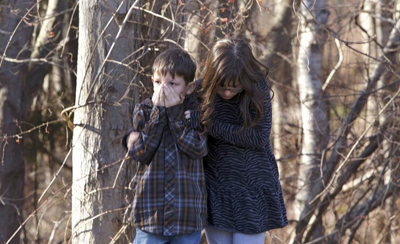 The second deadliest school shooting in U.S. history sent crying children spilling into the school parking lot as frightened parents waited for word on their loved ones. – Michelle Mcloughlin / Reuters
The mass shooting at an elementary school in Newtown, Connecticut raises serious questions about the health of our society and collective humanity. People around the globe today wonder how anyone could possibly justify killing innocent school children and school employees.
More than any of the other mass shootings our country has witnessed over the past decades, this tragedy forces me to ask the same question that Guru Nanak asked in response to atrocities committed against innocent civilians – "eti mar pai karlane tai ki dard na aaiaa (O God! Didn't you feel pain upon witnessing such a slaughter?)."
One young mother whose daughter survived the violence in Connecticut described that her "heart is shattered in a million pieces." In his emotional statement following the shooting, President Obama expressed that "our hearts are broken today."
Heartbreak and suffering is a part of the human experience, a reality that we all know far too intimately. Countless leaders and thinkers have devised countless systems to help people transcend suffering, and these leaders include religious prophets, secular philosophers, political leaders, and self-help authors. One of the better known efforts among these is the Buddha's system of the "Four Noble Truths," an approach that recognizes the existence of human suffering (dukkha) and offers a method for going beyond it.
As a shared human condition, suffering serves to bind us all together. Tragedies such as the shooting of schoolchildren in Connecticut strip away the distinctions we make among ourselves (e.g., race, nationality, sexual orientation, gender) and remind us of core aspects of our shared humanity. In moments like these, we forget our differences and come together to mourn and heal as one. We all identify with the suffering of the affected families, and we all collectively grieve the loss of these young, innocent lives.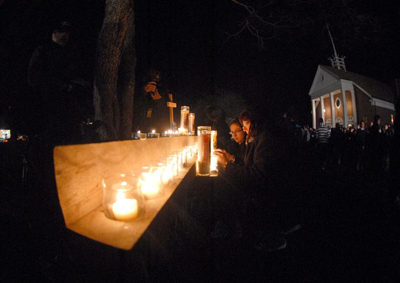 Mourners wait outside the Saint Rosa of Lima in Newtown Friday night for a prayer service for the shooting victims at Sandy Hook Elementary School – Aaron Flaum/NorwichBulletin.com
Over the past four months, I have experienced the power of collective mourning following the hate-inspired shooting of Sikhs in Oak Creek. Despite the deep suffering inflicted by this violence, the tragedy brought the nation together in a collective healing process and therefore allowed us to realize our shared humanity.
I would like to respond to the mass shooting in Newtown, Connecticut as I did with the mass shooting in Oak Creek, Wisconsin four months ago – I still refuse a life driven by fear and negativity, and I still retain my faith that humans are not hateful and malicious.
With this said, I think we can all agree with President Obama that as we hug our children tighter in the days to come, we must also commit to addressing the gaping holes in our society. While many of us might differ in our approaches, we can all agree on the importance of reducing our collective suffering.
The rash of mass shootings in America requires our immediate and serious attention. This is the only way for us to move forward and "heal the broken-hearted and bind up their wounds (Psalm 147:3)."
Follow Simran Jeet Singh on Twitter