A Hymn for Mothers Day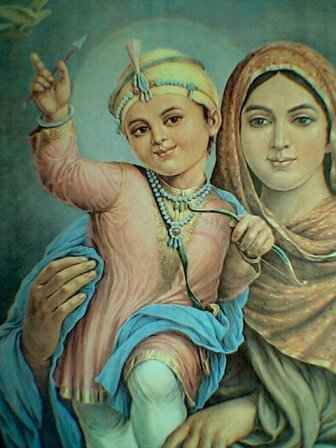 Happy Mothers Day from The Sikh Foundation
A Hymn for Mothers Day
Pootaa maataa kee aasees||
O son (child), this is your mother's blessing, hope, and prayer,
Nimakh na bisaro tumh ko har har sadaa bhajhu jagadees||1|| rehaao ||
May you never forget for even an instant the Lord God and ever remember the Universal Lord. ||1||Pause||
Satigur tumh ko hoe daeaalaa santasang teree preet||
May the True Guru be kind to you, and may you love the society of saints.
Kaaparr pat parmaesar raakhee bhojan keertan neet||2||
May the preservation of your honor by the Transcendent Lord be your clothing, and may the singing of his praises be as food to you. ||2||
Anmrit peevhu sadaa chir jeevhu har simrat anad anantaa||
Drink the immortalizing Nectar that you may ever have long life, and contemplation of the Lord give you infinite delight.
Rang tamaasaa pooran aasaa kabeh na biaapai chintaa||3||
May joy and playful pleasure be yours, may your hopes be fulfilled, and worries never trouble you. ||3||
Bhavar tumhaaraa ehu man hovo har charnaa hohu koulaa||
Let your mind be the bumble bee, and the Lord's feet be the lotus flower.
Naanak daas oun sang lapattaaiou jio boondeh chaatrik moulaa||4||3||4||
Says servant Nanak, attach your mind to them, and blossom forth like the song-bird, upon finding the rain-drop." ||4||3||4|| SGGS||496
Hear this shabad: Sung by Gurmat Gian Group in Raag Gujri Jai Taal