A Lifetime Fighting Hunger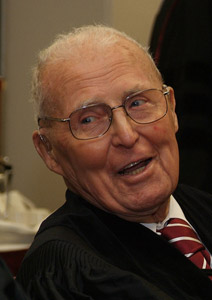 In Memory of Dr. Norman Borlaug
March 25, 1914 – September 12, 2009
by Jasbir Singh Sethi
What is an ideal life? Well, at least, it should be devoted to transcendent cause for the benefit of humanity, in particular the poor and helpless. It should be purpose driven, in a transparent way, with integrity…
Dr. Norman E. Borlaug is probably the only such person, in the recent past. His remarkable lifetime efforts to feed millions of less fortunate around the world will continue to inspire humanity. His legacy includes "Billions" of lives saved from the misery of starvation. Not only that, he educated and trained thousands of scientists worldwide to carry on this crusade against hunger and malnutrition.
He was born on a family farm in Cresco, Iowa. He was an Alumni of University of Minnesota, with B.S. (Forestry) – 1937; M.S. (Plant Pathology) – 1939 and Doctorate in 1942. He was on the Faculty of Texas A & M University. Having worked for two years, as a Microbiologist with du Pont, became the Director – Organizer of the Cooperative Wheat Research and Production Program in Mexico – a joint undertaking of the Mexican Government and the Rockefeller Foundation.
[youtube]http://www.youtube.com/watch?v=bSnEDCvS8aI[/youtube]
Within 20 years, he was spectacularly successful in finding a "high yielding, short – strawed, disease – resistant variety of wheat." He was awarded the Nobel Peace Prize in 1970. The forgotten benefactor of humanity, Dr. Borlaug, the Agronomist, whose discoveries sparked the GREEN REVOLUTION, has saved literally millions of lives, yet he is hardly a household name. He started an undaunted scientific investigation, involving complex research, in many diversified scientific fields such as: genetics, plant breeding, plant pathology, entomology, agronomy, soil science, and cereal technology.
But this exceptional man was driven by his own motto: "If you desire PEACE, cultivate Justice, but at the same time cultivate the fields to produce more bread; otherwise there will be no peace."
The essential and all powerful ingredient that he added to his research to ensure his success : Practical Humanitarianism, arranging to put the new cereal strains into extensive production, in order to feed the hungry people of the world, AND Humility, as he says, "a temporary success in man's war against hunger and deprivation", a breathing space in which to deal with the "Population Monster" and the subsequent environmental and social ills that too often lead to conflict between men and between nations.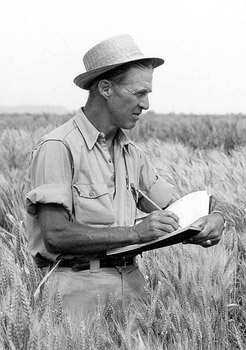 The success of his hard work was hailed as "Spectacular", but he in his humility, he says, "No. As a matter of fact, Mother Nature has crossed species barriers, and sometimes nature crosses barriers between genera–that is, between unrelated groups of species. Take the case of wheat. It is the result of a natural cross made by Mother Nature long before there was scientific man. Today's modern red wheat variety is made up of three groups of seven chromosomes, and each of those three groups of seven chromosomes came from a different wild grass. First, Mother Nature crossed two of the grasses, and this cross became the durum wheat, which were the commercial grains of the first civilizations spanning from Sumerian until well into the Roman period. Then Mother Nature crossed that 14-chromosome durum wheat with another wild wheat grass to create what was essentially modern wheat at the time of the Roman Empire."
Can you believe it that even such a godly path is strewn with enemies galore? But he remained undaunted. Environmentalists raised issue after issue, and one such was "monarch butterfly". His response:"I think that whole monarch butterfly thing was a gross exaggeration. I think the researchers at Cornell who fed BT corn pollen to monarch butterflies were looking for something that would make them famous and create this big hullabaloo that's resulted. In the first place, corn pollen is pretty heavy. It doesn't fly long distances. Also, most monarchs are moving at different times of the season when there's no corn pollen. Sure, some of them might get killed by BT corn pollen, but how many get killed when they are sprayed with insecticides? Activists also say that BT genes in crops will put stress on the pest insects, and they'll mutate. Well, that's been going on with conventional insecticides. It's been going on all my life working with wheat. It's a problem that has been and can be managed."
Having won the Nobel Prize in 1970, he did not just sit down on his laurels. He went ahead with the zeal and passion of a messiah, helping poor, country after country, adopting, modifying the miracle seed, to suit the local environmental, social, cultural and emotional preferences, side by side training hundreds of local scientists, to continue to strive to keep on enhancing the exponential yield, while minimizing the land and natural resources. He even extended this new found technology to other species of grains such as rice.
Incidentally, the FIRST Country that was beneficiary of his research was INDIA… India's population was exploding and it was on a path of perpetual hunger and repeated famines. "Limits to Growth", a land mark book in Malthusian Theory, was probably written with India in mind. Indians cannot forget the monumental US Food Aid under PL-480.
"Dr. Borlaug's high yielding varieties of seeds, set in motion a technological revolution in Indian Agriculture that led eventually to the country achieving self- sufficiency in food grains. The Green Revolution lifted the spirits of the Indian People and gave them new hope and confidence in their abilities to tackle the country's daunting economic challenges. Dr. Borlaug's impact on India's science and economy went much beyond the Green Revolution. A science based approach to the problems of agriculture was a fundamental tenet of his thinking and the success of the Green Revolution spawned other successful interventions in areas such as animal husbandry, dairying and agriculture, Dr. Norman Borlaug's life and achievements are testimony to the far reaching contribution that one man's towering intellect, persistence and scientific vision can make to human peace and progress…"
Dr. Manmohan Singh, India's Prime Minister (in his Condolence Letter).
Dr. Borlaug was a Texan, I as a Texan and naturalized US Citizen of Indian origin, salute this great man, with my Both Hands.
---