Balancing Work & Life – The Malik Family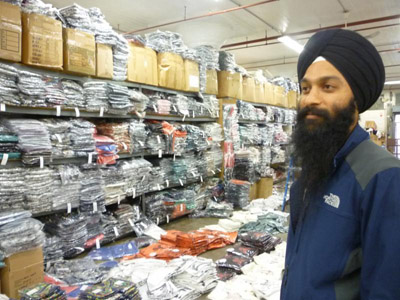 Bhajneet Singh in the stockroom of Papillon clothing in downtown Los Angeles (Photo by Benjamin Gottlieb).
In a cavernous downtown Los Angeles warehouse, Gurdip Singh Malik mulls through a melange of vibrant garments littering his stockroom.
Although it's the end of the day, Malik — founder of Papillon clothing and Indian-born Sikh — works tirelessly through the paperwork, rearranging orders in from his company's suppliers in China and India for buyers across the United States.
At first glance, the family-owned Papillon clothing company on 7th and Mateo Street resembles the banal fashion warehouses emblematic of the city's garment district. But the basement of the Malik family's wholesale clothing business isn't packed full of this year's hottest springtime wares.
Instead, scores of Sikh religious artifacts, harmoniums and Tablas – an Indian percussion instrument similar to bongo drums – adorn the underground room's metal shelving. Stacks of educational books and the Guru Granth Sahib, the Sikh holy text, sit in reserve, supporting a more than 20-year education project funded by the Maliks back in India.
"The clothing business is the way we are able to do everything you see here," said Bhajneet Singh, 31, who runs Papillon with his parents and extended family. "We pride ourselves on that work-life balance."
That 'balance' is manifested in the family's non-profit, the Satnam Sarab Kalyan Trust, which provides educational materials and monetary backing for 300 teachers throughout the Punjab province of Northern India. With help from the Maliks, the non-profit is able to reach an average of 150,000 Indian students studying in Punjab each year, Bhajneet said.
"Punjab is a state that is kind of going in the wrong direction," Bhajneet said. "The current state [Punjab] is basically, rampant with alcoholism, drug use. Education is low. People are struggling financially."
Bhajneet's mother, Nimi Kore Malik, characterized the family's philanthropic work as a religious conviction.
"It means a lot us that we can help out the people in India who are not as privileged," Nimi said, sitting in the executive office of Papillon. "We were influenced by our religion and a Sikh leader, Bhaijiwan Singh, to do this type of work."
To raise the necessary funding for the non-profit – which costs the family around $50,000 in operating costs a month – the Maliks import Sikh religious texts, instruments and various other items from India in their clothing containers. They then take donations from Sikh families and Los Angeles' network of Gudwaras, or Sikh houses or worship, for the items.

That's not to say that Papillon isn't a thriving business. Founded more than 35 years ago by Gurdip, the family patriarch, the business started in the backseat of a van as a door-to-door clothing supplier for boutiques. They now produce a seasonal clothing catalog, wholesale to over 2,500 boutiques in United States boutiques and recently launched a retail business, ShopPapillon.com.
To the stereotypical American financier, it may seem strange to run a clothing business to provide for one's religious or ethnic community. Not for the Maliks.
Call it what you will: taking care of your own or giving for the greater good. Bhajneet response is simply that it's part of the way he's been taught to live his life. He explained that as with all religious Sikhs, he's compelled to give back to the greater Sikh community.
Another way the Maliks take care of the Sikh community is through their employment practices. While fewer than 10 percent of the company's buyers are of Indian decent, almost all of the wholesale companies 18 employees are Sikh.
"There are so many people out there will not hire me because of the way I look," Bhajneet, who was born in San Francisco and is a graduate of the University of Southern California Marshall School of Business, said. "So I am going to go out and hire me because of the way I look."
The Maliks' main supplier, Bhajneet's uncle, is also Sikh, living in New Delhi, India. In China, they also work with a Sikh family. The reason, Bhajneet explained, comes down to trust.
"There's a level of blind trust in the Sikh community, especially with the religious Sikhs," Bhajneet explained. "If you're a religious Sikh, you believe in hard work, you share whatever you earn and, of course, remember God."
"You've got to trust someone who believes in those things. I mean why wouldn't you?"
To check out Papillon's clothing, click here. And here for more on the Satnam Sarab Kalyan Trust.