Camp Saanjh Reflection By Chintan Singh
Camp Saanjh in its third year is an annual 3 nights and 4 days overnight camping experience that strives to connect the Sikh youth ages from 7 to 15 years, with their rich heritage and teach them the Sikh way of life. It started in year 2012, and has been held thrice now, each consecutive year during the annual 4 day Thanksgiving holiday. Although now the organizers are considering to move it to summer time starting year 2015 due to popular demand by the parents of campers and volunteers.
The Camp Saanjh idea and institution was started by a few San Francisco bay area based young adults, mostly born and / or raised in North America, who are deeply committed to Sikhi and aspire to lead a Gurmat based life daily. The camp has so far been held at a Lutheran Christian retreat site called Mt. Cross located in the city of Ben Lomond in the beautiful Santa Cruz mountains of northern California, a mere 90 minutes away from San Francisco International Airport and about 45 minutes from San Jose, the capital of Silicon Valley. The organizers each year work closely with the owners and caretakers of this facility to make sure it can accommodate the lodging needs of our campers as well as it is adaptable to our needs such as having facilities to hold Sangat Diwans and a proper room for the Sukhasan of Guru Granth Sahib. This site provides well maintained facilities such as separate cabin lodging facilities for boys and girls with centralized heating, bunk beds for each individual and hot water shower and bathrooms in each cabin. Then there is a larger congregational prayer hall which we use for our morning and evening Diwans, and there is fully equipped kitchen with a spacious dining hall. Every detail has been kept in mind at this facility for the comfort of on boarders. I have yet to find a cozier, comfortable, picturesque site, nestled in the green mountains anywhere else, and all at an affordable price / camper.
I had the wonderful opportunity to attend Camp Saanjh for the second time in November 2014 as a parent volunteer.
Being born and raised in New Delhi, India, I must admit I am used to creature comforts such as a cozy bed and nice bathroom and dining facilities when traveling. Though I can be called spoilt in this regard, I also considerably enjoy the outdoors, which I rarely got to experience while growing in New Delhi given its metropolis environment and lack of accessible camping sites. However my enthusiasm for the outdoors has only increased while living in California for the last 15 years and as I have progressed in my understanding of Gurbani and what Gurbani reminds of us of this beautiful and precious mother earth through so many shabads. Camp Saanjh provided the perfect opportunity for me to enjoy the outdoors while getting all the creature comforts of lodging, and above all being able to dedicate 3 plus days totally to the understanding and learning of Sikhi and Sikh way of life in the Sangat of those who are on the same path. What more could I ask for?
The Camp Saanjh organizing team includes parents of young children and some young adults who are either in college or in early career stages. These young adults return each year to volunteer as counselors of the campers. There is a clear distinction set in the roles of parent volunteers and counselors. The idea is to let campers work closely with their assigned counselors so the campers get motivated by their counselors, who are continuing on their journey in Sikhi while completing their education in colleges / universities or as working adults. We often read and hear that children learn better and consider role models, people who have been through the same environment and are of the same generation, which is not necessarily their own parents. This is the idea behind providing close interaction between the campers and counselors, and separating parents from that interaction.
Each year campers are welcomed on the afternoon of Thanksgiving Thursday in November. The organizers and volunteers painstakingly make sure Campers and their parents upon arrival are registered and provided the full agenda, contact information of every volunteer that is going to be onsite for those 3 plus days and other important information in a pre-made folder for every camper. Then campers are shown to their cabins where they will sleep and live for the next 3 days.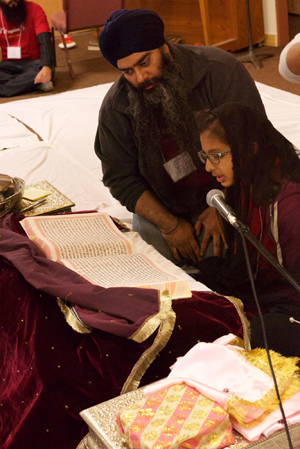 The entire camp and all its activities and classes are centered to a camp theme. In 2012, the theme of the Camp was "Guru Nanak, in 2013, the theme was "Miri and Piri" and "My Guru & I" in 2014. Every detail of the camp agenda to the nth degree is around the selected theme for example in 2013 after all the campers were registered, the young counselors kicked off the camp by putting on a play for the campers, depicting the scene where Emperor Jahangir is having a discussion with some of his courtiers about arresting Guru Hargobind, because the emperor has been falsely led to believe that the sixth Guru 's influence is causing a threat to Islam. Through this play, subtly, the campers were introduced to the revolutionary idea of Miri and Piri that Guru Hargobind gave his Sikhs. Then the shabad from Gurbani that was chosen as the theme shabad of the 2013 camp was also very close to the concept of Miri and Piri. The first line of the shabad is Haun Gosain Da Pehalwanra. This is a shabad in Siree Raag on page 74 of Guru Granth Sahib. The shabad's message is how we get entrapped into the pursuits of material comforts and everyday wrestle in this world for fulfilling our worldly comforts, but when we meet the True Guru, he releases us of this entrapment and cuts the noose off and makes us free, helping us win the wrestling match of life. One of the parent volunteers, in each morning and evening Diwan broke down and explained the shabad line by line. Similarly this year in 2014, the theme shabad was Jis Milea Man Hoe Anand So Satgur Kahiea, a perfect match to the theme "Guru & I". The idea behind choosing this wonderful theme was that often times, we as Sikhs, force our children to the Sikh way of life instead of them on their own adopting it. By teaching our children about the concept of Guru in Sikhi, we are letting them think about their own relationship with the Guru and forcing them to think where do they individually stand in their relationship with the Guru.
All of the subsequent classes and workshops during the day in both years have also had a strong link to the camp theme. This year's daily classes included Gurbani, History and Experiential Learning, all centered on the theme "Guru & I" – the goal of these classes and workshops was to have the children seek to answer their own questions through personal experiences and leave with an intimate, relevant, and meaningful connection to their Guru.
To not overwhelm campers and make the camp an academic experience, each day included 2 hours of free time during which kids could chose to do fun activities such as Rope Climbing, Archery, Hiking in the beautiful trails the location has to offer, or just simply spend time in forming new friendships with fellow campers. All of these activities are included onsite for each camper. The free time also serves as an optional opportunity for parents to come and visit their children during those 2 hours and check on them. Especially in the case of young ones, parents very justifiably have anxiety of being separated with their little ones for the entire holiday weekend. Then the camp fire is another highlighting fun activity. After dinner campers are taken by the adult volunteers to a hill top within the facility where bonfire is lit. Groups of campers sing songs and act in skits, some of them making fun of their counselor veers and bhenji's which the counselors accept in good humor. To beat the cold, hot chocolate and s'mores are served. Camp fire provides a wonderful opportunity for campers to bond with each other and their counselors.
Each day after the free time, a turban or Dastaar tying workshop was held. Many of the older pre-teens or teens campers got comfortable by Day 2 in tying the turban completely on their own, while the younger ones got a glimpse into the art of turban tying. My own 8 year old son since the return from the camp has boastingly expressed that he has understood the process of tying the turban. As a response to these prideful comments of his, I have thought in my head "not so soon son, I am still trying to perfect my turban style each day". Regardless of whether or not he has actually learnt turban tying, it makes me smile, noting his newly formed interest in the turban. What was even more amazing in this workshop? Several female campers, counselors and parent volunteers donned the turban. After the turban tying workshop, the evening Diwan each day beamed with turbans throughout the room.
Last year, the organizers added a parent's workshop. The workshop held on Thanksgiving Thursday afternoon when the parent drop their kids, is meant to give a glimpse to parents to the theme shabad that shall be discussed and explained to the children over the next three days. The idea behind this workshop is to encourage parents and children, after the camp, to continue thinking of the theme shabad and that way continue their journey of learning and applying Gurbani. I myself noticed several parents in this workshop discussing the theme shabad and how it applied to their personal lives.
There have been so many additions in the 2014 camp to the already jam packed agenda that I can't even fully remember. However I am going to mention a few that continue to nurture my daily thinking
The organizers held a unique workshop called "2084". The goal of this workshop was to explore where we as a Global community wish to be after 100 years of the tragic losses that occurred in 1984 and the years to follow. I have always believed that while we may have many different opinions and positions on this matter, each and every one of us Sikhs does feel a loss from the events of 1984 and has the duty to inform our next generation of the facts (not opinions though) of these events. This workshop held at Camp Saanjh was simply to probe the campers on what they knew as facts about the events of 1984, not to propagate hatred or personal agendas and opinions. After getting all campers at a common understanding of the high levels facts of 1984 events, the workshop quickly moved to a positive side where the facilitators probed campers to think where do we want to be as a community in 2084. Campers suggested ideas ranging from electing a Sikh president in the United States to forming a Sikh information and broadcasting company, or writing a book on Sikh history. To my pleasant surprise, there was no mention of any revenge or any sort of ill feeling. It was totally positive creativity and thought process flowing from this workshop. The workshop facilitators noted each of these ideas on the whiteboard and left campers to think on what they would like the community to achieve by 2084.
Then during the theme shabad explanation at each Diwan, campers were asked to remember 2-3 Gurmukhi words mentioned in the theme shabad such as Anand, Dubida, Namaskar, Khin Khin etc. Upon the last day, campers were quizzed on words in the Shabad to see how many words they could remember and would take back home. This was done to introduce their interest in learning Gurmukhi. Though the fact is that most of our children in the Sikh Diaspora are not going to learn and speak Punjabi the way those of us who grew in India had the opportunity to do so, and therefore shall adopt the language and cultures of their natives places of residence hopefully while practicing Sikhi, we need to spark the interest in them to learn to read and comprehend Gurmukhi in order to read Guru Granth Sahib in its original language and context. So I thought this way of helping young ones retain a few words from Gurbani in 3 days was a wonderful effort, although I noticed a few older children gripping of it being an academic test but then what's learning without a few learners stressing about it?
Finally another notable and new addition this year was a Diwan Protocol workshop. Often times we as parents focus on Sikh History, Philosophy and Gurbani when teaching children and forget to inform them of the subtleties of our traditions and why we do things the way we do. My own son has sometimes inquired about the protocols observed in our Gurdwaras and during Diwan services such as why do we only 6 pauris of Anand Sahib at the end of each Kirtan or why do we have a Palki or Manji where Guru Granth Sahib is placed? So I loved this workshop where campers were allowed to ask any questions about practices we follow as a Sangat. Some campers asked tough questions such as why women either at all don't or very seldom do Kirtan in the Gurdwaras. I was happy to see our young ones asking such questions. Hopefully these questions and discussions shall break the norms which are contrary to Sikh teachings but we have become used to following due to social pressures and traditions.
The last day of the Camp is always hard to say goodbyes and bid farewell to the friends who've come from different places and with whom one has spent three days. The camp not only provides an enriching experience in Sikhi but also gives a venue for our youth to see each other in Sikh identity and take comfort in the fact that there are others who are on the same journey as them.
One of the challenge I see the Camp Saanjh organization faces is the limitedness of its audience. Since its last three years of operation, the benefiting families and campers have been the same with a few new ones and few not returning ones. One of the reasons is that it has been so far held during the Thanksgiving weekend which is a significant family holiday in the United States. Several counselors have also not been able to return due to November being an important time for classes and exams. Counselors are an irreplaceable part of this camp and having 10-15 dedicated and committed volunteer counselors is an absolute must for the camp to succeed each year, besides a small group of parent volunteers. Hopefully the conflicts of schedule in November shall be addressed in year 2015 with the camp moving in the summer time. As the famous story goes around Guru Nanak's visit to a village where he was hosted with the utmost respect and love from the village inhabitants, and at the time of departing, the Guru blessed the people of this village to dislocate and move from their village so that they could spread their wonderful character and habits to others, I wish and pray to see Camp Saanjh spread far and wide with audiences and families across America, nay, across the world benefiting from it. I also hope the organizers can continue to do this service to our children and community in humility and love for years to come.
Personally I have each time come back from Camp Saanjh with my spiritual batteries charged and with self-reflection and contemplation on where I personally stand in my journey as a Sikh. The camp has a tradition of adults waking up early in the morning before the campers rise, and do Nitnem as a Sangat. Being able to read the Nitnem baanis early in the morning in company of like minded people is something I rarely get and yearn for. It gives a completely different meaning and environment to reading the Nitnem baanis alone at home. Our Gurus were extremely visionary when they established the concept of Sangat. When reading Gurbani with others for some reason, one is able to give lot more attention and connect to what the Guru is saying. I wish Camp Saanjh and institutions like it continue and thrive not only in Northern California and every part of the world and not only to cater to the needs of our youth but of adults as well. I am myself at the beginning point in the path of Sikhi and need institutions like Camp Saanjh to hold my hand.