Darshani Deori at Golden temple to get new doors
by GS Paul
Replicas of original ones, seashells used for ivory effect
The Darshani Deori, the archway leading to the Golden Temple sanctum sanctorum, will get new doors, a replica of the ones installed by Sikh ruler Maharaja Ranjit Singh about 200 years ago. The doors — 118 inches in height, 110 inches wide and with a thickness of 4 inches — will be installed at a ceremony on Saturday that will be attended by SGPC president Gobind Singh Longowal and his colleagues.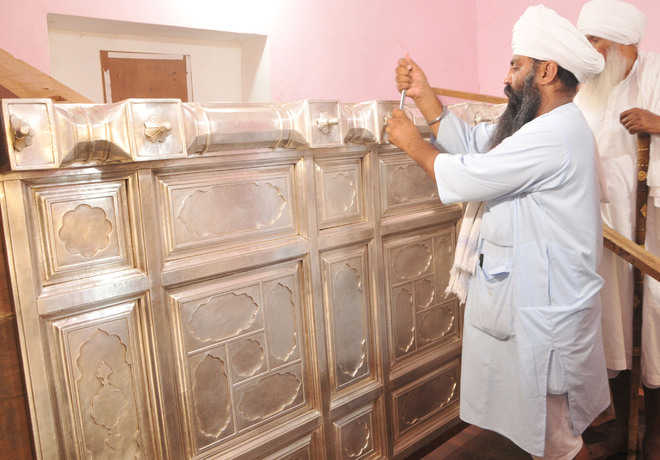 Baba Sukhwinder Singh Bhurewale inspecting the new Darshani Deori doors to be fitted at Golden Temple in Amritsar on Friday. Vishal kumar
The original doors — a sandalwood base with a silver sheet studded with carved ivory attached with golden screws — were unhooked for repairs for the first time in 2010 after these were found to have decayed with time. On July 4, 2010, the mammoth task of restoring their glory was allotted to Kar Sewa Baba Kashmir Singh Bhurewale. Meanwhile, temporary doors were installed as a stop-gap arrangement.
The restoration work was to be completed within a year but was delayed owing to several hiccups, SGPC chief secretary Dr Roop Singh told The Tribune. For one, the wooden base was found to be beyond repair. Another hindrance was non-availability of ivory that was to be engraved on the doors' borders.
As the sale of ivory is banned, the SGPC decided to leave the original doors 'untouched' and create replicas with the help of seashells to create the desired effect. On February 15, 2018, it again allotted the work to Baba Bhurewale.
Craftsmen from Agra were specially engaged for carvings on black sheesham. "Every detail was captured through micro-digital photography that helped study the pattern minutely," explained Baba Sukhwinder Singh Bhurewale.
"Barring ivory work (which is replaced with seashells), the new doors are an error-free copy. The craftsmen from Agra took eight months to complete the job, using six quintals of sheesham and 65 kg of silver," he added. The original doors will be placed in a glass case at the Golden Temple 'parkarma'.
---
Original doors were installed in 1800 AD
The original doors carved by Yaar Mohammed Khan were installed by Maharaja Ranjit Singh in 1800 AD
These were presented to him by a Sikh family of Sursingh village
---
Courtesy of www.tribuneindia.com