Desecration of Sikh Holy Book
By Saher Baloch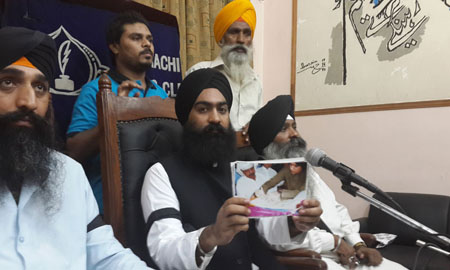 Chairman Pakistan Sikh Council Ramesh Singh showing pictures of the alleged desecration at a press conference in Karachi on August 27, 2013. — Photo by Sahar Baloch
KARACHI: The Pakistan Sikh Council on Tuesday called on the government and the Chief Justice of Pakistan to take notice of growing incidents of desecration of their holy book, Guru Granth Sahib, in various parts of Sindh.
Addressing the press conference, PSC head Sardar Ramesh Singh said that so far five incidents have occurred which forced him to bring it to the government's notice.
Most of these incidents have occurred inside Hindu temples where the holy book was kept as many people from the Hindu community also believe in the teachings of Guru Granth Sahib.
The first incident occurred a few months ago at the Samadha Ashram in Shikarpur where a Hindu elder was accused of "drawing pictures" on the holy book, enraging many in the Sikh community, Singh told the press conference.
Similar incidents later occurred in Dil Darbar in Pannu Aqil, then Khatt Wali Darbar in Shikarpur, the Sajal Sher Jhoolay Lal Darbar in Shikarpur and Guru Nanak Darbar Meer District of Dadu.
Singh alleged some "extremist elements" wanted to create a discord between Hindus and Sikhs who had been living peacefully in Sindh.
"We, like any other Pakistani, don't want a negative portrayal of our country. That was one of the reasons we didn't appear in the media. But now the situation is getting out of our control," he added.
Explaining further, he said most of the cases in which the holy book was desecrated occurred in the Sukkur division.
Following the incidents, the PSC approached police officers, and though the police registered an FIR, they still haven't arrested the person nominated as a suspect.
"I believe that such people have no religious or political identity, but in this case we think there is a political motive behind it," Singh added without naming any names.
Ramesh Singh said DIG Police West Shahid Hayat was contacted for his help in registering the FIR.
When asked, Hayat said: "We facilitated them in registering the case in Sukkur against the person they nominated after complaints that the local police was not registering the FIR. The government has formed a committee to look into the situation. Further details will be communicated by the committee itself."
The Sukkur police recently managed to arrest a person named Mahesh Kumar, but Singh said the person had no link to the case.
"We have categorically mentioned the name of a man, Sudhan Chand, but the Sukkur police have made no attempt to arrest him yet," added Singh.
Singh called on the Sindh government to resolve the issue. "Otherwise, we have the right of removing the holy book from the temples, and nobody can stop us from doing so," he said.
Courtesy of www.indiawest.com