Fauja Singh, 101, Dazzles in Olympic Torch Relay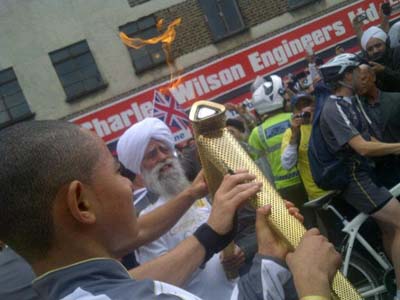 Punjab-born Fauja Singh, who defies age to run marathons, drew the loudest cheers as the Olympic Torch was carried by him, Olympic medal winners and leading individuals through London amidst a welcome clear sky and sunshine.
Clad in all-white apparel and a matching white turban, the sprightly Singh carried the torch accompanied by hundreds of admirers, including Sikhs with yellow T-shirts bearing Singh's image, who hailed him every moment of the distance he travelled.
Singh was born in 1911, and began running at 86 to keep himself occupied.
He has since set several records for people of his age, running six London marathons, two Canada marathons and the New York marathon.
Clearly a bit of a sensation for his achievements, his participation in the relay today was described by admirers and onlookers as "a moment of history".
Singh, who carried the Olympics Torch in Athens eight years ago, now wants to carry it before the 2016 Olympics too, when he will be 105.
Hundreds of Sikhs organised a 'Langar' at 16 points along the torch relay route to celebrate Fauja Singh's efforts.
The torch from Greenwich to Waltham Forest was carried by several Olympians, including Nadia Comaneci, and Indian-origin individuals who have excelled in various fields, such as Kaushali Trivedi (23), Natasha Sinha (15), Priya Rajgor (20) and Dhrashti Shah (16).
The relay's youngest and oldest (Fauja Singh) were among the 143 torch-bearers today.
The youngest was Chester Chambers, 12, who was nominated for representing his classmates, fundraising and helping to develop an anti-bullying campaign.
Hopes that the constant rains of the last few weeks will give way to sunshine during the Olympics were realised, as the relay was held amidst a clear sky.
United Sikhs, the charity organisation that organised the 'Langar', distributed thousands of 'roti rolls' along the torch relay route.
"We hope to demonstrate through Langar how the community involves in selfless service. We will be serving thousands of free vegetarian meals along the route. It would also showcase how community food can bring people from all walks of life together." – Parvinder Kaur – Langar Project
The 'Langar' was held to "celebrate the wonderful achievements of this under-spoken treasure of the Sikh community", organisers said.
Parvinder Kaur, manager of the 'Langar' project, said: "We are proud to share with the public the 500-year-old Sikh tradition of serving free meals to celebrate the carrying of the Olympic Torch by Bhai Fauja Singh."
Courtesy of: www.dnaindia.com