First Sikh Doctor of Pakistan
Farhan Wilayat Butt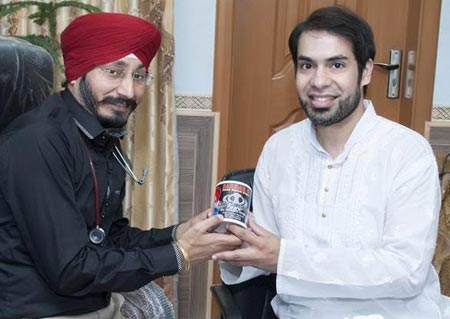 We met with one of the brightest examples of religious diversity in Pakistan with perfect harmony. We believe that not only his relevant religious community should be very proud of him but it is our strongest belief that entire Pakistani nation should also be proud of him. He is Dr. Mimpal Singh, who is the first ever Sikh MBBS doctor in the history of Pakistan. Holding the degrees of MBBS, RMP, DCH, MCPS, MD and PGD Nutrication, Dr. Mimpal Singh is working as Consultant Pediatrician; Neonatologist (Child Specialist) and Registrar Peads Medical Ward at Mayo Hospital in Lahore. He is also running his private clinic (Sardar Ji Child Health Clinic) in the vicinity of Shad Bagh, Lahore. Due to shortage of sufficient time, we asked a few questions associated to his personal and professional life.
Question: It has been observed that the general public of Pakistan (the one in majority) has a special kind of comfort level with Sikh community; though, a number of communities associated with different sects and religions are residing in Pakistan but generally, people do not share such comfort level with them. Are you also agreed with the fact that such comfort level helped you establishing yourself and building your career?
Dr. Mimpal Singh: You are quite right. You won't believe that we (Sikhs) are being loved by the public of Pakistan more than anyone else. When I was in university and was doing MBBS degree, I was the only Sikh student in the class… and even in the university. In majority of Muslim students, I was the one who was most favourite to all teachers and being a prominent and hardworking student, I was selected as a 'class representative' (which was certainly an honour for me). When I joined Mayo Hospital in Lahore, I was the only Sikh doctor in entire hospital but still I got so much attention and popularity. And finally, when I started my own clinic, I achieved the trust and confidence of local residents in a very short time. I believe it was the special blessing of almighty Allah, who supported me in every field of life. As far as myself is concerned, I am proud of my nationality. I am a proud Pakistani and I believe that everything I achieved in my life was only because of my beloved Pakistan. Of course, I could never get all those distinctions in case I could be an Indian. I certainly have so many opportunities to work abroad, but it is my love and affection towards my Pakistan that I can never even think about leaving Pakistan only to earn more money. It was only my Pakistan because of which I am standing on such strongest footing today. And let me also share a fact about my family's understanding towards my profession; they never pray Allah for any kind of increase in my business. They only pray for more Shifa and good health for my patients.
Question: During last few years, we have noticed Sikh youth achieving brilliant milestones. You made history and became the 1st Sikh MBBS doctor of Pakistan. Capt. Harcharan Singh joined Pakistan Army. Gulab Singh became a traffic warden. Maninder Singh became a banker. Many Sikh youngsters are doing MBA degrees and many Sikhs are joining police department. What is your message to the Sikh youth of Pakistan?
Dr. Mimpal Singh: All those trend-setters from Sikh youth are achieving such milestones only because of higher education. If you review your own question, you will surely realize that all those prominent Sikhs got popularity in the sectors of medical science, army, police department and banking only due to good education. Though, Pakistan has a big number of rich and wealthy Sikh families but not even a single Sikh from those families is popular due to his wealth. Education is a real jewel and wealth that can never be stolen. It polishes your skills and develops your character. I therefore convey my message to entire Sikh nation to educate their children. Secondly, I request entire Sikh youth to work more efficiently and gently in order to represent their nation as the best one because Sikhs working in all those sectors (medical, trade, police, army and politics etc.) are actually the ambassadors of their Sikh nation.
Question: What is your message to entire Pakistani nation?
Dr. Mimpal Singh: I have a sincere advice to all Pakistanis, to understand and realize your individual responsibilities. We have an ancient habit to blame our government and our politicians but before blaming anyone else, we should have to realize the fact that what we actually have given to our country. Secondly, I also request all my Pakistani brothers and sisters to educate their children which is really mandatory for complete awareness in our society and I believe that 75% of our problems can be resolved with this single step. Further, I have a request to the millions of Pakistani Muslims to help the poor and needy people through Zakat (which is one of the most prime duties of every Muslim as per the teachings of your religion, Islam). Believe me, by proper payment and distribution of Zakat, the problem of poverty will be vanished within a short span of time and it will certainly decrease many other crimes in our society which are basically produced due to poverty. I am not talking about Khairat, Sadqa or any other modes of charities. I am specifically talking about Zakat only which is mandatory to pay.
Dr. Mimpal Singh also disclosed many facts about his services for social welfare and we really wanted to share all those things right here but upon special request of Dr. Mimpal, we are not adding those details in this short interview because he doesn't want to disclose all those facts for any kind of publicity or advertising. We believe that it is another aspect of the greatness of his personality that he keeps his name hidden in all those welfare activities. We also observed another beautiful thing while reading the letter heads of Dr. Mimpal Singh… the name of Allah and Howashafi was mentioned on the top of the letter heads. Dr. Mimpal Singh told me that while writing any prescription I just watch the name of Allah and I believe that all the Shifa in the medicines I suggest are then granted by almighty Allah and my patients never submit any complaint.
It was one of the best discussion-sessions arranged by our Pakistan Peacekeeping Mission as there were no unanswered questions, doubts, or confusions. We believe that our society really needs such courteous and kind people. At the end of our meeting, Dr. Mimpal Singh shared the mementos which will certainly remind us our great discussion and the most pleasant visit to 'Sardar Ji Child Health Clinic'. We thank Dr. Mimpal Singh for his kind hospitality, as well as, for the most friendly and beautiful discussion. Also special thanks to Shazi Ahmed Photography for detailed coverage of entire meeting and discussion session.
This interview was conducted by Farhan Wilayat Butt who is a Senior Relationship Manager at
Bank Alfalah Ltd. in Lahore. He represents the Pakistan Peacekeeping Mission, which has been formed to make peace, unity and brotherhood among all Pakistanis, regardless of any differences of their religions, castes, colours and ethnic origins. No matter what is your regional identity (Punjabi, Saraiki, Kashmiri, Sindhi, Pashtun, Hazara, Baloch etc.)… No matter what are your religious beliefs (whether you are Muslim, Christian, Parsi, Sikh, Hindu etc.); no matter what is your colour/ caste… The main fact behind all those differences is… You are a Proud & Peaceful Pakistani and we all Pakistanis have to get united for a peaceful environment in our Pakistan.