First Time in 30 Years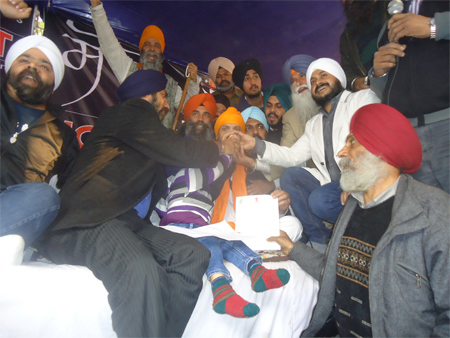 Bhai Jagdeep Singh, elected MLA of AAP offered a glass of orange juice to Bhai Iqbal Singh ji to end his fast in presence of another Sikh MLA Bhai Jarnail Singh from his party. Image courtesy of http://asrandhawa.wordpress.com/
NEW DELHI (January 29, 2014): This is the first time in 30 years that a Government in India has issued a formal letter allowing a fast track court for the 1984 Sikh massacres.
Bhai Iqbal Singh Bhatti agreed to end his hunger strike after Delhi Chief Minister and Aam Aadmi Party leader Arvind Kejriwal agreed to work on Sikh demands. Kejriwal agreed to work for the release of Prof. Davinderpal Singh Bhullar and establish a Special Investigations Team court to punish the culprits of the 1984 Sikh Genocide. These were the two major demands of Bhai Iqbal Singh.
A number of Sikh leaders and Sangat from Delhi and Punjab visited Bhai Iqbal Singh Bhatti today and insisted that he break his hunger strike and allow Kejriwal's Government to work on his demands. Bhai Iqbal Singh Bhatti had started his fast on December 5 and was in his 55th day. He led the campaign peacefully and achieved victory by remaining determined about his goal.
Arvind Kejriwal has further requested the release of Sikh political prisoner Prof. Davinderpal Singh Bhullar on humanitarian grounds, which would be a huge victory for the Sikh Nation as so far all doors for his release had been closed. Bhai Iqbal Singh Bhatti further thanked the Aam Aadmi Party for considering the demands of the Sikh Community. While all other political parties had ignored his campaign, a number of MLAs of the party visited Bhai Iqbal Singh on different occasions and were present today as well to express their support.
Bhai Iqbal Singh stated that so far other Governments had promised to address different Sikh issues, however these promises were withdrawn. "This is the first time a written notice has been issued," said Bhai Iqbal Singh Bhatti. The "Sikh community should take benefit of Kejriwal's Government as they are willing to work on Sikh issues."
The letter issued by Arvind Kejriwal –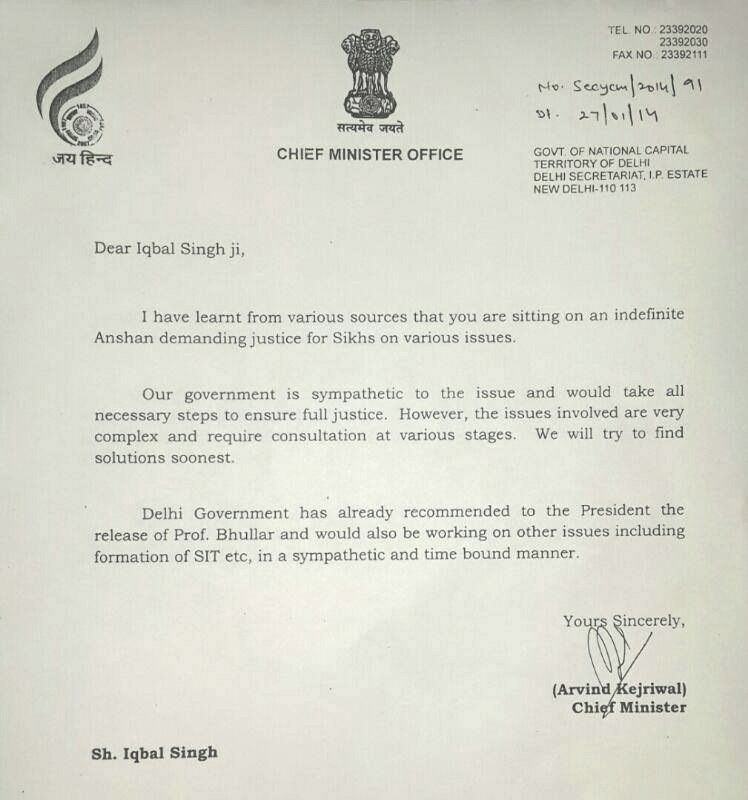 Previous Post: Another Sikh on Hunger Strike
By Yudhvir Rana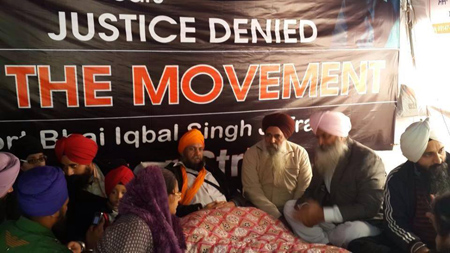 AMRITSAR: After remaining on hunger strike for the past 50 days, including 23 days at Jantar Mantar in New Delhi, activist Iqbal Singh Bhatti is surprised that no Sikh body or even Akal Takht has extended support to his cause.
Iqbal has been demanding setting up of fast track courts to bring perpetrators of 1984 anti-Sikh riots to justice, release of death row convict Devinderpal Singh Bhullar from jail and scrapping of black list that prevented Sikhs living abroad to visit India. He began his hunger strike on December 5, 2013, at Gurdwara Sant Baba Prem Singh in Paris and reached India to continue his fast at Jantar Mantar from January 1. While on protest, he has lost nearly 18kg weight.
Iqbal is also unhappy with the ruling Aam Aadmi Party (AAP) in Delhi. "When I was sitting on the hunger strike for the release of Bhullar from May 8 to 30, 2013, Arvind Kejriwala had come to meet me twice, but not this time," he said.
Two AAP MLAs, however, had urged him to end his fast. "I am sitting (on strike) for a cause, I can't end the fast on verbal assurances. I need something in writing so that there is accountability to fulfil those demands," said Iqbal, a construction contractor in France for past 22 years.
Sensing that he was being ignored, Iqbal has written a letter to Akal Takht jathedar Gurbachan Singh, requesting spiritual leader of Sikhs to cooperate with him in his struggle. "I wish Sikh bodies and human right activists join my struggle before it is too late," he said. Iqbal said he had also written a letter to President Pranab Mukerji stating his demands.
Courtesy of www.articles.timesofindia.indiatimes.com