Founding of the Sikh Foundation – A 48 year old journey recapped by Dr. N.S Kapany
By Inderjit Singh Takhar
December 28th, 2015 marks the 48th anniversary of the Sikh Foundation. Over the past 48 years the Sikh Foundation and its founder Dr. Narinder Singh Kapany have engaged in a wide variety of projects in efforts to preserve and share Sikh art and heritage. The Sikh Foundation has successfully collected, promoted and displayed hundreds of pieces of Sikh Art from the Kapany Collection across the world. In 2003, Dr. Kapany gifted more than hundred pieces of art to the Asian Art Museum in San Francisco, California to form "The Satinder Kaur Kapany Gallery of Sikh Art". This is the first and only permanent Sikh Art exhibit in North America.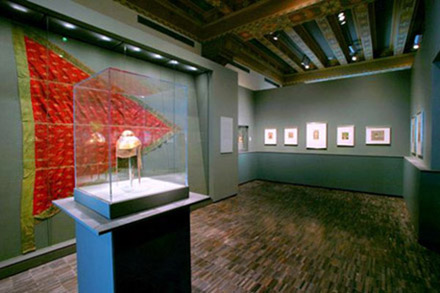 The Satinder Kaur Kapany Gallery of Sikh Art
Photo courtesy of Sikhfoundation.org
The Foundation also believes in generating the highest quality resources for the academic study of Sikhism, which led to the pioneering of Sikh Studies with the establishment of the first Chair of Sikh and Punjabi Language studies at the University of California, Santa Barbara in 1998. Additionally, the Foundation has published numerous books on Sikh art, heritage, culture, religion, and children's literature. Along with books, the Foundation produces annual Sikh Fine-Art Calendars to promote Sikh art and artists.
Aside from the promotions of art and academics, the Sikh Foundation has worked on the preservation of historical Sikh monuments. In 2000, the Sikh Foundation partnered with UNESCO to restore the 17th century mosque built by Guru Hargobind, the 6th Guru of the Sikhs, in Sir Hargobindpur Punjab. In addition, the Foundation has partnered with a number of other organizations including the 1947 partition archive and SALDEF to promote awareness for the Sikh community.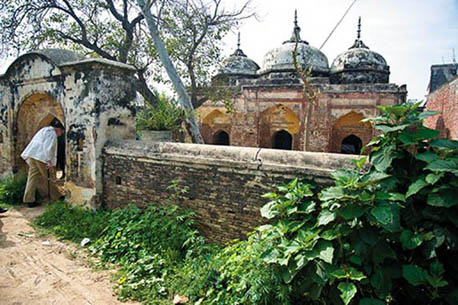 The Sri Hargobindpur Mosque in Punjab
Photo Courtesy of Sikhfoundation.org
The establishment of the Sikh Foundation almost five decades ago has introduced the world with many opportunities to learn about Sikh heritage and art. Dr. Kapany's legacy has spanned over many years and fields. He has inspired countless individual through his lifetime, and continues to innovate and grow even today at the age of 88. His tireless work to collect and preserve Sikh art has provided people the opportunity to view and appreciate Sikh heritage.
I had the privilege to sit down with Dr. Kapany for an interview where he answered question about his own life experiences as well as questions about the origins and role of the Sikh Foundation. His constant determination to continue grow and improve was a quality I was able to relate to due to my background in athletics. Additionally, despite our differences in age, upbringing and background I found it very easy to connect with him on his basic ideas hard work and perseverance.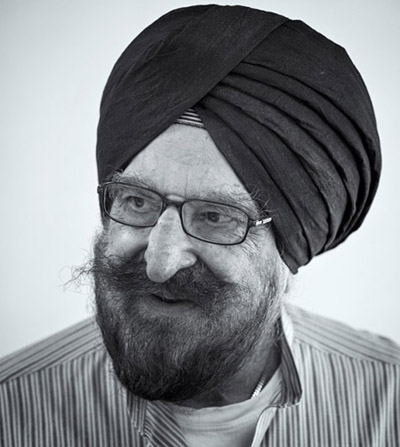 Dr. Narinder Singh Kapany
Photo courtesy of Sikhfoundation.org
Dr. Kapany first arrived in California in 1960 and during that time there couldn't have been more than 50 to 100 Sikhs in the San Francisco Bay Area. He stated that "to get any Sikh atmosphere during that time families would have to go to Stockton or Yuba City". Moreover, during that time a majority of Americans had never heard of Sikhs, let alone seen one. Yet, surprisingly Dr. Kapany faced very few social challenges that could've made him feel like an outsider. He rarely felt that he was being judged or discriminated against because of his background, or appearance. Instead, he was often viewed as innovator and a leader among his peers. He believes the reason he wasn't discriminated against was because he "was working either with the universities or in the high tech area, and there people knew who the Sikhs were".
Throughout his life Dr. Kapany has achieve numerous accolades. He is a visionary and an entrepreneur. Yet what personifies Dr. Kapany is his desire to be unique by doing things that people say can't be done. He explained that, "When [he] was young, it was said that light travels in straight lines. But [he] didn't believe that to be true, and proved the naysayers wrong. Then people said there is no such thing as Sikh Art, and [he] couldn't believe that statement either and 25-30 years later there are 10's of books that are written on Sikh Art." Even today he continues to learn and be unique. He state's "That's what a Sikh is; a Sikh is a student all their life".
The Sikh Foundation was founded in 1967 by a 40 years old Dr. Kapany. The motivation for the Foundation rose from a desire to create an organization which would be a platform for raising awareness about Sikhs and for preserving Sikh heritage. One example he gave was of the work done during the crises in Punjab in 1984. He told me about how the Sikh Foundation "published full page ads in major newspapers in New York, Washington, Chicago, Los Angeles and San Francisco to let the world know what the Sikhs where about." Additionally, he explained how he was often invited to be on "television and radio [to be] interviewed about the situation in Punjab and Sikhism." He added that, the Sikh Foundation made such an impact in 1984 that "some Indian Government officials used to claim, 'You have to be very careful about Kapany, because when he talks the Americans listen.' "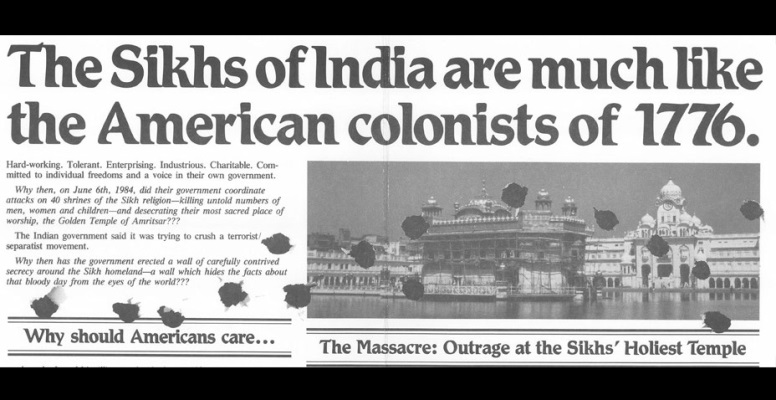 An article published in 1984 at was distributed across major US cities.
Photo courtesy of Sikhfoundation.org
In the early years of the Sikh Foundation the organization was relatively small. It was mainly operated by Dr. Kapany, and one of his very close friends Dr. Janmeji Singh. They published a few books and articles relating to the Sikhs and Sikhism, and even put together a directory with the name of every Sikh living the United States and Canada in the late 1960's. As the years went on, the foundation grew from a small organization that published a few books and articles to an organization that became a leader in the study, collection, and preservation of Sikh Art. Dr. Kapany's interest in Sikh art started over 30 years ago with he received two Guru Nanak Janamsakhi's containing about 40 paintings each from his father. He explained that he quickly realized that "although that Indian art is like an ocean, Sikh art has a specific portion of it that is quite unique, and it was at that point that [he] realized that the world should know that there is such a thing as Sikh art." When Dr. Kapany began collecting, there were very few Sikhs buyers of Sikh Art. The combination of his growing interest in Sikh Art and determination to show the world that there such thing as Sikh Art, Dr. Kapany stated that he "went into a total buying frenzy". He was able to obtain hundreds of pieces of art for minuscule prices. Of which included his favorite painting, a portrait of Rani Jindan.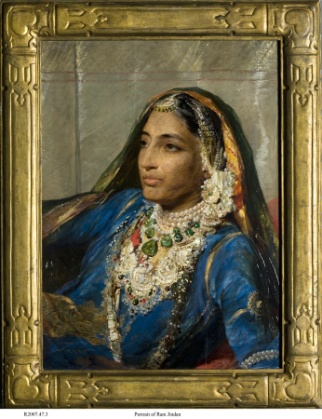 Portrait of Rani Jindan
Photo courtesy of Sikhfoundation.org
Over the years the Sikh Foundation had many important accomplishments. Dr. Kapany stated that some of the achievement he takes the most pride in are the; "publishing of a number of books that have been sold worldwide, the stand they took during 1984, the established Sikh Studies Chairs at major accredited universities, and the numerous Sikh art exhibits in museums around the world". Even after years of pioneering achievements the Sikh Foundation is determined to continue building on its strong legacy of academics, art, and literature for the foreseeable future. Some of the major projects to look forward to are the publishing of a book on the Kapany Collection of Sikh Art, the potential establishment of a permanent gallery of Sikh Art in Canada, and the Sikh Education Summit at Stanford University. Dr. Kapany believes that these future Sikh Foundation projects will be as successful as there projects in the past, and strongly believes that the Sikh Foundation has been and will continue to be a beacon of knowledge and a platform for the preservation of Sikh art and heritage.