Handsworth Community Celebrates as one family for Martrydom of Guru Arjan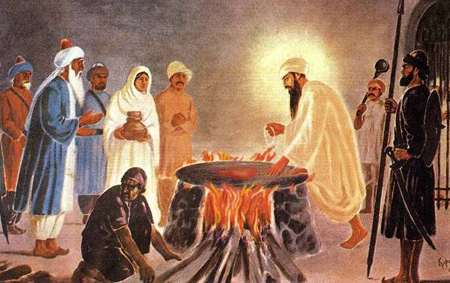 Guru Arjan Dev Ji
On 16th June 2012, hundreds of Sikhs, people of all faiths, and people of no faith from across Handsworth joined together to celebrate the shaheedi (sacrifice) of the Guru Arjan Dev Ji as part of a year-long interfaith volunteering initiative honouring Her Majesty the Queen's Diamond Jubilee
June's theme was "Bringing Sweetness", chosen to mark the shaheedi (sacrifice) of Guru Arjan Dev Ji, who lived a life in service to humanity and devoted to God.
Hosted on the busy Soho Road, the event included personal reflections, stalls and exhibitions, children's events, free food and a traditional "shabeel" serving refreshment to attendees and passers-by. For some, the highlight was an exclusive showing of art work by Daniel Connell, which gave visitors the opportunity to meet the artist, watch him at work and view his latest collection. The exhibition created opportunities for dialogue and reflection between diverse communities using portraiture.
Birmingham's faith representatives took to the stage to share their message of peace and tolerance and also give their personal congratulation to Her Majesty the Queen, expressing their gratitude for the freedom, dignity and sovereignty she rules her great diverse nation. The speakers sharing personal reflections included inspirational figures like Moqapi Selassie, Arvinder Jain, Ramona Kauth, Matloob Hussain, Dinesh Chauhan, Sajida Madni, Bill Ozane, Cllr M Hussain and Parmjit Kaur. Each of them gave a clear message of thanks to Her Majesty and also messages of cohesion, unity, peace, love and the welfare of all.
Speaking at the event, Chairman of GNNSJ and the NCA, Bhai Sahib Bhai Dr Mohinder Singh said: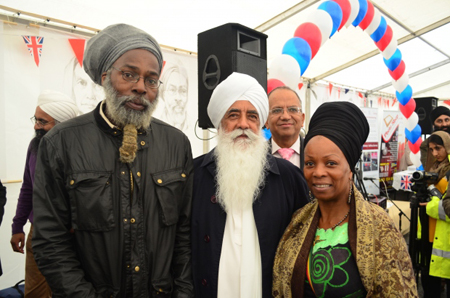 Handsworth Community Members
"Today is significant on many levels, but the key messages are about commitment, an unfathomable duty or Dharam, deep rooted values, sacrifice, selfless or Nishkam service, a belief system based on righteousness and the dignity of others, a clear understanding of justice and knowing the difference between right and wrong, whilst being a role model for others to aspire to.
Cllr Mahmood Hussain said, "It was a great event that was very well put together by the partners. I am very pleased to have seen the diversity of people that came out to celebrate with us. The turnout was exceptional. I am sure that HM The Queen must be delighted that her citizens of diverse communities are celebrating her Diamond Jubilee together showing solidarity and social cohesion."
Cllr Hendrina Quinnen said:
"What we have seen today is a great gathering of different communities to celebrate the Jubilee and other faith related events. It's lovely to get together and share things of common interest and where possible, I feel we need more of these events. I have seen that the understanding of other faiths is important and is the baseline of bringing people together through shared values and responsibilities. The event really demonstrates we can work together and become united through understanding each other's beliefs."