How an Indian Tycoon Accidentally Bought Franschhoek
By Bobby Jordan
It was supposed to be a sandwich stop. But an Indian billionaire's lunch-time trip to Franschhoek turned into the biggest investment bonanza the town has seen.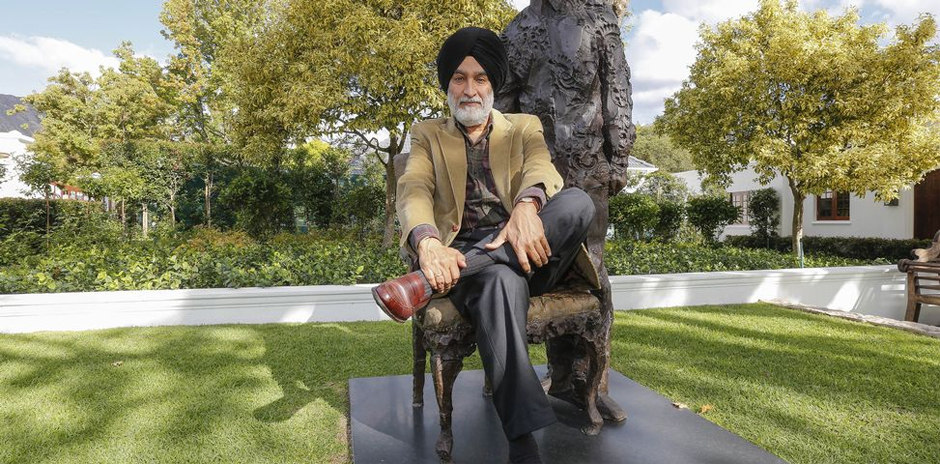 Analjit Singh, founder of the Max Group of healthcare and insurance companies, has invested heavily in Franschhoek Image: Adrian de Kock Adrian de Kock
At last count Analjit Singh, a business tycoon from Delhi, owns three hotels, five restaurants, a spa, a gym, a micro-brewery, a wine studio and a gallery – encompassing two entire blocks of Franschhoek's prime stretch of main road real estate.
The list also includes three adjoining wine farms, one of which has been developed into an ultra-luxurious estate that makes next-door neighbour Richard Branson seem a little cheap.
Singh, 62, the founder of an Indian healthcare group, has quietly created a hospitality empire to rival the best in the world, earning him celebrity status in the Cape winelands and accolades from business and political leaders.
And all thanks to a "serendipitous" drive during the World Cup six years ago, courtesy of a local driver.
"We felt like a bite to eat and we asked the driver if we could go somewhere," Singh told the Sunday Times. "He got off the N2 – I had no idea where we were going."
The sight of Franschhoek's vineyards nestled below towering mountains was, Singh said, exactly what he needed.
"Serendipity – because none of this was planned, none of this strategised," he said. "So I'd have to believe that all of this was ordained.
"I looked around and said, 'Oh my Lord, where are we? What is this place?'"
Singh had not intended to invest when he accompanied his daughter to the soccer showpiece. However, by the following year Franschhoek's charms had prompted him to buy a property, outside town, which he intended as a retirement "retreat".
It was one of the shortest retirements in history. Within a few months it was clear that Singh's two-and-a-half-bedroom manor house on Klein Dassenberg was just a springboard to bigger things.
First he bought the adjoining property on one side, then that on the other. Before long he had his own wine label – Mullineux & Leeu Family Wines, a partnership with a team of well-known winemakers – and started looking towards town.
"I said we should do something in the village," said Singh, who back in India is not known for doing things half-heartedly.
Fast-forward three more years and Singh owns a large chunk of trendy Franschhoek's main road, which is rapidly becoming trendier. Eye-catching statues of Nelson Mandela and Mahatma Gandhi have pride of place outside one of his guest lodges, and he is opening two restaurants across the road: "We said if we are doing all of this on this side of the street, we don't want to expose ourselves – what if somebody buys a property on the other side of the street and does something that will erode the value?"
So he bought the other side of the street.
Singh's dealings have brought him into contact with influential Cape business and political leaders, including economic opportunities MEC Alan Winde.
"Mr Singh is an investor who has embraced the local community. We can see that in the way he develops and how South African culture and heritage is reflected," said Winde. "This investment takes the profile of our tourism offering in the winelands to a new level."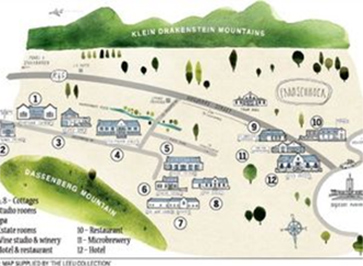 A map of Analjit Singh's many properties in the Franschhoek valley Image: Supplied
The value of the investment is difficult to quantify, but it runs into hundreds of millions of rands. Singh, though, wants to be defined more by quality than quantity, and has earned a reputation as a stickler for detail.
Born into a business dynasty, he has excelled in his own right and recently made the cover of Forbes magazine. His interest in the hospitality industry comes in the wake of huge success in the healthcare and telecommunications sectors.
He insisted on serving South African wine to French President François Hollande earlier this year, and cut short a recent South African visit to meet the Dalai Lama – a friend of his. "Hopefully the South African government will give him a visa so he can come and visit us here," Singh quipped dryly.
André Morgenthal, communications manager at Wines of South Africa, said Singh's investment was "an affirmation of the … dynamic investment environment the Cape winelands offer. For the industry it's a stamp of approval from one of the world's most influential business people."
Tara Whiting, who sold properties to Branson and Singh, said Singh's investment would further enhance Franschhoek's desirability.
"He has brought a new sense of style to Franschhoek," she said.
Courtesy of www.timeslive.co.za