Kesri Lehar held "Save a Life Vaisakhi Vigil" in London
By Jaspreet Singh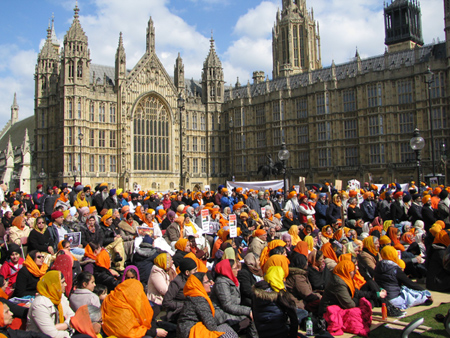 A view of vigil outside British Parliament by the Kesri Lehar (April 06, 2013)
London, United Kingdom April 08, 2013 : Kesri Lehar, a campaign by people of cross ethnic backgrounds, held the successful, 'Save a Life Vaisakhi Vigil' in observance of 'The Rejections of the Mercy Pleas' by Pranab Mukherjee, President of India, outside the Houses of Parliament, Westminster, London, on 6th April, 2013.
The vigil was attended by over 5,000 men, women and children from across England, who despite the cold breeze, sat relentlessly throughout the four hours of speeches by various speakers. In addition to the men, women and teenagers who spoke against the 'Death Penalty and Human Rights Violations in India, the vigil also saw various representatives of non-Sikh organisations speak at the vigil. Some of the notable speakers at the event were, Graham Williamson, representing 'ACT Now' and 'Nations Without States', Father Yaqoob Khushi of the Asian Christian Fellowship, Eugene Culas, Director of Voice of Dalit International (UK), Sockalingam Yogalingam, representing the Transnational Government For Tamil Eelam, Muhamad Faiz of the Jammu & Kashmir Liberation Front, Raj from the Tamil Helpline.
A view of vigil outside British Parliament by the Kesri Lehar (April 06, 2013) Leaders of all UK based Sikh groups had come in support of the vigil, where many had addressed the public and spoke of the atrocities committed by the Indian state against individuals, some of whom are still lingering in prisons in India.
Kesri Lehar, a young leaderless campaign, of people of all ages and ethnic background, had come into being on 12th April 2012, at a large gathering before No. 10, Downing Street, to pray for the release of Balwant Singh Rajoana. It has since become recognised as a non-radical movement, focused on abolishing the 'Death Penalty and Human Rights Abuses' in India. Kesri Lehar has garnered the support a cross party of about 100 MP's, several of whom, act as advisors to Kesri Lehar.
Since it's inception, Kesri Lehar has been progressively growing, with the numbers doubling at each of it's next event. It had successfully secured a debate in the UK Parliament on 28th Mac 2013, where the House agreed to the motion, 'that this house welcomes the national petition launched by the Kesri Lehar campaign, urging the UK Government to press the Indian government to sign and ratify the Rome Statute of the International Criminal Court and the UN Convention against Torture and other Cruel, Inhumane or Degrading Treatment or Punishment, which encompasses the death penalty, with the result that India would abolish the death penalty and lift this threat from Balwant Singh Rajoana and others.'
Several messages from notable leaders were read out to the people, at the vigil including a massage from Rt. Hon. John McDonnell, MP for Hayes and Harlington who said that "I send my solidarity greetings to this vigil, organised by Kesri Lehar. We must continue to do all we can to draw people's attention to the threat that lies above the heads of Balwant Singh Rajoana and Professor Devinderpal Singh Bhullar. I pay tribute to all those who have campaigned so effectively under the Kesri Lehar banner over the last year and give this commitment that we will not rest until justice is secured."
Courtesy of
www.sikhsiyasat.net/