KP's Muslim voters support Sikh candidate in elections 2018
By Sana Jamal
Islamabad: By filing nomination papers for elections 2018, Peshawar resident Radesh Singh Tony became the first independent candidate from Pakistan's Sikh minority to contest election from a general seat.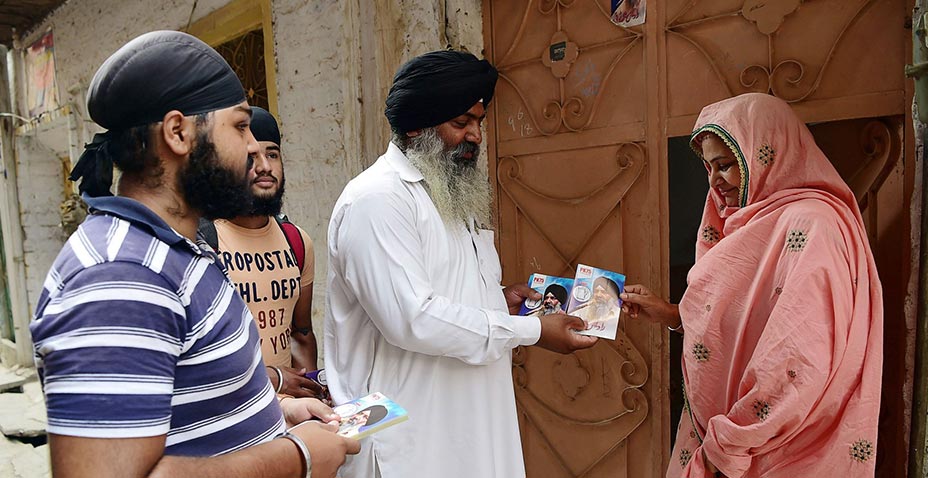 Radesh Singh Tony (C), a minority Sikh candidate contesting an upcoming general election seat, distributes pamphlets during his door-to-door election campaign in Peshawar. Photo: AFP – Credit-Dawn.com
"I am probably the first minority member in Khyber-Pakhtunkhwa (KP) who is contesting the elections as an independent candidate," Tony claimed. Although other Sikh and Hindu leaders are also contesting election in Pakistan but they have filed their nominations for the seats reserved for minorities.
Radesh Singh Tony is a prominent member of the local Sikh community and the president of Khyber Pakhtunkhwa's Pakistan Minorities' Alliance. When no political party offered him ticket, the rights activist decided to contest as an independent for the PK75 constituency that has a total vote bank of approximately 160,000.
"Normally, members of our community are assigned tickets by political parties for reserved seats and not the general, non-reserved seat" Tony explained. "Hence I have decided to contest the elections as an independent candidate and try my luck."
Contesting as an independent candidate without the backing of a political party can be challenging in Pakistan, which is why Tony is raising funds from friends and supporters.
"I am lucky that I have a lot of very good friends who are willing to support me financially. My family as well as Muslim friends are supporting me [in my campaign]."
Tony said one of his friends from civil society had promised to pay for all of his banners while her sister pay for printing 2,000 stickers for my election campaign.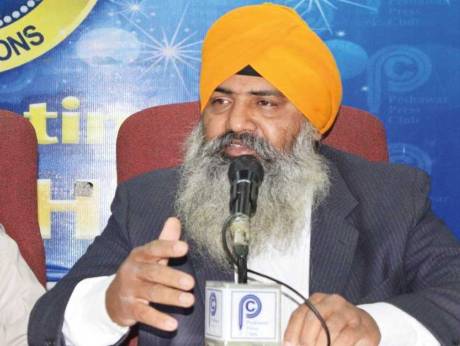 Radesh Singh Tony – Gulfnews.com:Image Credit: Supplied
His biggest support and motivation comes from hundreds of Muslim voters who are actively helping him for election campaign. "I was warmly welcomed by people everywhere I went for campaigning. Their support and words of encouragement have motivated me to work hard," Tony said.
The majority Muslim population of the city has shown huge support for Tony due to his repute as a social activist. "We are pleased to see that our Sikh brother is contesting from PK75. We fully support him and ask people to vote for him," said Najeeb Khan of Mazdoor Kisan Party.
Another local social activist, Mukhtar Bacha commented, "Tony does not only represent the minorities of Khyber Pakhtunkhwa but is also a beacon of interfaith harmony and tolerance in Pakistan."
The owner of a small business and father-of-three is currently going door-to-door and meeting local people for election campaigning.
If elected, the Sikh activist has vowed to bridge differences among different communities and raise the minority community's voice. "If we win, we will be in better position to raise our issues at the parliament," he declared.
Tony's manifesto is simple. He aims to work for the locals to solve their problems. "If elected, I am going to serve both the Muslim and non-Muslim population and solve their problem on a priority basis and increase interfaith harmony," he elucidated.
Tony is one of the three Sikh community members contesting from Khyber Pakhtunkhwa province. The other two are Ranjeet Singh and Farid Singh and are contesting from KP provincial constituencies on tickets of Muttahida Majlis-e-Amal (MMA), a major political alliance of religious parties in Pakistan.
Courtesy of www.gulfnews.com