Ladies Leading the GOP
By Sunita Sohrabji, Staff Reporter
Ms. Nikki Haley is a Christian and our choice for the title was inappropriate. We apologize for this oversight. – We have now changed the title.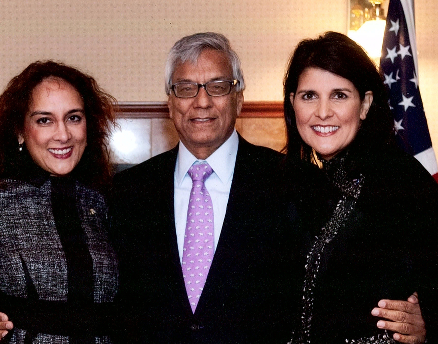 South Carolina Governor Nikki Haley (right) will be the keynote speaker at the San Francisco
Republican Party's annual Lincoln Reagan dinner. Shown with Haley are San Francisco GOP chair
Harmeet Dhillon (left) and her husband Sarvjit Randhawa (center). (Photo courtesy of Harmeet Dhillon)
South Carolina Governor Nikki Haley will be the keynote speaker Mar. 20 at the San Francisco Republican Party's annual Lincoln Reagan dinner.
Haley – the nation's first Indian American woman governor – was elected to office in 2010. She announced her bid for re-election last August, and is facing off against Democrat Vincent Sheheen, whom she ran against in the 2010 general election, after a vicious primary election cycle in which opponents accused her of marital infidelity and ties to radical Islam.
"South Carolina Governor Nikki Haley is one of the nation's leading Republicans, and probably the most prolific job creator in the country on a per capita basis," Harmeet Dhillon, chair of the Republican Party in San Francisco, told India-West in an e-mail.
"As a fellow American of Punjabi origin, I'm particularly honored that she is willing to visit us in San Francisco and support our local party's efforts by being our Lincoln Reagan dinner speaker this year."
Dhillon noted Haley's rigor in clamping down on excessive regulations that could deter new business ventures in the state, her active recruitment of new business and major industries, and her firm stance against the "excessive power" of public and private sector unions in South Carolina, nicknamed the Palmetto State.
Dhillon also noted that Haley, who is anti-abortion, fervently opposes the Affordable Care Act –Obamacare – and opposes gun control. "There is no better example in the country today of a strong Republican governor than Nikki Haley," stated Dhillon, who is also vice chair of the California Republican Party.
The annual dinner is named for Abraham Lincoln, the nation's first Republican president, and Ronald Reagan, possibly the country's most popular Republican president.
Other expected guests at this year's dinner include: California State Senate Minority Leader Bob Huff from Diamond Bar; California State Assembly Minority Leader Connie Conway of Tulare County; Republican National Committee Chief Technology Officer Andy Barkett; and California State Assembly Members Travis Allen from Huntington Beach and Rocky Chavez of San Diego County.
The evening event will be held at the Julia Morgan Ballroom in the Merchants Exchange Building in San Francisco.
Courtesy of www.indiawest.com