Navtej Johar – Projecting His Punjabi Cultural Roots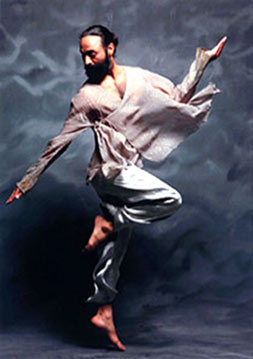 It's near impossible to slot Navtej Johar, India's leading Sikh dancer and choreographer. He has been trained in Bharatnatyam at Rukmini Devi Arundale's Kalashetra and with Leela Samson at the Shriram Bhartiya Kala Kendra, New Delhi. Many of his dance productions, including the latest Dravya Kaya, exploring the Ramayana through the perspective of objects, stretch the
boundaries of not only tradition but also dance.
But Navtej isn't this or that— a modern dancer or a traditional one. How he abhors stereotypes, clich`E9s as well as simplistic questions. Answers to mundane typical queries like—whether dance is essentially a woman's world—are met with stoic silence. Only the profound interests and engages him.
So, as he looks back at his journey, he doesn't rattle off milestones that include the Charles Wallace Fellowship, being the performance director of the Commonwealth Parade, for the Queen's Golden Jubilee Celebrations, at London, in June 2002, en route his odyssey. Instead, he thinks, over the years his biggest achievement has been that he has found a definite voice and developed a distinctive point of view.
And this voice is neither apologetic about its culture nor jingoistic. He muses, "It's very important to find a balance, to be centred and that happens only if one's expression is meaningful to the self."
Alas, he rues that most artistic expression of today is not organic. "As we are living in confused times, where boundaries are fusing, culture is being increasingly dominated by exhibitionism and image building exercises."
And in the Punjabi cultural milieu he stands doubly disappointed. Rues he, "How easily we Punjabis have given up our cultural legacy, how shamelessly we have denigrated our cultural roots and sought recourse to its popular representation, which is regressive and hackneyed."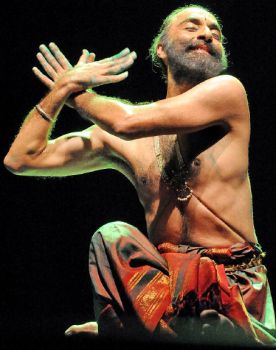 In fact, his dance masterpiece Fana'a: Ranjha Revisited is also an attempt to put things in a proper perspective. By juxtaposing the beauty of Punjabi Sufi poetry with Carnatic music, in a way, through Fana'a, he redefined the cultural hierarchy that puts Tamil Nadu at the top and Punjab down the ladder. At another level, Fana'a epitomises what he stands for—a blend of North and South, a Punjabi accomplished in the taxing form of Bharatnatyam.
You bet Bharatnaytam remains his srot, the fountainhead of inspiration and even in choreographies where he doesn't use a single Bharatnatyam movement, he acknowledges the all-pervading influence of the dance form he fell in love with over two decades ago. Pure Bharatnatyam, "its unparalleled beauty" fascinates him as much and acquires a refreshing vigour as he enthuses a new life into the great tradition. He finds both avant- garde forms and Bharatnatyam equally communicative. Only, he says, "There are certain aspects pertaining to our everyday lives which need to be examined, addressed, even subverted and for that we need unconventional means." For instance, he feels that the piece on Guru Teg Bahadur he is planning to make can only be a multi-media presentation.
No doubt, Fana'a and the creation on Guru Teg Bahadur are an emphatic affirmation of his Punjabi roots. Only the one on the guru is also an endeavour to honour our heroes. It was during the making of a dance piece on Tagore (Undoubtedly Real) and another on Gandhi (Gandhi's 11 vows) that the dismal realisation of "our inherent apathy towards our heroes" hit him like a bolt. Now, he intends to pay homage by creating at least one piece on our national heroes every year.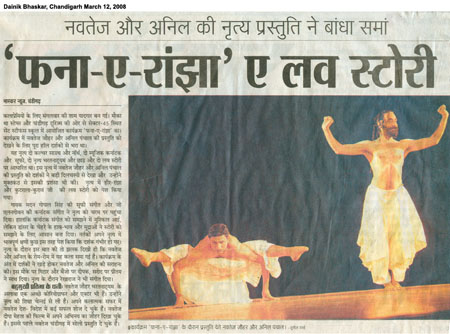 Click to Enlarge
Another dream he nurses is to base himself in Punjab. Six years ago, his efforts to start Bharatnatyam classes in Chandigarh —"I came for one year, cancelled so many of my shows" — were met with tepid support. Never mind the absence of a support system in Punjab, he is determined to realise his dream. He has already identified a village in the hinterland of Punjab, where he intends to set up a cultural centre to revive traditional cultural forms.
A proud Punjabi, he is keen to make fellow Punjabis come out of the self-depreciating "agriculture is our only culture" mould. If the throbbing vitality of his expression is not strong enough to make them aware of the richness of their legacy, he is willing to go an extra mile to compel them to re-examine their culture.
Mind you, he doesn't see himself as crusader. Only as an artist who is in constant pursuit of a correspondence with his inner world and the outer influences that he has imbibed within. As for the harmony between his expertise in yoga (he is trained in Patanjali yoga and has been a yoga teacher since 1985) and dance he quips, "It isn't an easy marriage for one is an introvert and the other an extrovert." That Navtej has acquired a consummate mastery over assimilating myriad expressions and developed a corresponding lexicon that is creative, imaginative and exceptional, is of course a different matter.
Courtesy: www.tribuneindia.com