New Documentary with Davis Ties Debuts
David Hosley and S. Steve Arounsack are the creators of "Halfway Home: Asian American Art in the Central Valley," which explores how four of the region's artists are using their talents to reshape narratives about their communities. Shot in 4K HD, the program also uses images from a new visual archive at UCD.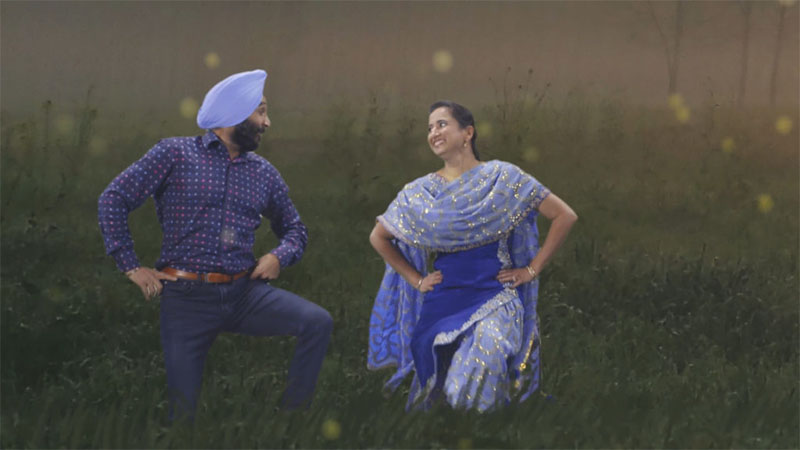 Dancers Paramjeet Kaur and Harjeet Singh of Yuba City, visual artist Lon La Dee Chan of Stockton, and playwright and actress Nikiko Masumoto of Del Rey are the artists shown creating distinctive work in a region better known for its agricultural productivity. Together, they are crafting hybrids halfway between their ancestral cultures and today's California multicultural society.
The documentary was broadcasted at 7 p.m. Wednesday, May 23, on KVIE Public Television as part of the station's Asian Pacific Heritage Month programming.
Executive producer Hosley, who has done a series of projects over the past few years for the Center for Asian American Media, was invited to develop a concept for a new arts program.
"We wanted to illustrate the diversity of Asian cultures in the Valley, and how they enrich our lives," Hosley said. "We also wanted it to be visually striking, and that's where 4K HD really makes a difference with four times the pixel density of standard HD. To do that I knew I wanted to work with Steve, because of his innovative Keck Visual Anthropology Lab at CSU Turlock."
Producer Arounsack came to the United States when he was 3 years old, along with his parents and three siblings. The family settled in Maui, Hawaii, and lived there for six years before moving to Modesto. With his parents speaking only a little English, the family had to endure a lot of hardship in order to improve their living conditions.
Arounsack is a faculty member at CSU Stanislaus, where he earned his bachelor's and master's degrees. He was a recipient of the Gates Millennium Scholarship. the first Laotian American to receive it, while pursuing his doctorate in ecology at UCD.
His current work focuses on the nexus of cultural anthropology and the media. Last year he produced "Getting Loa'd," about the rise of popular music and film in Laos over the past decade. It was shown this year at the Seattle Asian American Film Festival.
"Halfway Home" begins with sweeping views of the region shot from a drone. But it quickly transitions to the energetic moves of Bhangra, which is so popular that UCD hosts a competition that attracts dance clubs from a number of California universities.
In the documentary, Kaur is asked about her passion for dance. "I have always loved dancing. I had never done Bhangra or Giddha until I got married to Harjeet. Back in India when I was studying, my parents, their main motive for me was just study, get higher education."
In addition to being nationally known performers, the couple also teach students and adults each week in Yuba City and Roseville. Singh says they cross cultures when giving instruction.
"If I'm teaching teenagers how to do the move, I say 'Hey, have you played soccer? Yeah, this is how to kick in soccer, you use your leg like this.' Or, there's some moves, like how you play basketball and shoot a hoop," Singh said.
"The Sikh community in the Central Valley has been so proactive and positive in sharing their religion and culture with others," Hosley added. "When we thought about Asian-American artists in our region, we wanted to present the energy of Bhangra and the uniqueness of the relationship songs in Giddha.
"It's like nothing else in America, and adds to the beauty of one of the first public television 4K HD productions, whether it's the costumes Lon makes for the Khmer Ballet or showing the optimism of spring blossoms on Nikiko's farm."
In giving context to the Sikh art forms, the producers tapped into a new resource at UCD. The collection of photos and home movies from the first century of Punjabi immigrants to Northern California helps viewers learn some history after being drawn in by the costumes, music and choreography. It's digitally stored, points out Arounsack, which made it easy to add to the footage shot with his lab's 4K camera.
"I try to highlight the visual appeal of the art," he said. "Audiences marvel at the creative talent required to produce something stunning. We try to highlight the exquisite detail and patience required by our quartet to produce art. Once viewers respect the art and those who create it, they tend to be more open to the story behind it."
Following its debut showings, the documentary will go on the film festival circuit for six months and then be presented nationally to public television stations next year. Project partners are the Center for Asian American Media and KVIE Public Television, along with the Coming To America Museum in Yuba City, and the Khmer Ballet of Stockton. Funding comes from the California Arts Council and the Corporation for Public Broadcasting.
Courtesy of www.davisenterprise.com