North Texas Faith Leaders learn about Sikh Values
By Dr Harbans Lal
DALLAS. The Interfaith Council of the World Center for Thanks-Giving, representing 26 faiths and religious traditions met on June 13, 2014 at the Gurduara Sikh Temple of North Texas. The IFC meeting was followed by the Sikh traditional meal, Langar, and brief presentations on Sikhism.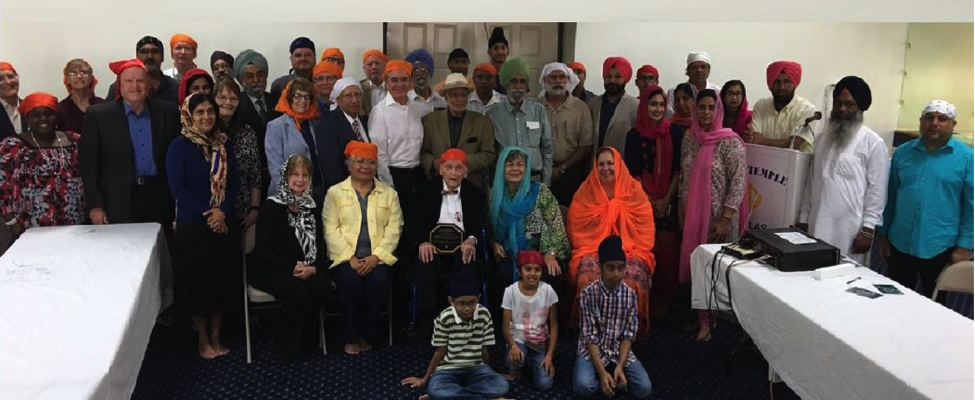 One highlight of the meeting was the honoring of Peter Stewart with a plaque from the Sikh DFW community.
The meeting began with a prayer by Deacon Bonnie Morrill of St. David's in Garland and a moment of silence in sympathy with victims of the recent terror attacks.
In his talk about Sikhism, Dr. Harbans Lal told the religious leaders that Guru Nanak promoted interfaith engagement and dialog by personally visiting many centers of world's religions. He visited the main centers of Hinduism, Buddhism, Christianity, Islam and Judaism spanning China, Ceylon, India, Himalayan kingdoms, Iran, Iraq, and Saudi Arabia. Sikh teachings inculcated a life style based upon Guru Nanak's doctrine of Naam, Daan, and Ishnaan that translated as Mind of Enlightenment, Culture of Altruism and Ethics of Goodness.
As an illustration of Sikh altruism, Dr. Lal narrated the story about Sikh volunteers that were directed to give water, food and medicine to wounded soldiers across enemy lines in the battlefield. He also narrated the life of Gurdeep Singh, who runs his clothing shop in the day time but spends his evenings providing, food, medicines and nursing help to the sick. Gurdeep has been doing so for the past 24 years. Dr. Inderjit Kaur, successor of Bhagat Puran Singh of Pingalwara, takes care of homeless sick people, provides orphans' and homeless' shelters in India and abroad. A similarly saintly person, Balbir Singh, distributes saplings to grow trees throughout Northern India and recruits volunteers for cleaning waters flowing in rivulets of the area.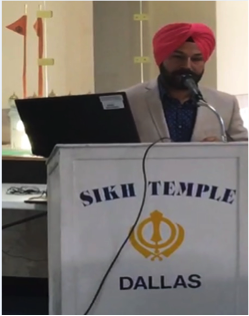 North Texas Faith Leaders learn about Sikh Values
An executive of a major IT company and Film producer, Karanbir Singh Pannu, spoke about the mission and activities of a typical Gurduara in the USA, and used the Garland Sikh Temple as an illustration. The activities include religious and spiritual services in the sanctuary consisting of recitation and singing of sacred hymns from Sri Guru Granth Sahib Ji (Sikh's Sacred Scripture) followed by exegesis of the selected hymns. The congregation is open to all without regards to race, color, age, gender, or social status. Additional programs are held that promote community health and comradery among the members. Gurduara volunteers also participate in several community run outreach programs.
Some activities were illustrated with a PowerPoint presentation. They included the ongoing singing of sacred hymns and exegesis from the Guru Granth inside the sanctuary, a tour of a Sikh childrens' school, health fairs, sports where youth, adults, and seniors participate; yoga classes, and volunteering to cook and distribute langar as well as clean the Gurduara premises including the surrounding neighborhood.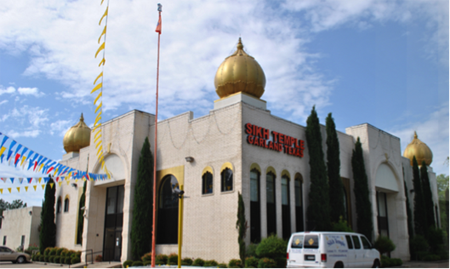 Garland Sikh Temple
Gurduara President, Harjit Singh Randhawa, introduced Peter Stewart for recognition with the following citation:
Peter Stewart is a great visionary and world leader of interfaith engagement. In 1964, Peter and three other businessmen founded a special place in the center of Dallas named Thanks-Giving Square. Here clergy and leaders of all faiths could meet to promote interfaith understanding through Thanksgiving. The center under the leadership of Peter Stewart succeeded in its mission so much that its message began to reach all over the globe.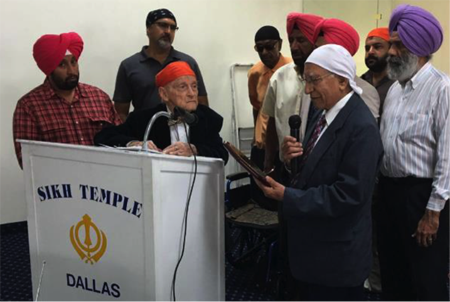 Dr. Bhai Harbans Lal seen reading the Plaque of Appreciation being presented to Peter Stewart along with members from the Gurduara Management including Harjit Singh, Mukhtiar Singh, Balkar Singh, Piara singh Mali, Prabpal Singh, Sukdav Singh Sidhu, Amir Singh, Avtar Singh, Gurdarshan Singh Brar and others. Imam Marzuq Jaami of Desoto Islamic Center and Founder of Friendship among Faiths is seen in the background.
As a result, in November 1997, the General Assembly of the United Nations approved a proposal by Argentina naming the Millennium Year 2000 as the International Year of Thanks-Giving. It prompted the Secretary General Kofi Anan to recognize Thanks-Giving Square in Dallas as the World Center for Thanks-Giving.
Since then the Center has been serving as a meeting place and a conference center that attracted leaders of all faiths to put their heads together in promotion of the philosophy and practice of Thanks-Giving so central to all world's religions including Sikhism.
Besides American leaders of faith, American dignitaries ranging from American Presidents to members of US Congress, State legislators, Civic leaders and university academicians often take opportunities to visit and speak at the Square. Thanks-Giving Square has hosted many seminars, workshops and conferences that resulted in many position papers and documents towards spreading the culture of Thanksgiving the world over.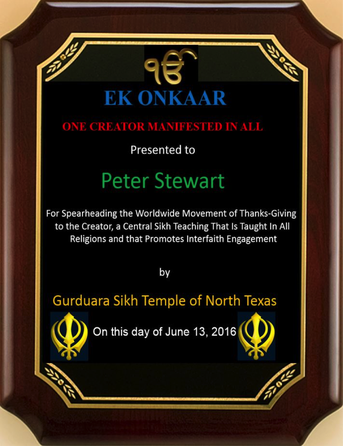 Because Thanksgiving is one of the central Sikh values, Representatives from Sikhs' premier organizations, Shiromani Gurduara Parbandhak Committee, Akal Takhat, and World Sikh Council have sent their scholars to participate in the Conferences held at Thanks-Giving Square.
Whereas Peter Stewart, the Founding father of the Thanks-Giving Square and the light behind the world level effort to promote the philosophy and culture of Thanksgiving, a value shared by Sikhs, the Sikh congregations of North Texas honors Peter Stewart with the Recognition Plaque.
The following the citation, the Plaque of Appreciation, was presented to Mr. Stewart by the Gurduara officials as shown.
Almas Muscatwalla, Chairperson of IFC and Chris Slaughter President of the Thanks Giving Square recognized the members for their participation and the Management of the Sikh Temple.
The IFC meeting was formally concluded with a prayer by Muslim Imam, Mohamad Suleiman of North Texas Islamic Association.
Send all communications to the author:
Harbans Lal, PhD; D.Litt (hons)
Emeritus Professor and Chairman, Dept of Pharmacology & Neuroscience, University of North Texas Health Science Center.
Emeritus, Guru Nanak Dev University, Amritsar, India.
President, Academy of Guru Granth Studies.
web: https://seekingwisdomblog.wordpress.com
email: Japji2050@gmail.com
Courtesy of SEEKING WISDOM A Blog by Dr Harbans Lal