Organic Langar at Golden Temple in Amritsar Soon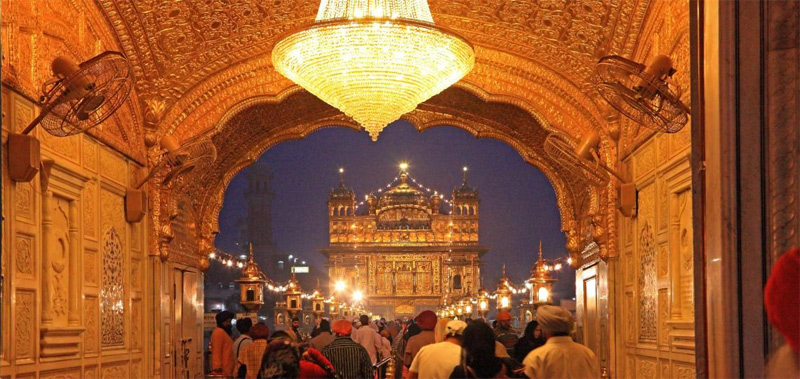 Golden Temple image courtsey of www.my-entdecker.de
The sangat coming to pay obeisance at Golden Temple would soon have the chance to have organic langar.
In a landmark decision that is sure to delight environmentalists and pilgrims alike, SGPC has decided to grow natural organic vegetables and grains at its Sattlani Sahib farms near Amritsar.
This produce shall be used in the Langar at Golden Temple, thereby inspiring farmers who donate a part of their harvest to convert to healthy farm practices as well.
Shiromani Gurudwara Parbandhak Committee (SGPC), established in 1920 to administer the Gurudwaras of the Sikhs, was formalised by British Government Act of 01 November, 1925.
It manages scores of historic places of worship across the country.
EcoSikh has congratulated Mr. Avatar Singh Makkar, President SGPC, for taking a bold step to make the langar served at the Golden Temple organic. SGPC's Executive Committee met on March 3, 2015 and made this decision to assign 35 acres of land at Sattlani Sahib for organic farming. The produce will be used in cooking langar for almost 100,000 pilgrims who pay homage everyday to the Golden Temple.
EcoSikh's team in Amritsar have regular consultations with SGPC and other stakeholders in the city to engage them on environmental issues. EcoSikh's representative had a fruitful discussions on number of environmental issues with SGPC officials last week. Among those present from SGPC were Sukhdev Singh Bhaur, Rajinder Singh Mehta and Roop Singh.
Gunbir Singh, Chairman of Eco Amritsar, an initiative of EcoSikh, welcomed this move of SGPC and said, " This is indeed a handsome proclamation that will warm the cockles of environmentalist hearts the world over. All logical thinking people recognise the harmful effects of chemically grown food, but a clear message from the precincts of the Golden temple is an inspiration for all faiths globally to follow suit."
Tarundeep Singh, Administrator of Eco Amritsar, who works closely with SGPC, said, "We are overwhelmed by this decision, and hope this shall create the momentum for a healthy and progressive farming enterprise in the state and beyond."
Dr. Rajwant Singh, while applauding this bold step by SGPC Executive Committee, said, "This action will have a major positive impact for times to come. Preventing the use of toxic pesticides & fertilisers is really good for the land, and it will also provide healthy langar for the pilgrims. This is the true meaning of langar, a nourishing and harmless meal for all. This will make all Sikhs proud that the caring for land and Mother Earth is being practiced at the heart of Sikhism."
He added, "We certainly hope that langars in gurdwaras across Punjab become chemical free and it inspires many deras serving langar all over the state to go organic as well."
Courtsey of www.yespunjab.com