Peace Essay Contest of Modesto CA: A 31-year-old tradition building community
Mehar Nijjar, a young Sikh student and poet from Modesto took up the challenge of participating in the "Peace Essay Contest" organized by the Modesto Peace/Life Center, dedicated to promoting nonviolent solutions locally to societal and global issues. Her essay was awarded "honorable mention" in Division 1.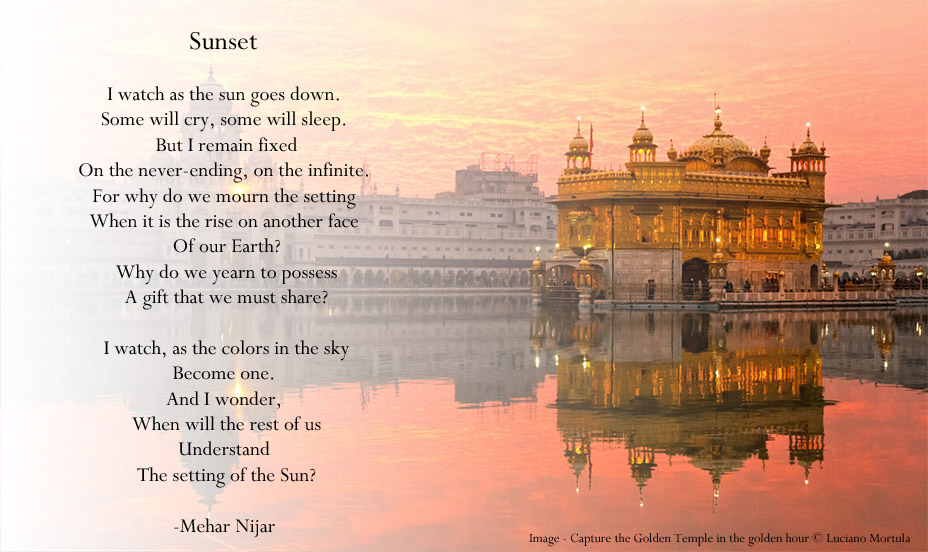 Each year since 1987, the Modesto Peace/Life Center has sponsored the Peace Essay Contest, open to 5th-12th grade students who live or attend school in Stanislaus County. Students write an essay in response to a question, carefully crafted anew each year, and the winners in four divisions are awarded prizes in a public ceremony. Over 1000 students from throughout the county entered the contest this year including the participation of 32 schools and 51 teachers.
Students wrote essays in response to a question that began, "Imagine that you suddenly have the power to put into action a non-violent plan to bring about a more peaceful future that includes respect and fairness for all….". This year, the prompt was to research and write a narrative from the viewpoint of an immigrant coming to the United States.
Forcing her to step outside her world and think about being a different person with a different story, Mehar chose to write from the perspective of a teenage girl from Syria whose burdening situation required herself and her family to hurry to safety (United States). Using flashbacks, imagery, and nostalgia she created an emotional and realistic story of an immigrant.
Mehar adds,"I would encourage all young individuals to remember to prioritize themselves and their goals so that we, together can create a better future for the world. In the face of adversity and life challenges, it is crucial to remember that you are your own individual, and unlike any of the rest of the seven billion people in this world, and that when you let the universe fill you, your impact can move mountains."
Qadira-Powerful Woman
by Mehar Nijjar
Qadira. Powerful woman. This is what my mother named me sixteen years ago, when I was born at a hospital in the city of Raqqa, Syria. "You claimed your spot in this world," she would always say. I didn't know that she truly meant it until the day our lives changed forever. It was summer. Hot, dry air mixed with dirt and the smell of smoke hung over the city as we slept deeply, huddled together in the thick blanket. The blankets aren't the same here.
I was woken by my older sister, Amal. "Get up!" she said. The look on her face was enough for me to understand. We quickly grabbed the bags that we had packed a few days ago – this moment was anticipated. When I stepped outside, I saw the building at the end of the street left in pieces by the airstrikes. My friend Wahida lived there. Her family was planning to leave next week.
It was my first time in an airplane and the experience was surreal. What I felt was not clear – sadness mixed with the excited feeling of butterflies in my stomach. They fluttered as we took-off. All this time my whole world was Raqqa, and often did I forget that we were just a small dot from the heavens. I watched as we flew higher and higher away from my street.
When I woke up and looked out the window, there was nothing but fluffy, white clouds. "Are we in heaven?" my little brother, Hasim, asked my parents. Mother looked at him and smiled for the first time since we left. A smile that spoke more than her silence.
Upon reaching in San Francisco and stepping off of the plane, a woman with golden hair and doe-like eyes welcomed us. Her smile was painted with red lip stain and her cheeks glowed with rosy rouge and affability. I think Hasim was in love.
My eyelids were heavy but I couldn't help gazing at the city in wonder. There, I saw the buildings of Raqqa, a different story in each window. There were people bustling in the same way, some too busy to look in any direction, others who wandered aimlessly. The air was so pure, like cold water from a spring. Hasim and I pretended to swallow big gulps of it.
The first few months in the bay, we stayed at a refugee shelter. Benefactors came in day and night, bringing in donated food, clothing, and toys for the children. They came in all forms – some were boys and girls my age, some were businessmen, others were retired couples. Mother called them the Angels. I met a girl from Syria at the shelter who had lost most of her family, including her parents, to the war. Her name was Myra. She came with her older brother. He and my father would go out during the day to look for jobs and she and I would spend time reminiscing. She reminded me a lot of Wahida. Quiet, with the same wit and intelligent observations of the world around her.
A woman at the shelter got my siblings, Myra, and I enrolled in public schools. Luckily, Myra, Amal, and I were going to the same local high school. We all still dealt with cynicism, but what were we to expect anyways? The pain of a snarky comment was patched up when we were able to sit together at lunch and speak comfortably in our language. The embarrassment of our mismatched clothing was forgiven when we saw our mother at the shelter, knitting us sweaters and scarves. In Raqqa, we wore the finest silk scarves and the richest colors of the season. Father worked for a business firm and we were among the thriving families of the city. Never did we imagine that the softness of our silks would be compromised for another chance at life.
I remember going to the grocery store with Hasim one day. Our list consisted of milk, cereal, lettuce, tomatoes, and microwave pizza pockets. Who knew frozen foods were so deliciously satisfying? The Americans. At the register, there was a woman with her two children in line. Hasim was begging me for a candy bar and her eyes darted towards him, then me, then my headscarf. Without saying a word, she grabbed her children and went to another line. Something about the coldness of her stare brought tears to my eyes. I was usually able to hold back the tears, but this time I couldn't. Suddenly, I felt a small hand clasp mine – Hasim had stopped whining and looked up at me with his big, brown, innocent eyes. "It's alright, Qadira. She doesn't want to wait in line."
It has been nearly a year now and every day I still have new experiences, not always knowing what challenges and emotions lay ahead, but knowing that my family and I are safe and sound, wrapped in the arms of a guardian we call America.
Sources: peacelifecenter.org