Senior Sikh American Brutally Beaten in Fresno-CA
By Sunita Sohrabji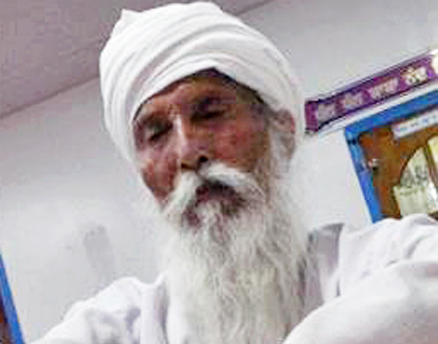 Piara Singh, 82, was brutally attacked outside a Fresno, Calif., gurdwara. (sikh24news.com)
An 82-year-old Indian American man of the Sikh faith was brutally beaten repeatedly with a metallic rod by a man riding a bike on the morning of May 5, near a Fresno, Calif. gurdwara.
Piara Singh, a long-time resident of Fresno, is at a nearby hospital, suffering from broken bones in his ribs, cheeks and jaws. He also has a punctured lung, and 20 sutures in his head.
Relatives told India-West Singh is expected to remain in the hospital for at least two weeks. The elderly man went into a coma shortly after arriving at the hospital, but was coming out of it as India-West went to press May 7.
Speaking to India-West before a press conference May 7 evening at the Gurdwara Nanaskar, Fresno Police Chief Jerry Dyer said a suspect – Gilbert Garcia, 29 – had been identified and is in custody. Garcia is expected to be charged with attempted murder, elder abuse and bias-motivated crime, according to Dyer.
The FBI has been called in to investigate the case as a hate-biased attack.
"It's important to get Garcia the longest sentence we can," said Dyer, adding that there was no reason to believe the heinous attack was "anything another than a hate crime."
The police chief said Garcia made statements during the attack, but Singh does not speak English and therefore could not understand them. But during his arrest, Garcia did make racially-biased comments to police officers.
According to Dyer, Garcia has had contact with the police and has been arrested for past drug and weapons-related offenses; he also has a record of past felony arrests. But Dyer added that the motivation for the attack against Singh was purely racial bias, and that Garcia had targeted Singh for his ethnicity.
"Garcia is in custody, minimizing the threat to the Sikh community. But there are other ignorant people out there that will do things of this nature," said Dyer, warning Sikh Americans and other "stand-out" ethnic communities to become aware of who is around them, who is taking photos and who is behaving suspiciously.
Harjinder Singh Dhillon, a spokesman for the Sikh Association of Fresno, said the FBI has met with the Sikh community and told them not to park alone and to walk in groups through the parking lot. There are seven gurdwaras within a 15-mile radius in Fresno.
Rajbir Beasla, one of Singh's many nephews, told India-West that his uncle Piara was a very religiously-devoted man who has gone to the gurdwara almost every day for the past 15 years. The attack occurred as Singh stood nearby the temple, waiting for his son to give him a ride home.
Beasla said the son witnessed the attack at 3114 South Cherry Street in Fresno and called police whilst trying to save his father. Singh has two sons, two daughters and numerous nieces and nephews.
Beasla, 50, who has lived in Fresno since 1988, said he has never felt threatened on the streets of this central California city. "It's really comfortable here," he said.
Courtesy of www.indiawest.com
SALDEF urges all Sikh Americans to immediately report any incidents of harassment, bullying or assault to SALDEF and your local authorities. In all emergency situations, please contact law enforcement immediately by calling 911. If you or someone you know has been a victim of any racially motivated crime, please contact SALDEF directly at 202.393.2700 or via our Report an Incident Form.