Sikh American Rose Parade Float will Celebrate One of the Religion's Key Tenets — Free Community Kitchens
By DEEPA BHARATH
The practice of "langar," or free kitchen, is integral to Sikhism, the world's fifth-largest religion with more than 20 million followers globally.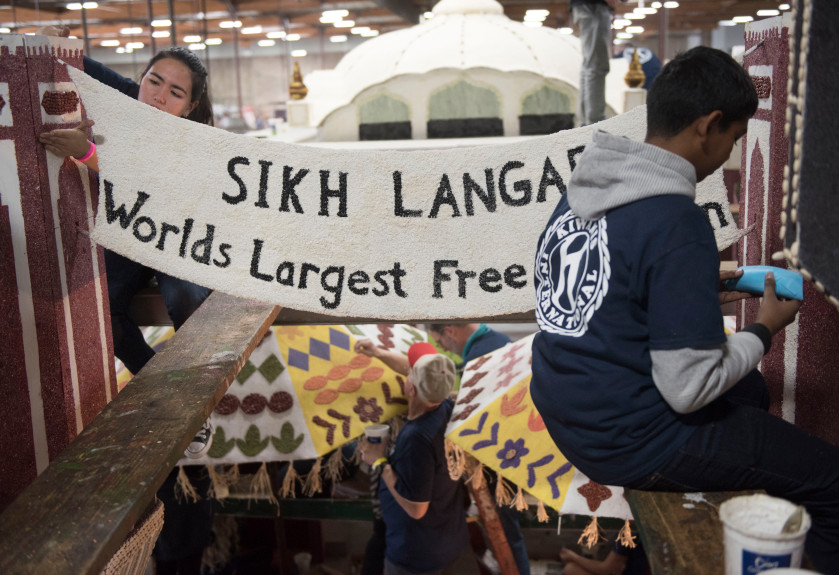 Key Club volunteers Katie Cardella, 17, left, and Guatam Yarramreddy, 14, both of Placentia, work on the Sikh-American Rose Parade float in Irwindale on Friday, Dec. 29, 2017. The float focuses on the religious tenet of "langar," requiring anyone who comes to a Sikh Temple to be fed and is modeled after the dining hall in Amritsar, India, where 100,000 people are fed every day. (Photo by Kevin Sullivan, Orange County Register/SCNG)
This year, as they get ready to launch their fourth consecutive Rose Parade float, members of the Southern California Sikh community will highlight this religious tenet, which makes a free community kitchen a part of every Sikh temple. It's a place where visitors can get a vegetarian meal regardless of caste, religion or stature in society.
"All castes and genders sit down on the floor and eat the same food," said Bhajneet Singh, a La Canada-Flintridge resident and volunteer working on the float.
The float will symbolize langar by depicting the Golden Temple's community kitchen in Amritsar, India, which runs around the clock and serves more than 100,000 people daily, Singh said. The float will be decorated with large cooking cauldrons, fruits and vegetables, and rotis, or bread.
Guru Nanak, the founder of Sikhism, started the langar practice and community kitchens in Sikh temples became places of rest and refuge over the centuries.
There are several temples in Southern California that provide free community kitchens. The Khalsa Food Pantry in Pacoima, which opened in 2012, provides food to more than 250 people every Friday evening.
The Share A Meal food truck, founded by Ravinder and Jacquelin Singh, serves 800 meals weekly on L.A.'s Skid Row, and in Venice and Hollywood.
"It's a rich, universal part of our faith," Bhajneet Singh said.
Courtesy of www.ocregister.com