Sikh Farmers in Georgia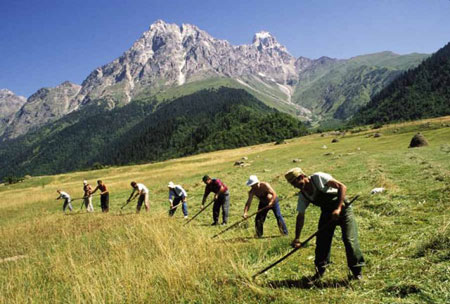 Georgia chaliye
Georgia, neighbouring Russia, is the latest country attracting Punjabi farmers fleeing the agrarian crisis in their home State. The Jat farmer's first love is farming and if Georgia allows him to pursue his dream, then he will move to Georgia, says Swarn Singh Kahlon, author of the book Sikhs in Latin America .
Cheap land in Georgia is luring many wishing to emigrate. Though fly by-night-immigration agencies are projecting Georgia as another Canada or the U.S. — favourite destinations for Punjabis — those who have actually begun farming there, say, "It's a risky proposition as yet, because the country's agriculture has still not recovered from its severance with the Soviet Union and more recently from its war with Russia in 2008."
Most Indians have floated limited liability companies usually formed within three or four days to transfer the land ownership. The fact that individual land ownership is sparingly permitted and is expected to be phased out completely from mid-January is off putting for many Indians who see a registered ownership as the only security.
Georgia's canal network from Soviet times is in disrepair and farmers say that as of now they are dependent on rain for irrigation. But its pesticide-free rich black soil is a major attraction for Punjabis and Haryanavis, as the soil back home is plagued by decreasing fertility due to pesticide overuse.
In the 20 years since the collapse of the Soviet Union, half of Georgia's farmland went out of production and new laws on privatisation of state-owned agricultural land were adopted in 2005.
"The Georgian government is inviting farmers from Africa and South Asia to develop its moribund agriculture and we see it as a long-term investment," says Angrez Singh Pannu from Bhikiwind who has bought 25 hectares. The Russian embargo in 2006 on exports from Georgia reduced the fledgling country's market, which has in recent years opened up to CIS countries, Turkey, the EU and the U.S.
Agriculture employs over half the population, yet contributes less than a tenth of Georgia's GDP, down from 16% in 2005 to 8% in 2010. This fertile country imports around 70% of its food because over specialisation during Soviet times that mandated production of tea, grapes and vegetables, stymied its grain-producing potential.
It's early days yet, but the 'Georgia chaliye' call has begun to resonate among Punjab's farmers who are today desperately seeking an alternative. A prosperous Punjabi has donated two acres for a gurudwara in Tbilisi. "Once it comes up, it will feel more like home," says Angrez Singh.
Courtesy of
www.thehindu.com