Sikh Institutions of SoCal Discuss Sikh Code of Conduct
By Deepinder Singh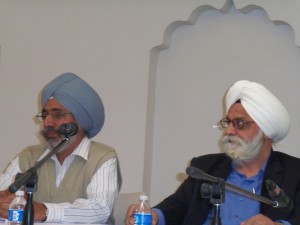 Dr. Kashmir Singh and Dr. Balwant Singh Dhillon.
SANTA ANA, CA – Sikh Institutions and Gurdwaras of Southern California held an international Sikh education conference on the topic 'One Guru Granth, One Panth and Sikh Rehat Maryada' here at Sikh Center of Orange County on May 5. Organized by Dr. Jasbir Singh Mann of SGGS Foundation and addressed by eight scholars from different Universities from Punjab and California, the conference was attended in large numbers by devotees from all over California.
The conference was divided into five sessions. The first was chaired by Avtar Singh Mann and moderated by Jasdeep Singh. Speaker for the first session was Dr. Jasbir Singh Mann, an orthopedic surgeon, community activist and scholar. Mann spoke on the topic 'Sanatani and Missionary Influence on Sikhism and Sikh response based on a study of Sikh manuscripts from 1642-2013.' This paper summarizes the Sanatani and Christian missionary efforts to change the message of Guru Granth Sahib by various interpolations and/or interpretations. He also spoke on the work of contemporary writers like W.H. McLeod, Harjot Oberoi, Pashaura Singh, Gurinder Mann, and Lou Fennich and said they were working under a conspiracy to damage Sikh beliefs and traditions.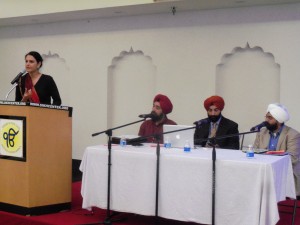 Maninder Kaur, Upinder Singh, Jasdeep Singh and Channpal Singh.
Raminderjit Singh Sekhon presented a paper on 'Tat Khalsa and Schisms of Sikhi: A look into early Rehatnamas and Heretics'. The paper defined who Khalsa was and how Heretics and Schisms advocating Sanatan Sikhi had crept into the Sikh Panth. Dr. Baljeet S. Sahi, a practicing veterinarian and President of Sikhs for Preservation of Sikhism and Sikh Heritage spoke on the topic 'Socio-Political Impact of Sikh Religious Studies.' Sahi's paper dwelt on fraudulence in Sikh studies and misrepresentation of Sikhism in academics.
The second session was moderated by Maninder Kaur. This started off with Dr. Kashmir Singh, former Dean and Head of the Department of Laws, Guru Nanak Dev University, Amritsar who said two aspects, solemnization and registration of Sikh marriages will now be dealt with by the Anand Marriage Act 1909 as amended in 2012. The second speaker, Dr. Balwant Singh Dhillon, Director, Centre for Studies on Sri Guru Granth Sahib, Guru Nanak Dev University, Amritsar presented a paper on the topic, 'Formation of Gurupanth and its Characteristic Features.' He said "one God, one Guru, one Panth, one Scripture, one code of conduct" were the cherished ideas of the Sikh Panth which had conferred upon it an independent and separate social and religious identity that had nothing to do with Sanatan traditions.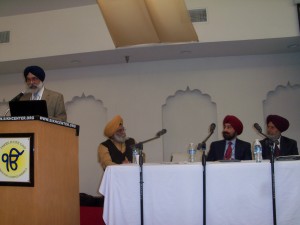 Raminderjit Singh Sekhon at the podium. On the dias: Dr. Jasbir Singh Mann, Dr. Baljeet Singh Sahi and Avtar Singh Mann.
The third session was chaired by Sukhjit Kaur Dhillon and moderated by Channpal Singh. Dr. Sarbjinder Singh, Professor and Head of Sri Guru Granth Sahib Studies, Punjabi University Patiala, was the first speaker. The topic of his paper was, 'Origin, nature and Significance of Panth Approved Sikh Rehat Maryada.' He highlighted that code of conduct for the Sikhs had been driven from Guru Granth Sahib. Next speaker Dr. Kulwinder Singh Bajwa, in-charge of Department of Punjab Historical studies, Punjabi University, Patiala, presented a paper on 'Western Understanding of the Sikh Practices, Nineteenth Century Perspective.' Bajwa highlighted that from the observations of the writers of 19th century, one can easily surmise the origin and development of Sikh faith, beliefs and practices, mode and object of worship, the role of Gurbani in the devotional life of the Sikhs as well as in transforming Sikh society. Jatinder Singh Hundal, an electronics engineer by profession presented his study on 'Guru Granth Inspired Revolutionary Movement in North America for Freedom of India 1907-1918.'
The fourth session moderated by Upinder Singh, focused on Management Perspectives of Sikh Religion and Guru Granth and Guru Panth. This was presented by A. S. Chawla, Professor of Management, School of Management Studies, Punjabi University and Registrar of the Punjabi University Patiala. Chawla said the Guru Granth Sahib message was one of spiritual development as well as human development including management effectiveness. Guru Granth Sahib had many treasures to contribute in different areas of management like leadership, motivation, ethics and Corporate Social Responsibility (CSR).
Sarabjinder Singh discussed the topic of Guru Granth and Guru Panth.
Fifth session was a panel discussion on the topic; 'Youth perspective on Sri Guru Granth Sahib.' The panelists included Maninder Kaur, Jasdeep Singh, Channpal Singh and Upinder Singh. Closing remarks were given by Dr. Parvinder Singh Wadhwa.
Courtesy of www.indiajournal.com/