Single Mother Preet Didbal Is First Female Sikh American Mayor in U.S.
By SUNITA SOHRABJI, India-West Staff Reporter
Indian American politician Preet Didbal spent her teenage years in Yuba City, Calif.'s orchards, picking and canning peaches.
Indian American Preet Didbal will be sworn in Dec. 5 as mayor of Yuba City, Calif. Didbal will be the first female Sikh American mayor in the U.S. "My father always used to say, 'hold on to your integrity, but follow your heart,'" Didbal told
India-West
. (photo courtesy of Preet Didbal)
"We kids would have the buckets, while our parents had bags around their necks," said Didbal, who, as she is sworn in on Dec. 5 as Yuba City's new mayor, will make history as the nation's first female Sikh American mayor.
The new mayor told India-West she worked the graveyard shift at peach canneries to supplement the income of the immigrant Indian household. Her parents emigrated to the U.S. from Punjab in 1968. "They wanted what every immigrant parent wants: to give their children a better life. They worked hard so that we could have that, and always empowered us to be strong women," said Didbal, who has three sisters.
The single mom, whose daughter Arianna began college this year at Willamette University in Oregon, said she had never thought of running for elected office. But her father's death in 2011 made her rethink her destiny.
"My father's passing taught me so much about living a clean life with a legacy of giving back to my community," said Didbal, who won a city council seat in 2014 and currently serves as the vice mayor. "He always told me: 'hold on to your integrity but follow your heart.'"
Didbal formerly served eight years on the Yuba City Planning Commission and two years on the Sutter County Planning Commission. She has spent 19 years as a civil servant, working primarily for the California Correctional Health Care Services before transitioning to the State Compensation Insurance Fund in 2015.
The Yuba/Sutter area is historically significant for the Indian American community: Sikhs began migrating here in 1907, and – lacking education and English language skills – began farming the fertile soils of the region.
Indian Americans in this region, primarily Sikhs, now own an estimated 50,000 acres of land worth approximately $1.3 billion, and grow almost the entire crop of the nation's canned peaches. Sikh farmers here also grow almost two-thirds of the nation's walnuts, almonds, pistachios and dried plums.
"The City of Yuba City is proud to usher in a new era of leadership in municipal government," said Darin Gale, Yuba City's economic growth and public affairs manager, in a press statement.
"Didbal's history-making rise to the highest elected office in municipal government is evidence of the progress we have made for diversity throughout our country," said Gale, noting that the new mayor has broken both cultural and gender barriers.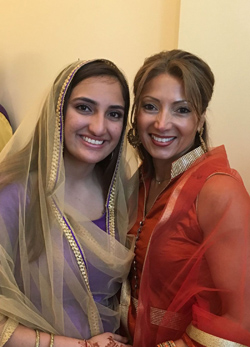 Single mother Preet Didbal, who will be the first female Sikh American mayor in the U.S., is shown here with her daughter Arianna Khan, a freshman at Willamette University in Oregon. (photo courtesy of Preet Didbal)
"Councilmember Didbal has been a tremendous asset to our city for more than a decade, helping shape the way we live, work, and play for the betterment of our entire community," said Yuba City manager Steve Kroeger. "Her professionalism and passion have been paramount, and I look forward to her leadership in serving Yuba City and our surrounding region."
Rep. John Garamendi, D-Calif., named Didbal "Woman of the Year" in 2015.
As mayor, Didbal told India-West one of her key initiatives will be to continue the development of the 5thStreet bridge replacement project, which will convert a currently two-lane road into four lanes in a traffic-congested area of town. "We're a growing city and our infrastructure has to grow as well," she said.
Didbal also wants to grow another initiative she developed – Summer at City Hall – in which students from Yuba City high schools spend 100 hours job-shadowing employees in various departments of local government, including police, water, and sewer, along with city officials. At the end of the three-week program, students will conduct a mock city council meeting.
Didbal noted with pride that alumni of the program have gone on to internships with state and local officials.
The new mayor said she also wants to streamline local government processes to expedite projects and shorten the application process for applicants to the local police department.
Didbal also wants to enhance Sikh American cultural activity in the city. The local Sikh community annually holds a mela in May, and a parade in November.
Didbal recalled when she was growing up in the 1980s that she and her family would spend the night before the parade at the gurdwara, creating the elaborate floats for the next day's festivities.
"Sikhs are embedded in the culture of Yuba City," she said.
"I speak to a lot with young girls who ask me: 'how did you do this?' And I tell them, 'no matter what facet of life you came from, you can aspire to achieve,'" said Didbal, alluding to her own humble beginnings.
"I hope that parents will start to have this conversation with their daughters," she said, adding: "It will take a village of women politicians before we see real change."
Courtesy of www.indiawest.com