Six Lessons on Leadership from Mastercard CEO Ajay Banga
By Ananthan Vijayan
Ajay Banga, president and CEO of Mastercard, has been named the co-chair of the American India Foundation's board of directors, bringing immense experience and passion in US India relations and business.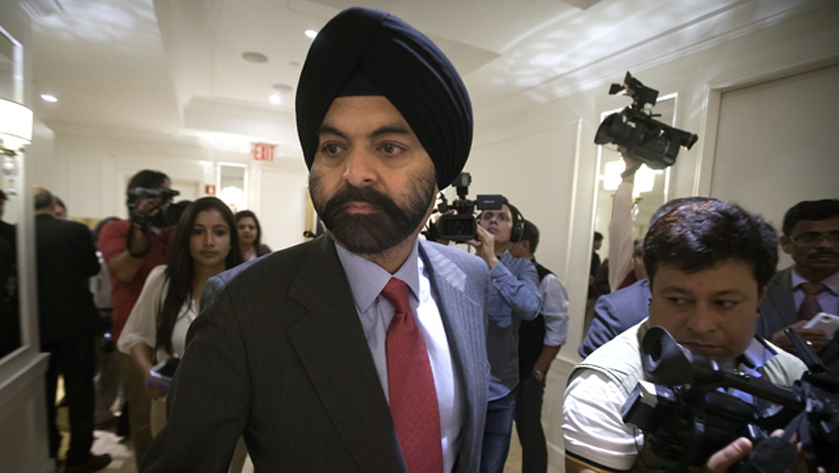 photo: A sense of urgency. (Reuters/Carlo Allegri) Vancouver-Canada
He also serves on the board of directors of the U.S.-India Business Council, where he recently completed his tenure as its longest-serving chairman.
US President Barack Obama appointed Banga as a member of the Advisory Committee for Trade Policy and Negotiations, a key position in the administration. He is also the current chairman of the US-India Business Council.
Banga has been selected for the Padam Shri 2016 award by the Government of India.
Fifty four-year-old Banga began his career with Nestle in India as a management trainee and spent 13 years at the food and beverage company. Prior to MasterCard, Banga was chief executive officer of Citigroup Asia Pacific. In 2014, he was the only Indian-origin person on Harvard Magazine's annual best-performing CEOs in the world list.
He is a graduate of Delhi University and the Indian Institute of Management, Ahmedabad.
Banga spoke about leadership at the 50th annual convocation of the IIM-A.
Below is an edited version of his speech-
When I graduated, I was all of 21, green behind the ears—if you could find them. And I had no clue what I was going to do with my life: Other than join a great global firm Nestle. That was my grand plan: Get with somebody good. Get with somebody global. Do something that interested me. That's it. So, don't stress if you haven't got a detailed plan for your life. Anyone can have a good idea or plan; what makes it great is execution.

What I want to focus on is leadership. How do you take the leadership potential all of you have and cultivate it. Here are some perspectives around leadership that I can offer.

1. A sense of urgency:Today's world of rapidly-advancing technology and ever-shortening innovation cycles have no space for procrastination. It's that urgency that makes me say to colleagues in my company that "if you have good news for me, take the stairs. If you have bad news, take the elevator." I need that information fast, so I can do something about it.

2. A sense of balance: A lot of people think that urgency and patience are contradictory. And they could not be more wrong. You need to be patient enough to listen to everybody, but yet, you must have a sense of urgency to take a decision and to execute.

3. Courage to take thoughtful risks:Rarely are you going to have perfect information. The willingness to take a decision at that time will depend on your ability to take a thoughtful risk. The thoughtful part depends also on your humility and realising that you don't have all the answers—that you can learn something from everybody. You get a good dose of humility as soon as you arrive here. You come from a school where you were the top gun. You get here and everybody's a top gun. Humility is practically a rite of passage.

4. Be competitively paranoid: I don't mean be fearful. What I mean is constantly ask yourself if you're missing something. Is there more to the problem? If you don't question everything, if you're not competitively paranoid, you will not have the sense of self-introspection that you need to be a real leader.

5. Develop a global view: Leadership attributes are tremendously facilitated if you surround yourself with people who don't look like you, don't walk like you, don't talk like you, and don't have the same experiences as you. Admittedly, when I'm in the US, I'm suddenly diverse. In India, I'm obviously not. But it's not where you come from or what you look like that matters. What matters is what you do and how you do it. That's the true essence of diversity.

What makes diversity so important? Diversity is essential because a group of similar people tends to think in similar ways, reach similar conclusions, and have similar blind spots. To guard against that, you need to harness the collective uniqueness of those around you to widen your field of vision—to see things differently, to fail harder, to innovate, and to question everything. Widening that field of vision means widening your worldview

Increase your connectivity to the world around you. For example, once you get acclimated to your new jobs, consider getting involved in organisations outside of your work but that connect back to it as well. Explore avenues like the World Economic Forum. The key is to go beyond looking at the world through the lens of your company or your organisation or even your country.

6. Do well and do good: It's the highest form of leadership. It's the idea that you can pursue what is in your best interest as well as what is in the interest of others. It's the recognition that your success is tied to the success of others. You know the saying, it's lonely at the top? It's only lonely at the top when you don't bring other people along with you.

This principle of doing well and doing good holds true for any one person or organisation, but it's an especially powerful principle for business and the private sector today. In a business sense, it's the idea that the private sector can be a force for growth and a force for good. That business can make money and make a difference.

Both the private and the public sector have a role to play in the following: Bring more people into the financial mainstream—at a time when half the world's adults don't have a bank account, guard against a future where we have the Internet of Everything, but not the Inclusion of Everyone, give women same opportunities as men.

Of course, this very school was founded, not just on the idea of public-private partnerships but literally by public-private partnerships. It was the government of Gujarat, the government of India, local businessmen, Harvard Business School, and the Ford Foundation—all coming together, not only to help build industry in India but to help build India herself.

Courtesy of www.linkedin.com/pulse