The Amazing Fauja calls it a day at 101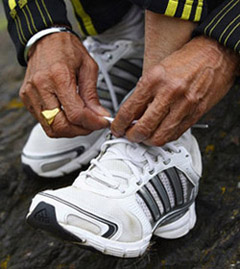 TORCH BEARER FOR LONDON OLYMPICS 2012
Carrying the Flame through: The London Borough of Newham
Carrying the Flame on: 21 July 2012
Age: 101
Hometown: Ilford
Fauja Singh successfully completed his final marathon on Sunday 22nd April 2012.
After running in eight marathons successfully, Fauja Singh, the world's oldest marathon runner at 101-years-old, decided that his last marathon ever will be in London. But 101-year-old Fauja Singh from Ilford, east London, will not be hanging up his running shoes just yet. He intends to compete in what he calls "short races" of 5km and 10km.
His trainer Harmander Singh said: "I believe it's probably best that this is the last. I don't think he has anything else to prove." The London Marathon has a special significance for the great-grandfather as he was inspired to take up the sport after watching television coverage, 12 years ago when he was 89.
Speaking in Punjabi, before the London marathon, Fauja Singh said: "I'm very excited. But I'm worried I could get flu or something like that before then. So I can't wait for Sunday to come."
Fauja Singh finished the 26.2 mile run in 7:49:21 beating his previous record. He became the oldest man to run a marathon when he completed the Toronto 2011 marathon run in 8 hours and 11 minutes.
"If I stop training and running I think my health will deteriorate and I will die. I just can't sit still. I still like to run and walk 6 to 10 km once a week to keep myself fit. It is what keeps me going."
He only took up running seriously when he was 89 years-old. He attributes his physical fitness and longevity to abstaining from smoking and alcohol and to following a simple vegetarian diet.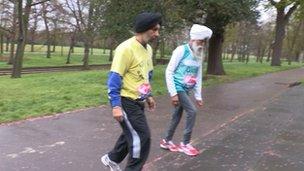 Fauja Singh with his trainer Harminder Singh
'Best trainee ever'
His coach said: "I only had 10 weeks to train him for his first marathon. He turned up the first day in a three piece suit and a pair of trainers. The coach had to rework everything, including his dress. Fauja Singh has never looked back and ran his first race, the London Marathon, in 2000.
"Turning him into a marathon runner was one of the easiest jobs I ever had because he was so keen on doing it. "If I said we're doing 10k today he would say why not 20k? (He's) the best trainee I have ever had."
He has enjoyed every one of them but the one that stands out more than the others is the Toronto marathon. That is when he raced himself into the record books as the world's oldest marathon runner.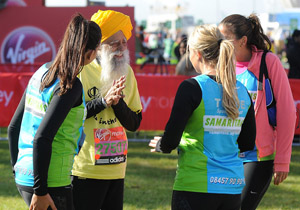 Fauja Singh at Virgin London Marathon 2012
Fauja Singh's remarkable story has left many people scratching their heads. How can someone his age run 26.2 miles? Some have even begun to question his age because he does not have a birth certificate. But Harmander Singh believes the criticism is unfair: "Fauja Singh was born in India at a time when there were no birth certificates. "He has a British passport and we've had letters from Her Majesty on his 100th birthday. The Olympics would use the passport as a definitive document."
Many people in the running world think critics are missing the point. A marathon is tough whatever your age. Mike Gratton, a 1983 London Marathon winner, said: "I think everybody is absolutely astounded that somebody of his age can still be doing any sort of sport. "But to run a marathon, which for many people is the ultimate in endurance, is quite incredible." Others see Fauja Singh's achievements as a sign of changing times and that society needs to re-think how it views older people.
Emma Spragg of Age UK said: "Everybody now in the UK, one in four of people born today, will live to be a 100. So there's bound to be more people being active in later life. So why not keep challenging those boundaries."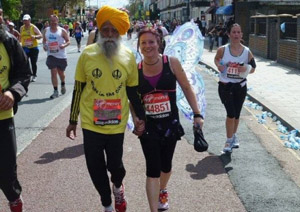 Fauja Singh at London Marathon
Although Fauja Singh is retiring from marathons after Sunday his coach believes his legacy will go on.His biography, titled "Turbaned Tornado", was formally released House of Lords in 2010.
Words of deep wisdom from Fauja Singh – "I think nowadays people take their lives too easy. They have everything on a plate. The secret to a long life is to be stress free. He who stresses dies early. "He who does not will live a more peaceful life. And finally his advice for anyone wanting to know how keeps himself so stress-free. "Try to stay away from negative people…they will always bring you down"
Everyone who has come across him or heard about him… says if he can do it, we can do it. There is a saying in Punjabi 'he is my granddad'. Well, he is everybody's granddad."
This article has been edited for the Sikh Foundation
Courtesy: By Dil Neiyyar -The BBC Asian Network & The Asian Image