The Gamma Knife Surgeon: Dr. K Singh Sahni
By Katie Demeria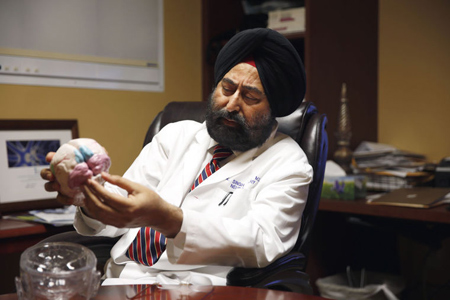 Dr. Singh Sahni described the gamma knife procedure May 12. The technique, which is often used to treat brain tumors and brain cancer, involves 200 beams of radiation that precisely target tumors, with minimal impact on other parts of the brain." – photo by SHELBY LUM/TIMES-DISPATCH<
Chesterfield County resident Aleka Gravely was diagnosed with breast cancer in 2008. She had a mastectomy and went through chemotherapy in 2009, after which she was declared cancer free.
But then she complained to her oncologist that she was walking strangely.
"I had a lot of symptoms that I can put together now but I didn't realize then," said Gravely, 62. "When I walked with somebody next to me, I'd find I was walking in front of them. I kept complaining that my car, which was new at the time, was pulling to the right."
Gravely's motor skills were impaired because her cancer had metastasized to her brain. That same year she had brain surgery, which kept her away from the store she owns, Back Room Tailor Shop in Bon Air, for several weeks.
Since then, she has developed cancer in her brain numerous times. Twice she has required brain surgery, but four times she has undergone a gamma knife procedure, which allowed her to walk out of HCA Virginia's Johnston-Willis Hospital the same day, cancer-free.
"You're there one day, in and out, and then you can go back to whatever you do. It's great," Gravely said. "And I love Dr. (Singh) Sahni."
Sahni is the medical director of the Neuroscience and Gamma Knife Center at Johnston-Willis Hospital in Chesterfield and has been conducting gamma knife procedures and successfully treating patients with brain tumors or brain cancer for 12 years.
In early May, the neuroscience center conducted its 3,000th gamma knife procedure.
"Previously, if you had cancer in the brain, it would just change you," Sahni said. "If they were not treating this patient, you'd be debilitated, you'd be paralyzed, you'd have other deficits. So we manage cancer to the brain very aggressively now."
Despite what its name might suggest, the gamma knife technology is so noninvasive, especially when compared to brain surgery, that it is treated as an outpatient procedure.
"It's just one day out of your life, and then it keeps going," Gravely said.
Gamma knife requires patients to lie down in a machine from 30 to around 90 minutes, depending on the size of the tumor and how many the patient has. Then it uses 200 beams of radiation to precisely target and radiate the tumor, with minimal impact on other parts of the brain.
"We have excellent control of cancer now," Sahni said. "Cancer is becoming more like AIDS — it's not a death sentence."
As recently as a decade ago, when various cancers metastasized to the brain, patients were told they had as little as six months to live. Now, since the treatment completely removes the tumor, those months become years or even decades.
"Twelve years ago, when I first started, it took me a little while to convince my colleagues, 'Don't give up because they have brain tumors,'" he said. "Now they all agree; now it's nationally accepted."
Two years ago, the American Cancer Society said the gamma knife procedure is the best form of treatment for patients whose cancer has metastasized to their brains, knocking out other forms of treatment such as whole-brain radiation, which Sahni said he is adamantly against due to its numerous side effects.
The side effects of gamma knife, he said, are minimal, if there are any at all. It can also be used on one patient multiple times if cancer continues returning to the brain. But there are restrictions — if the area is larger than 3 centimeters, brain surgery is required.
"We tell the oncologists: As long as you're able to take care of the cancer in the rest of the body, we'll take care of the brain," Sahni said.
Johnston-Willis is the only medical facility in the region, and one of only three others in Virginia, that offers the gamma knife procedure.
Sahni and his team at Johnston-Willis work with oncologists from all over the Richmond area, regardless of their affiliated health system. Richmond's gamma knife technology even draws patients nationally, as Sahni also treats trigeminal neuralgia, which causes sharp pains in the face without warning.
Right now Gravely has a clean bill of health, but there is a chance that the cancer could return. She's hoping that, if it returns to the brain, it can be caught early enough to require just a gamma knife procedure rather than brain surgery.
"You have to take it one day at a time, and go on with your life," she said. "You can't just sit there and wait to see what's going to happen. I have a business; I have a family; I have two beautiful grandchildren. Life goes on."
Courtesy of www.richmond.com