The Hermeneutics of Sikh Music (rag) and Word (shabad)
May 21-23, 2010
Hofstra University
Academic chairs are among the highest honors bestowed upon members of the faculty by the University and are regarded with great esteem throughout the academic world. The Sardarni Kuljit Kaur Bindra Chair in Sikh Studies, at Hofstra University, New York, is endowed by Mr. Ishar Singh Bindra and family in honor of Mr. Bindra's wife and family matriarch, Sardarni Kuljit Kaur Bindra. The Chair is established to promote the academic study of Sikh religion, culture and history. The endowment will support the appointment of a faculty member in Sikh Studies, build the University Library's holdings in Sikhism, provide scholarship assistance to students interested in Sikh religion and culture, and fund annual conferences and lectures directed toward the academic community as well as the general public
Dr. Balbinder Singh Bhogal, the S.K.K. Bindra Chair is organizing a conference on the hermeneutics of Sikh Music(rag) and Word (shabad). The conference explores the questions – Is music a language? Is there meaning in music? Perhaps universal meaning – given the popular platitude that music is the only universal language. Or is the meaning in music mediated by culture to such an extent that one is hard put to speak of universals? If the latter then does that imply a cultural limit to the supposed universal nature of the Guru Granth Sahib arguably the musical text par excellence? If the Word needs to be translated across linguistic contexts then does Sikh music also require translation into culture-specific and musical idioms to be efficacious? How to interpret and translate musical meaning? Is it even possible?
The purpose of this conference is to bring these two crucial dimensions of Sikh thought and practice, philosophy and aesthetics, together to initiate an academic dialogue between the Word (language, meaning, interpretation) and its performance in Music and Song (rag/melody, tal/metric cycle, laya/tempo, bhav/expression, instruments etc). The conference aims to grapple with a hermeneutics that can cater for both musical evocation (kirtan) and philosophical contemplation (katha) as one phenomenon.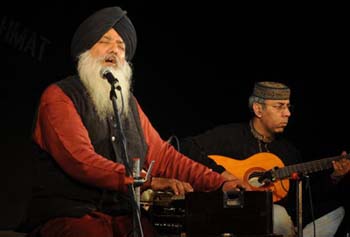 This new departure for the field of Sikh Studies raises many questions like:
What is the nature of musical meaning, does it evolve, if so, can it regress as well?
What is the connection between music (gurshabad kirtan) and interpretation?
Is there a "musical hermeneutics" in general, and if not, should we construct one?
How many schools of "Sikh musical hermeneutics" (taksals) are there?
What is the difference between dhrupad and khyal forms?
What is the relationship between music, mantra, chant and trance?
What is the relationship between music, subjectivity and memory?
What is the relationship between the musical, religious and political?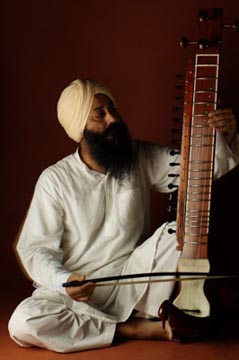 These questions will be addresses by the participants in the conference – Bhai Baldeep Singh (Anad Foundation New Delhi, India), Dr. Francesca Cassio (Vicenza Conservatory, Italy), Dr. Madan Gopal Singh (Senior Fellow, Nehru Memorial Museum),Dr. Arvind Mandair (University of Michigan), Dr. Judith Becker (University of Michigan), Dr. Raja Mrigendra Singh (Yale University and Guru Nanak Dev University), Dr. Inderjit Nilu Kaur (University of California, Santa Cruz), Jan Protopapas (University of Maryland), Prabhsharandeep Singh (Independent Scholar, California), Prabhsharanbir Singh (University of British Columbia, Vancouver, Canada), Dr. Navtej Purewal (University of Manchester, England), Dr. Bob Linden (University of Amsterdam, The Netherlands) and Dr. Balbinder Singh Bhogal , the Chair of the S.K.K Chair, Hofstra University, who is hosting this conference.
Click here to see details of the conference