The Journey of the Boy with Long Hair
… to the Supreme Court of the United States of America
By Pushpinder Kaur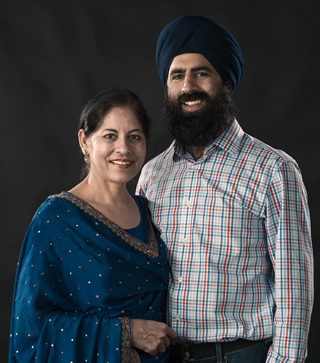 Tejinder Singh with his mom Pushpinder Kaur
Tejinder – the name that means divine energy. He was recognized by Sant Kartar Singh Ji Kamaliye Wale, who, when held twenty-one day old Tejinder, had said, "Who will face his aura?" Little did I know what he meant by that. Being a young mother, I thought, I will feed him, play with him, walk him to school, bring him home, and feed him again.
My husband and I moved to the United States when Tejinder was almost three years old. He spoke Punjabi but no English. Within three months, he unlearned Punjabi and became proficient in English. In school, he was the boy with long hair, teased and harassed by his peers. He had to explain to his teachers and peers what his long hair meant. Sometimes people understood, sometimes they didn't. Although very trying at times, his Sikh identity kept him focused and away from the many evils that stalk our youth.
We had always told him that he was representing the whole Sikh community, that all Sikhs will be judged by whatever he will do (a tremendous pressure on a young child). He stayed away from any experiments that could have harmed him or distracted him from the path of excellence. In college he was the designated driver for his friends.
He was also a strong willed, argumentative and laid back young boy. He did not believe in studying, because he 'knew everything'. When I got frustrated, all I could do was yell at him, "I hope you have a son like yourself." We tried to keep him as busy as possible in activities.
It literally takes a village to raise such a child. Tejinder was supported and loved by the community. Meetpaul Singh and Sameer Singh of Berkeley University started a Big Brother Big Sister Initiative to support young Sikhs. They gave him an avenue to voice his concerns in a protected manner and offered ideas on how to respond to situations in school. Khalsa School San Jose became a strong component of his weekends. It offered him opportunities to learn Punjabi, Sikhi, Gurbani, Kirtan and public speaking though participating in Sri Hemkunt Foundation Symposia. He met other Sikh boys there and realized that he wasn't alone. Tejinder benefitted immensely by attending Kirtan Diwans in English and enriching discussions on Sikhi topics led by Karan Singh Sahni at Chardi Kalaa Foundation founded by Inder Mohan Singh of Bay Area. The IIGS camps provided him with opportunities to engage in rigorous religious activities with Captain Harbhajan Singh known as Papa and Jessi Kaur.
Tejinder's grandparents, uncles, aunts, and cousins from both sides of the family showered him with love. His teachers challenged him to reach his potential. His mentors and bosses gave him guidance and support to excel in college and his career. His friends made sure that he got into trouble, but never so much trouble that he couldn't get out, which is probably how he learned a lot of the best lessons in life. And so many other members of the community have cared for him and hoped and prayed for his successes.
He became the first Sikh boy with long hair to attend and graduate from Bellarmine College Preparatory in San Jose, CA. They had to change their facial hair policy of 150 years to accommodate the growing beard and mustache on Tejinder's teen face. They prepared him well to receive a full ride scholarship into Berkeley's debate team.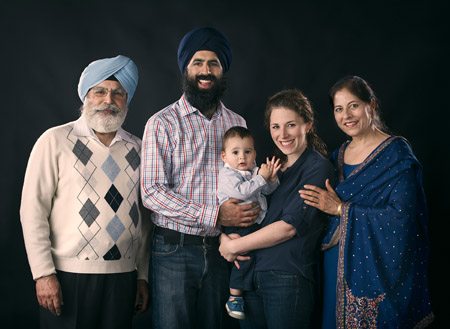 Tejinder Singh with his family
His father, Dr. Gurinder Pal Singh always insisted on excellence in everything he did. This did make him afraid of failures and he probably stayed out of many activities like sports, just because he felt he wasn't excellent in them.
Tejinder had a highly competitive spirit which helped him excel as a debater in high school and college. He and his debate partner Dan Shalmon won the Copeland Award for being the best team in the nation. When Tejinder was studying for LSAT, his father asked him what score he hopes to get on the test. Tejinder quoted a random number. His father seized the opportunity and inquired, "Why not 100%?" Tejinder looked at him as if it was a challenge he was willing to accept. He studied and received full score in LSAT.
Tejinder received admission in many prestigious law schools, including full scholarships to a few. We convinced him to go to Harvard Law School. While at Harvard, he met his future boss, who was a Supreme Court attorney. Now Tejinder works with him in Washington DC in his law firm that works on Supreme Court cases.
On April 28th,2014, Tejinder made his first oral argument in front of the nine Supreme Court Justices. It was an incredible feeling to watch a turbaned lawyer so handsome, so confident and so amazingly powerful in his speech. I, his father, his sister Lilly, and his wife Anna were there as a family and as proud members of the Sikh community. History was made- Tejinder Singh is the first Sikh and turbaned lawyer to have argued a case in the Supreme Court of the United States of America. As a child, he always thought he knew everything . . . well, I guess some things never change. He does!
Tejinder also met his sweetheart Anna at Harvard. They now have a son-who is just like his daddy. Has my wish come true? Yes, it has! It was a beautiful wish from a mother's heart.