Those Infectious Punjabi Dance Rhythms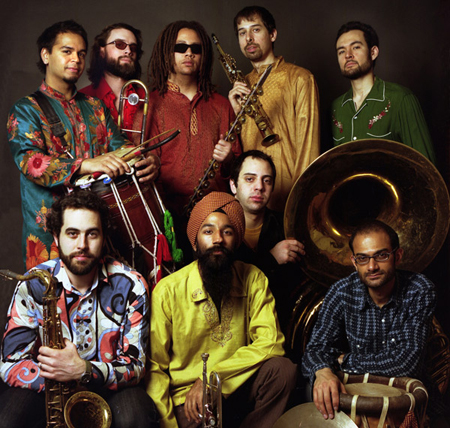 Red Baraat
Five years ago, as percussionist Sunny Jain's own jazz ensemble, the Sunny Jain Collective, was gaining respect, he was often also playing with a group of musicians of South Asian parentage—principally guitarist Rez Abbassi, pianist Vijay Iyer and saxophonist Rudresh Mahanthappa—who were on jazz's cutting edge. Yet Mr. Jain was dissatisfied.
"I was getting disenchanted with the jazz scene," the 37-year-old said over lunch last month at a Brooklyn café. "I was just starting to feel that I wasn't connecting with people." In response, he started Red Baraat, an eight-piece band that builds on the traditional sounds of North Indian brass bands. Its infectious rhythms, fascinating harmonies and raucous sound have connected with people all over the world. Red Baraat has become a fixture at international festivals and its first release, 2008's "Chaal Baby" (Sinj), received good notices. On Tuesday, the band is releasing its second studio recording, "Shruggy Ji" (Sinj), and it will spend the next two months on its first proper tour of U.S. venues, with engagements slated in the Northeast, Midwest, South and West Coast.
Some of the band's inspiration comes from a childhood visit Mr. Jain made to India for his uncle's wedding. "This Indian marching band showed up and started jamming out during the Baraat [the wedding procession]; everyone began dancing and singing along to the song, and we started parading through the street," he recalled. After 20 minutes, two men on dhol (a large handheld drum with the tubby resonance of the tabla and the kinetic force of a conga) who were not with the band joined the parade and started playing along to the music. The spectacle and sonic onslaught made a deep impression on the youngster. "For a 5-year-old, it was just crazy," he said.
Mr. Jain was born and grew up in Rochester, N.Y., where his parents were involved in the Jainist religious community; Jainism is an Indian religion that centers on nonviolence toward all living beings. The youngest of three children, he recalls singing devotional songs as well as hearing a lot of Bollywood music on his father's reel-to-reel tape player. His older siblings introduced him to American pop and rock. He took up formal drum instruction at age 10 and began studying jazz two years later, citing the work of masters like Art Blakey, Philly Joe Jones, Max Roach, Tony Williams, Elvin Jones and Roy Haynes as early influences. He studied jazz at Rutgers University and New York University, and as he began composing he integrated Indian influences.
Mr. Jain says he was moved by both the music of Indian-born percussionist Trilok Gurtu and the Indian fusion projects of British guitarist John McLaughlin, but the London-based electronic dance music of artists like Talvin Singh and the Asian Dub Foundation exerted the greatest influence on him. Upon hearing their work, he realized, "I didn't have to make music that was 'jazz' or that was 'world music.'"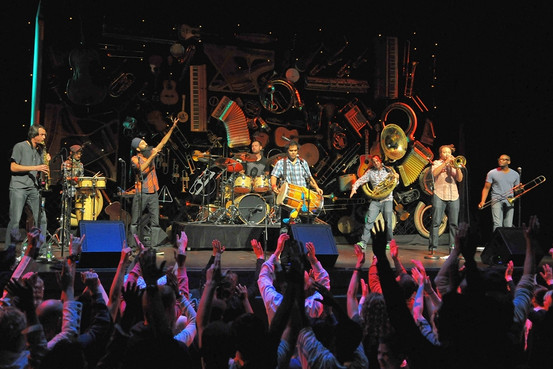 Getty Images Red Baraat builds on the traditional sounds of North Indian brass bands.
He said of Red Baraat, "It's where I'm at, and what I'm hearing—getting into these two disparate cultures that were compartmentalized for me for a long time." The band has a unique, intense sound that transcends its ingredients.
At a show at New York's Rockwood Music Hall in December, Red Baraat captured the crowd from the first note, which is one of Mr. Jain's objectives. "I wanted to bring a ferocious energy that would enrapt people," he said. The seven members fanned out around Mr. Jain, who was at the center beating out furious rhythms on the dhol, often in counterpoint to powerful blasts from the horns and with vocals that accented the momentum of the music.
Red Baraat's harmonies from the horns are both familiar and exotic due to the instrumentation; one of the two trumpeters in the band plays bass trumpet, and there's a sousaphone player as well. Mr. Jain proudly points to the diversity of the band members' ethnic and religious backgrounds as a reflection of their home base in Brooklyn.
Early reviews of "Shruggy Ji" have likened its music to that of Washington-based Go-Go, and the band's sound is often compared to the music of New Orleans or the Balkans. But Mr. Jain says that his primary influence is North India, with a secondary contribution from the jazz and pop of his youth.
"I love when people hear different things in the music," he said, but noted that he wasn't trying to work within those traditions. "It was just an idea I had in my head that I wanted to do with these guys."
Mr. Jain's instrument is a core feature of the band. "Indian fusion usually involves sitar, tabla or vocals, and it was odd to me that almost no one was using the dhol," he said. "It's the dance drum of Punjab. It's something you hear in all Bollywood music, and it's synonymous with Punjabi culture, which is my background."
He said of the Punjabi musical tradition: "It syncs up with swing, hip-hop, go-go and other musical styles. What people hear in the music depends on a person's musical background."
Mr. Johnson is a writer in New York.
Courtesy of
www.online.wsj.com