When Fauja went to Bumba
By Khushwant Singh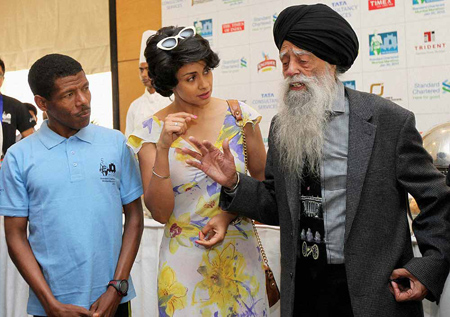 Marathon runner Fauja Singh with the legendary long distance runner Haile Gebrselassie and actress Gul Panag
You don't need an entertainment panel on the plane if you have marathoner Fauja Singh sitting next to you. Yes, Fauja and I were travelling together last week — I was accompanying the legend for the Standard Chartered Mumbai Marathon where he was the guest of honour. Though a simpleton in the true sense, his sharp observation power, quest to see new things, probing mind, intelligent questions and top-class sense of humour made the three days spent with this superman, superbly memorable.
Here is the complete narrative when Fauja went to Bumba.
"Khushwant Sooh you must take me around Bumba city also," was his first line the moment we boarded the plane from Chandigarh to Mumbai.
My explaining him that it wasn't 'Bumba' but Mumbai cut no ice with him as he insisted on calling Mumbai with the name that had got etched in his mind. "I am highly obliged to the organisers for giving me a chance to see Bumba," he said during the entire press interaction organised by Procam. And, while the poor journalists were still trying to figure out what the hell was Bumba, Fauja fired his next salvo and shared how he enjoyed his race in 'Mafroos'.
"Mauritius", I said deciphering the code for them. Press conference over, the focus shifted to the pasta-cooking competition, a pre-marathon event at the Trident, Nariman Point. The competition consisted of four teams — each consisting of a chef, a celebrity and a couple of other people. Apna Fauja was one of the celebrities in the team along with actor Gul Panag, pictures of which were flashed throughout the nation.
Gul Panag, who offered him the pasta she had cooked, must hear what Fauja had to say. "Mainu val (Fusilli) walla pasta changa lag da hai. Nalpi (Penne) wala nahi". (I like the Fusilli not Penne). It doesn't end here. Fauja, at some point, convinced Gul that she must take him out 'shoo' (shoe) shopping. When Gul did not turn up the following day, a highly disappointed Fauja asked me, "Oh Fatehgarh wali Gul Mohar nahi aayi." (Gulmohar from the town Fathegarh Sahib has not turned up). When the two discussed their 'pinds', I have no idea.
On the morning of the marathon, Fauja and actor John Abraham were put together on the stage with the purpose of waving out at the participants and motivating them to take fitness as a lifestyle. On being asked by a journalist about how did he feel standing next to John Abraham, Fauja's prompt response was, "Mere lai toon vi John hai. Mainu swah pata hai ki John kaun hai." (How the hell do I know who is John).
I knew that this was coming, even before the journalist had completed his question. As if this was not a dumb enough question to ask a simpleton like Fauja, another journalist threw this masterpiece – 'Faujaji, have you come to Mumbai to run?' and sure enough, the question got the reply it deserved: "No one calls me for singing. I have come here to participate in the 5-km run."
And yes that Sikh cleric who so wanted to bond with him, and asked Fauja if he did 'paath' (recite prayers). "Eh tuhada kam hai. Mainu Waheguru ton utte kuch nahi anda". (This is your job. I don't know anything beyond the word God), replied Fauja. Fauja is a very fidgety man.
Obviously, the restlessness comes from the unlimited energy that is stored in him, and it, complied with his eagerness to explore the area, can take a huge toll on people accompanying him. Fauja, who had got bored of sitting in his sea-facing suite in the Trident, called on my phone and said, "Mainu ethey samundar dikhan layi bathaya. Koi mall khumande Khushwant Sooh." (I haven't come here to see the sea all day. Take me out).
The first shop that Fauja wants to go in a mall is a shoe shop. His fetish for shoes is a globally known fact and he has almost a hundred pairs dumped in his shoe-rack back in the UK. Even though I guided him to the shop of his choice, he kept asking me if there was any 'Dakuman' around? Hell! Now what was that, I thought, trying to figure out the mystery till he spotted a McDonald's and heaved a sigh of relief. No, he doesn't eat fast food. The presence of a McDonald's is his way to judge whether he had been brought to a popular mall or not. "Oh mall kamyaab nahi jithey Dakuman na hovey." Some Faujanomics, I thought.
Visit over, and we are on our flight back and Fauja Singh comes out with the following. "Saare hotel di roti toh no 1 jahaaj di roti si (the best food that we got served on our trip was on the flight from Chandigarh to Mumbai). The effort of the manager at Trident's Mediterranean restaurant, Firangipani, to provide Fauja with 'dudh-patti' each time he dined there seemed to have failed miserably. Imagine airline food outdoing the best of chefs' recipes.
There is no one like you, Fauja.
Courtesy of
www.hindustantimes.com