Workplace Religious Freedoms Act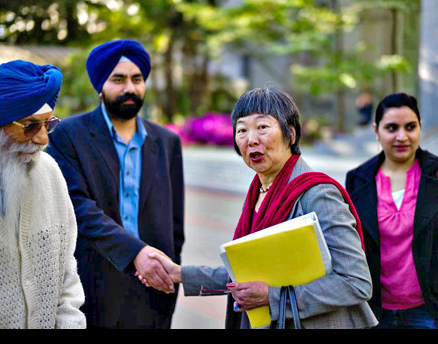 California legislator Mariko Yamada (3rd from left) authored the Workplace Religious Freedom Act that passed the State Assembly May 29. (Sikh Coalition photo)
A California bill protecting religiously-mandated clothing and headwear at the workplace passed the California state Assembly May 29 on a vote of 59 to 3.
AB 1964, authored by Assemblywoman Mariko Yamada, a Democrat, must now be approved by the California state Senate before it becomes law. All bills currently pending in both houses of the California state Legislature must be approved by Aug. 31. California Governor Jerry Brown then has 30 days to sign or veto the bill.
Yamada's legislation is co-sponsored by the Sikh Coalition, the Hindu American Foundation and the Council on American Islamic Relations, along with several other civil rights organizations. The bill mandates that religious clothing be protected under the provisions of the Fair Employment and Housing Act; protected items would include kirpans, turbans, hijabs and faith-mandated hairstyles.
The bill would also prohibit segregating an employee from a customer if the worker is wearing religious garb or headwear.
Under current law, employers must accommodate employees' requests for religious holidays or time off to pray during the day, as needed. They also cannot discriminate against employees who wear a headscarf or turban or other religious headwear on the job.
A loophole in current law allows employers to bypass these mandates if they can prove that religious accommodation imposes a financial burden (I-W, May 25).
Under Yamada's proposed legislation, employers will have to prove a significant financial hardship or impact if they fail to provide religious accommodation at the workplace.
"Both sides of the aisle can agree that equal employment opportunity and religious protections in the workplace are of the utmost importance to California," said Yamada in a press statement.
Religious discrimination cases rose more than nine percent in 2011, contributing to the nearly 100,000 charges of employer discrimination nationwide, noted Yamada, citing an Equal Employment Opportunity Commission report. In California, employers faced over 500 such cases, she said.
"AB 1964 affirms the promise of equal opportunity for all Californians," said Simran Kaur, advocacy manager for the Sikh Coalition, in a press statement. "We are thrilled that the bill received overwhelming support in the Assembly and look forward to further success in the Senate," she said.
The Sikh Coalition has set up an online petition to support the measure.
Courtesy of www.indiawest.com